Equity Bank Linked To Ruto's Money Laundering Claim In Uganda's Vaccine Plant Saga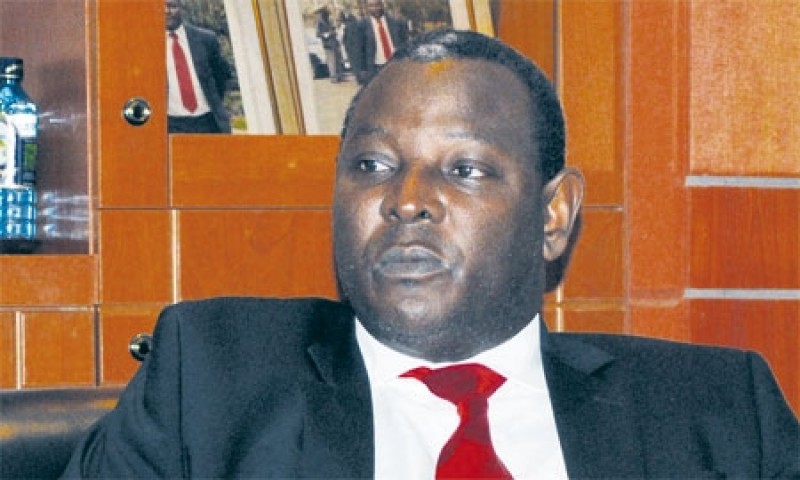 Gloves are off for President Uhuru who now more than ever appears to be moving rocks to hit his friend turned foe and his deputy, Ruto.
It all started with the blockade of his flight to Uganda in a move that was directed from the Statehouse, while making a clearance on the issue, Interior PS said that Ruto didn't meet the requirements to fly out and more so that he needed to acquire a clearance from the President himself given he's not only a civil servant but his deputy.
Ruto on his end has said that the blockade was meant to ridicule and embarrass him saying that he has never had to seek clearance or permission from the president to travel.
Reports are now emerging that the decision to block Deputy President William Ruto from travelling to Uganda was made on July 31 following concerns by the government that his frequent travels to the neighbouring country could be linked to money laundering schemes.
And even as debate on the aborted trip rages, focus by security officials has shifted to seven Turkish nationals, six men and a woman, who have been shuttling between Istanbul, Entebbe and Nairobi for the past few months.
Their activities, which culminated in the standoff at Nairobi's Wilson Airport on Monday when Ruto was blocked from travelling out of the country by immigration, have been closely monitored for months by Kenyan authorities.
Ruto has claimed that he was leading a delegation to commission a Covid-19 vaccine plant that he had helped Turkish businessman Harun Aydin to put up.
Speaking during an interview with a local radio station yesterday, Ruto claimed he had helped Aydin to acquire a Sh15 billion loan from Equity Bank to set up a vaccine processing factory in Uganda, which he and three other businessmen alongside his close allies were scheduled to commission on Monday.
"I helped him on one phone call. He said the benefits Ugandans will get are the same that Kenyans will get."
Many have questioned as to how simple it is for Equity to dish out Sh15B as a loan merely from a phone call and to foreigners whose past are questionable.
Claim by Ruto that he secured the loan of such magnitude by simply placing a call has elicited reactions from Kenyans who've been victims of banks collapsing in insider, fraudulent loans.
One phone call from Doktari William Ruto to Equity Bank can give you kes. 15 Billion…15B….
Some of these Banks have a lot of idle liquidity.

— George Kopana (@georgeokoth24) August 4, 2021
Would you feel safe as a depositor at a bank if a phone call by a politician guarantees a foreigner Kshs. 15 billion loan? With the hindsight of Chase Bank, Imperial Bank, Euro Bank…

Why did Ruto mention the bank and amount? Is Ruto out to destroy Equity Bank?

— Karani Mutonga (@Karanimutonga) August 5, 2021
Unauthenticated letter doing rounds on social media allegedly from Equity Bank, has distanced the bank from the claims by DP that he secured the loan via a phone call.
However, Uganda President Museveni affirmed that indeed it was Equity Bank that financed the project.
The facility, a brainchild of Mathias Magoola and funded by Equity Bank Ltd will focus on applying biotechnology to solve the health challenges of humanity through the creation of novel drugs, vaccines, and diagnostics.

— Yoweri K Museveni (@KagutaMuseveni) July 6, 2021
The focus is now on the Bank and how easily manipulated it can be that a phone call broke the ice and foreigners easily given Sh15B an amount that can collapse an institution.
Detectives on trailing the money flow and possible fraud in laundering, puts the bank in the middle of a circus that includes the deputy President, the foreign investors in what could be a long chain with conspirators. Banks have been used before in channeling dirty moneySiphoning dirty money and even with fines which Equity has been a casualty of CBK in several plunder of public funds, has never stopped the trade.
Equity Bank was fined Ksh 120 million for facilitating NYS and other scandals where money was packed in bags. Banking industry is the second largest criminal cartel in Kenya second only to the government.
Intelligence sources believe that Ruto by virtue of his office, influenced, brokered and 'secured' a loan from Equity Bank while working with Turkish nationals in the suspected money laundering scheme in Uganda before he was caught pants down. Bank allegedly used as a conduit. The new developments now put the bank under investigation and it's only a matter of time before the truth come to surface. Question is how many such risky deals could be going on without public's attention. And just how safe is depositors and investors money held at equity safe if a phone call can get Sh15B lifted from their bank with so much ease. Was this a political bargain and part of deal between Ruto and Equity Bank?
All this Wilson airport, Entebe, Uganda, Turks debacle raises more questions than answers. Is Equity Bank a money laundering base. What about other banks in Kenya?

— oneday@atime (@oneday_chris) August 5, 2021
During Ruto's July 6 private visit to Uganda, he had met two men and a female, all Turkish nationals according to intelligence sources.
Two of the foreigners, Hamit Demir, holder of passport number U23165848 and Mehmet Akif Bagle, holding passport number U11979628, flew from Nairobi's Jomo Kenyatta International Airport to Entebbe on July 6. They had applied for Ugandan visas while in Kenya.
Since there are no direct flights between Entebbe and Istanbul, the Turkish capital, travellers have to go through Kigali, Addis Ababa, Cairo, Nairobi or Doha.
The two departed JKIA at around 8.30am and arrived in Entebbe International Airport at around 9.50am, according to sources.
The sources said intelligence officers had launched a probe into the activities of some of the foreigners. Security officials were, however, not sent to Uganda to establish the real agenda of the meeting "due to risks involved".
Following these developments, senior Kenya government and security officials decided on Saturday July 31 that the DP would not be allowed to travel out of the country. He was, however, not informed.
Equity bank is used as a conduit, but they have realized that this might put them in trouble, it's stinking.

— Real Guy (@RealGuy2021) August 5, 2021
Intelligence officials believe the meetings with the foreigners point to a scheme where the visitors could be used to launder money currently outside the country by purporting to invest it in Kenya.
This might explain why Monday's controversial trip that involved some politicians and businessmen close to Ruto was billed as an investment mission where the Turkish man Aydin was presented as a partner in a multi-billion shilling fruit farming venture.
Kapseret MP Oscar Sudi, one of the MPs in Ruto's delegation, has said they wanted to explore farming opportunities in the neighbouring country.
"There is a large fruit farm of which the Ugandan government can buy shares," Sudi said.
Money laundering, according to authorities, seeks to hide the source of money believed to have been obtained illegally, by passing it through channels including commercial transactions and other forms of investment.
According to the Financial Reporting Centre, such schemes seek to hide and legalise the funds without catching the attention of authorities and also making sure all connections of the funds to criminal activities is removed.
Finally, the "cleansed" money returns to the owner in an indirect way, and is used for legitimate purposes.
According to the United Nations Office on Drugs and Crime (UNODC) about Sh200 trillion is laundered globally every year.
---
Kenya Insights allows guest blogging, if you want to be published on Kenya's most authoritative and accurate blog, have an expose, news TIPS, story angles, human interest stories, drop us an email on

[email protected]

or via Telegram
---