Battle Royale: Blogger Cyprian Nyakundi Takes His War To Safaricom's Collymore Doorstep With A Damaging Petition To Vodafone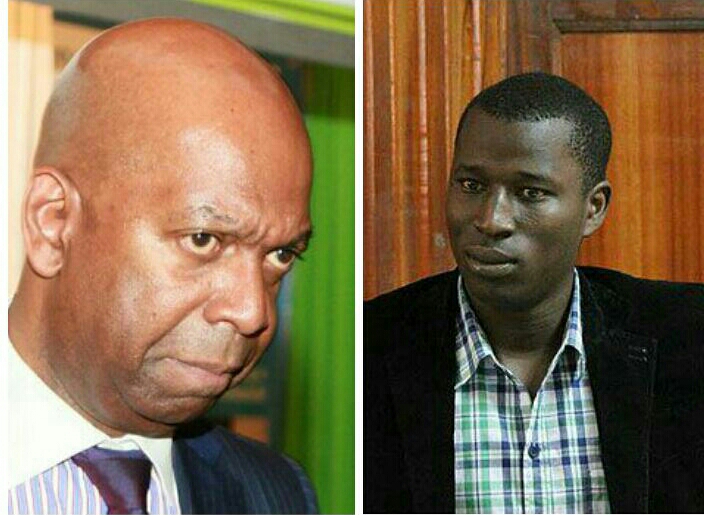 Blogger Nyakundi and Safaricom CEO Bob Collymore have been on an extended corporate battling for the longest time with the writer facing uncountable  law suits pressed against him by the company following his sustained criticism and scrutiny on the region's biggest teleco.
Gassed with the legal suits which he reads as intimidation on him to keep an eye off the company , Nyakundi has taken the war a top notch higher by writing a petition to the Safaricom's mother company , Vodafone with the hopes they'll intervene in the endless tussles. Kenya Insights has obtained contents of the letter that is going to put Safaricom and the CEO on a hard surface.
Read the letter below :
My name is Cyprian Nyakundi, a Kenyan based blogger who has a fundamental interest in corporate fraud investigations, politics and human interest stories. In my line of writing, I've poked holes into the Safaricom Limited's management, a cause that has landed me behind bars several times and making me a marked man by your affiliate company, Safaricom.
The cases since their genesis haven't bore any fruits as they keep flopping given the justice standards in Kenya and also that they don't hold much water but rather turned out to be Scare Tactics that Safaricom CEO Bob Collymore loves using aimed at keeping the company out of scrutiny.
Consider this, Bob Collymore Safaricom CEO, colluded with Kenyan CID Officers, to have me illegally-arrested and detained for more than three days only for the office of the Director of Public Prosecutions (DPP) to drop charges due to the faultiness of the charge-sheet. That is who Bob Collymore is, because he is has purse-strings of Safaricom under his control, he can influence the course of justice officers and seek to intimidate citizens of the country.
From my research, Vodafone believes in accountability and openness in management. Given its shareholding dynamics, Safaricom is a public company with Vodafone and The Kenyan Government holding largest stakes. In this regard, the company should not shy away from sharp public eye given the national interest threshold it meets.
I have been dragged into courts countless times and currently have gag orders from the same company against speaking on any item online pertaining to its operations. This does not only infringe on my freedom of expression as guaranteed by the Constitution of Kenya, but also a blinding tactic to the public since I have been a vocal voice in the Kenyan online community.
I feel like this is more than seeking justice from Safaricom's end, but rather a witchhunt targeting my personality and reputation. In all publications that dailies run against me as regards to Safaricom, I'm constantly painted as a malicious character, which is far from the truth. I'm tempted to think the scribes are compromised to tarnish my repuation.
I feel Safaricom has a personal vendetta against me, as the Kenyan Internet ecosystem has hundreds of blogs plus scores of dailies that have dared to write about Safaricom including; Nairobi Law Monthly an authoritative publication in the Kenya's legal fraternity who ran a three month-long series exposing the same items as my blog. Does this imply that Vodafone as the controller of Safaricom has an overall policy to gag and bully those questioning basic operational decisions?
On KPMG audit report that I have been issued gag orders against, Bob Collymore, the company CEO demonised the mere fact that I ran serialisation on the same, yet the internal audit-process as I'm made to understand, was commissioned by Vodafone itself. In fact Safaricom's legal team copied my KPMG Tweets and included them in their contempt of court application, yet Nation Media Group which ran a similar storyline, didn't incurs Bob Collymore's wrath.
Events following the release of the KPMG report including recalling of the CFO who was primarily mentioned as an architect of graft practices in the company, is proof that my publications didn't have malicious intent.
In yet another incident, Safaricom sued me for revealing that customers (of which I am one of them), were losing money to the third party-scammers, because of Safaricom's negligence and unwillingness to educate their clients on how to deal with Third Party subscriptions. Recently, after an article that appeared on my Blog went viral, Safaricom was forced to refund billions of shillings to their customers after a third party called "Cheza Games" was discovered to be stealing from customers through the backend in collaboration with some Safaricom Staff.
The Question is, if the "Cheza Games" third party scammaers could steal billions from Kenyans, what about other Third Parties? How much monies are Kenyans losing to third parties that work hand in hand with Safaricom Staff, which are allowed to thrive due to managerial-hubris?
I think the incorporation of Safaricom and it's very existence is subject to multiple oversight mechanism, due to the multi-sectoral nature and the growth of the mobile telephony market. Safaricom is governed by banking, communication, labour, environmental and other laws and regulatory-frameworks, meaning that it cannot escape scrutiny in totality.
I would like Vodafone as parent company to compel Safaricom to respect and uphold laws that have equally made it possible to grow and thrive. Coming from an era of Government controls on telecommunication, Safaricom is enjoying the same space that many fought for, to liberalise sectors to enhance the growth of industry, reason perhaps why Safaricom is one of your best performing affiliates in the continent. I also believe that blogs drive traffic and increase revenue to Safaricom, Kenya's leading mobile Internet service provider. I shouldn't necessarily be viewed as an enemy.
It's worth noting that ever since Safaricom initiated legal proceedings against myself, none of the cases have been completed, a clear indication that they are perhaps side-shows and diversionary-tactics meant to buy time and extend the gagging periods.
Kenya recently passed a law that makes it open for public to access information from any public institution, and it would be a great gesture if Safaricom leads the way, as a good corporate citizen, to be part of the on-going discourse as regards to transparency and accountability.
The matters I raise on my blog are of immense public interest and historical reference.
I hereby attach some of the documents which have been commissioned by yourselves, and which were anonymously sent to me, by insiders who have felt compelled to stand on the right side of history, and blow the lid on specific actions which may undermine Vodafone's overall bottom-line.
Regards
Cyprian Nyankundi
Editor Cnyakundi.como
---
Kenya Insights allows guest blogging, if you want to be published on Kenya's most authoritative and accurate blog, have an expose, news, story angles, human interest stories, drop us an email on tips.kenyainsights@gmail.com or via Telegram
---