A Friend Who Lived With Monica Kimani In South Sudan Reveals What She Was Doing And Why Her Parents Are To Blame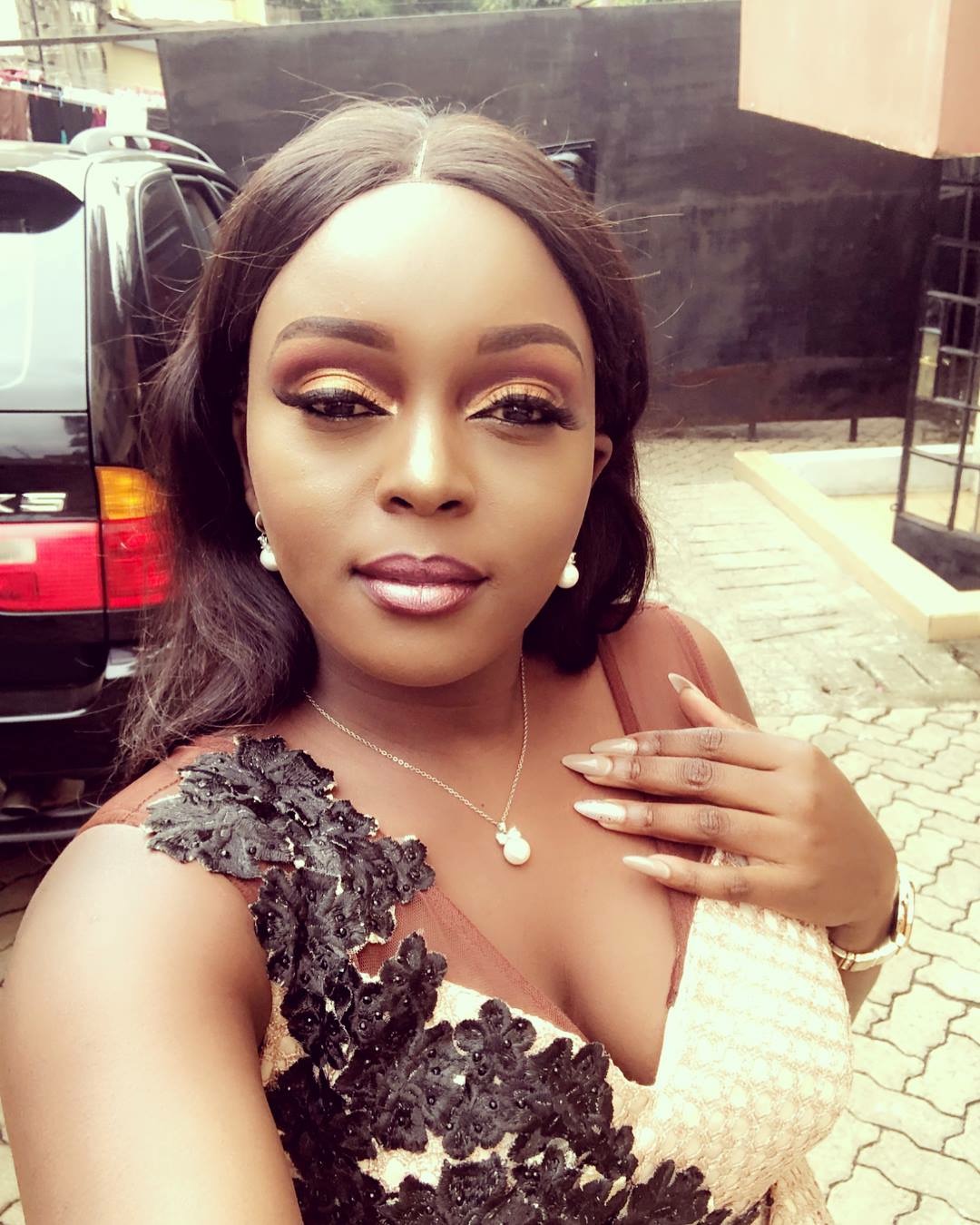 Joe Kiboi who supposedly worked with the late Monica in South Sudan has spoken out giving a smaller glimpse on her life out there, he writes;
Today I woke up highly disturbed by the content of what Kenyans discuss, the advent of social media has brought about an open system and we are able to discuss anything and any topic under the sky without a care.
This brings me to the topic every person in Kenya is discussing. The rise and fall of Monica Kimani and Jackie Maribe.
Monica was my friend we met during the days I worked in South Sudan.
To me she came through as a polite down to earth fun-loving person, she did not have the airs of a spoilt child, she was ambitious and determined to make it. To what lengths she would have gone to make it is a question that we should all ask ourselves.
Some stories I have read on social media are heartless to both Monica and Jackie. We should ask ourselves where these problems emanate from.
We are a society that instead of learning from other people's mistakes, we talk of how better we could have improvised those mistakes. We Improvise evil.
Monica like everybody else went to South Sudan to make a living and to make her life better for herself and loved ones, as far as I know she worked with the Ministry of Foreign Affairs and was just another ordinary Kenyan.
It was difficult for a person of Monica's nature to keep working in a place like South Sudan normally, her ambition and beauty would not allow her to take an ordinary 8 to 5 job, business offers were thick left and right.
From the onset I could see she was overly ambitious, she kept a rich crowd of Sudanese around her and her "business" contacts were who is who in South Sudan.
It is in this circles that I made her acquittance.
When I met her she was still hustling as everybody is wont to call a novice business person. I am not very sure exactly what she was hustling at the time, but she was in her humble beginnings.
We all had contacts and contacts at the time were the thing that made or broke you in South Sudan, everybody then was looking for people with contacts. I had contacts in the right places and one day Monica and her brother George came looking for me. They wanted a certain favour from me.
Personally, I was not able to oblige since that was not my line of business, however in my judgment I advised her appropriately and I let it go.
We thereafter became good friends and she would call, and we would meet for drink once in a while. I was surprised at how wealthy she had become within a short time and I was equally concerned at what she was doing. I remember advising her on certain issues and unfortunately this is where we are now.
I am disturbed by the circumstances of Monica's and Jackie Maribe's tragic end to their stories. This seems a case of a failed parenting to me. I feel it would be wrong for me not to talk about this, we as a society have lost our moral standing.
Instead of pointing out the wrongs committed, we wish we were in those positions and we talk of how better we would have done it ourselves.
I see people saying how stupid a killer Jowi is and how they would have left no traces themselves! What a society!! Are we trying to perfect killers?
I was brought up in an era where my parents were not the only people parenting me, I was parented by my grandmother and I was parented by my neighbours.
Every move I made was seen and reported, if I truanced my folks would be waiting for me with a "Rucamio" and discipline was instilled immediately, if I fought in school my folks would know.
I constantly felt under surveillance despite the absence of technology we have today. Discipline was never postponed my neighbour or my friends' parents in school would mete it out to us instantly and on the spot. We were taught how to be good citizen by our parents.
We were Kenya's children and every adult was our parent.
Where did we go wrong that we no longer know where our children are and what they are doing?
The laws of our world are such that everybody has to start life from the bottom of the pack and work your way through the ranks, even in the business world you need to make a name before you can call your business a success.
We were taught to work hard! We were shown the blood and sweat route and we became proud of building our little empires piece by piece.
I am a father of two daughters and it is bestowed upon me to see their upbringing, it is my duty to educate them and prepare them for a future.
Indeed it is my duty to ensure that they make a good wife to someone out there as it will be the duty of my future father/mother-in-law to make sure that his son will be a good husband to my daughter. We were brought up to bring up families!
My parents brought us up in the hope that we shall all go and start a home and carry their names to greater heights. Life was easy, get an 8-5 job feed and educate your family no unnatural demands.
As my daughters grow, I want to know whom they hang out with, what they do and what places they go to, until my daughters are married off they continue to answer to their parents. (of course, today marriage is a choice and therein the problem lies. Probably).
Daughters are vulnerable and we as parents are obligated to protect them more than the boy child. When daughters get pregnant pre-maturely it is us parents who take the responsibility of the grandchild as our daughters reboot their lives.
Our daughters stay with us throughout.
I therefore fail to understand how a parent cannot monitor their children as they go about their business, be they boy or girl a parent needs to know the progress of their child even through adulthood. (If they can bring their child for me to look after, why wont you be accountable to me?)
Now here we are with a tale of two fathers and two daughters one dead and one in prison, one said to be having unlimited wealth and another seeking wealth. How far can we go to acquire wealth and what does it mean to us?
Monica was Twenty Nine and Jackie barely older or younger, lives cut at their buds and yet to us what matters is how this kids were wealthy and how they had acquired a celebrity status.
It was such that our parents were taken care of by both their daughters and their husbands, today we have daughters spoiling their parents with gifts whose source we don't question, sons spoiling their mothers with endless streams of cash without questioning their source.
How can you brag that your son was in the process of acquiring a certain gift, what do you regret the loss of your child or the loss of the gift?
When your daughter is in the public domain declaring multiple relationships where are you seated? When you see your daughter posing with a person whose background is suspect and toying with guns, what are you doing? Those who play with guns look for targets!
The loss of Monica and the loss of Maribe is a parenting disaster that we should all learn from.
I will from where I sit blame the parents for letting things run this far.
Both parents failed to intervene in good time and sat back to enjoy fruits that they could not account for and the price has been too high.
I will mourn a good friend and I will sympathize with Jackie, but as parents lets get a little bit more involved with our children.
There is too much killing of young daughters by equally young sons.
---
Kenya Insights allows guest blogging, if you want to be published on Kenya's most authoritative and accurate blog, have an expose, news, story angles, human interest stories, drop us an email on

[email protected]

or via Telegram
---
Joash Ombati The Brave Police Officer Who Took On Two Thugs And Recovered Sh400,000 Feted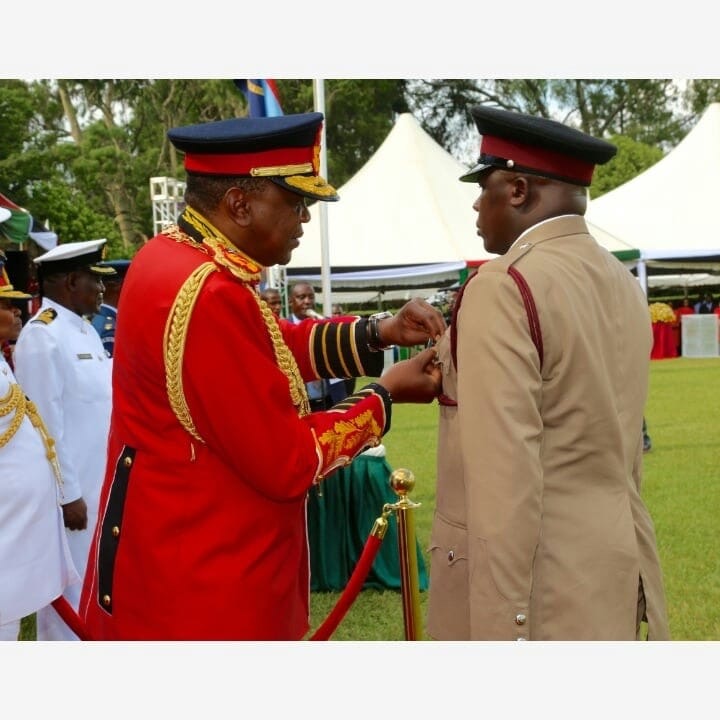 Two suspects, Sameer Abdulaziz Kassim and Peter Kavoli Musili had posed as traders of construction materials on OLX.
They reportedly duped Amos Charo Saroan, an unsuspecting customer from Voi then robbed him.
Amos Charo traveled from Voi and met the duo in Nairobi CBD, then drove towards Westlands but he was pushed out of the speeding car after giving them KSh 732,000, an incident witnessed by Ombati.
Administration Police Constable Joash Ombati who was guarding a bank nearby, boarded a taxi to chase after the suspects.
The Police officer shot in the air forcing the thieves to surrender before he handcuffed them as members of the public watched with many urging him to shoot dead the suspects.
Mr. Ombati remained calm even as a furious mob urged him to shoot and kill.
He managed to recover Sh400,000 which was part of the Sh732,000 that the suspects had stolen from the complainant Mr Amos Charo.
Ombati would then be awarded by Interior CS Matiang'i for his bravery the government was given the heroic AP a Distinguished Service Award in November 2018 barely a month after his commendable work.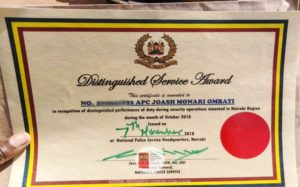 That wasn't the end, Joash Ombati who single-handedly pursued two thugs in Nairobi and recovered KSh 400,000 has just been promoted to the rank of Corporal from being a AP Constable.
Friends help me Congratulate my brother.
---
Kenya Insights allows guest blogging, if you want to be published on Kenya's most authoritative and accurate blog, have an expose, news, story angles, human interest stories, drop us an email on

[email protected]

or via Telegram
---
Grace Msalame Sues Uganda's Tourism Board For Illegaly Using Her Curvy Photos To Promote Sex Tourism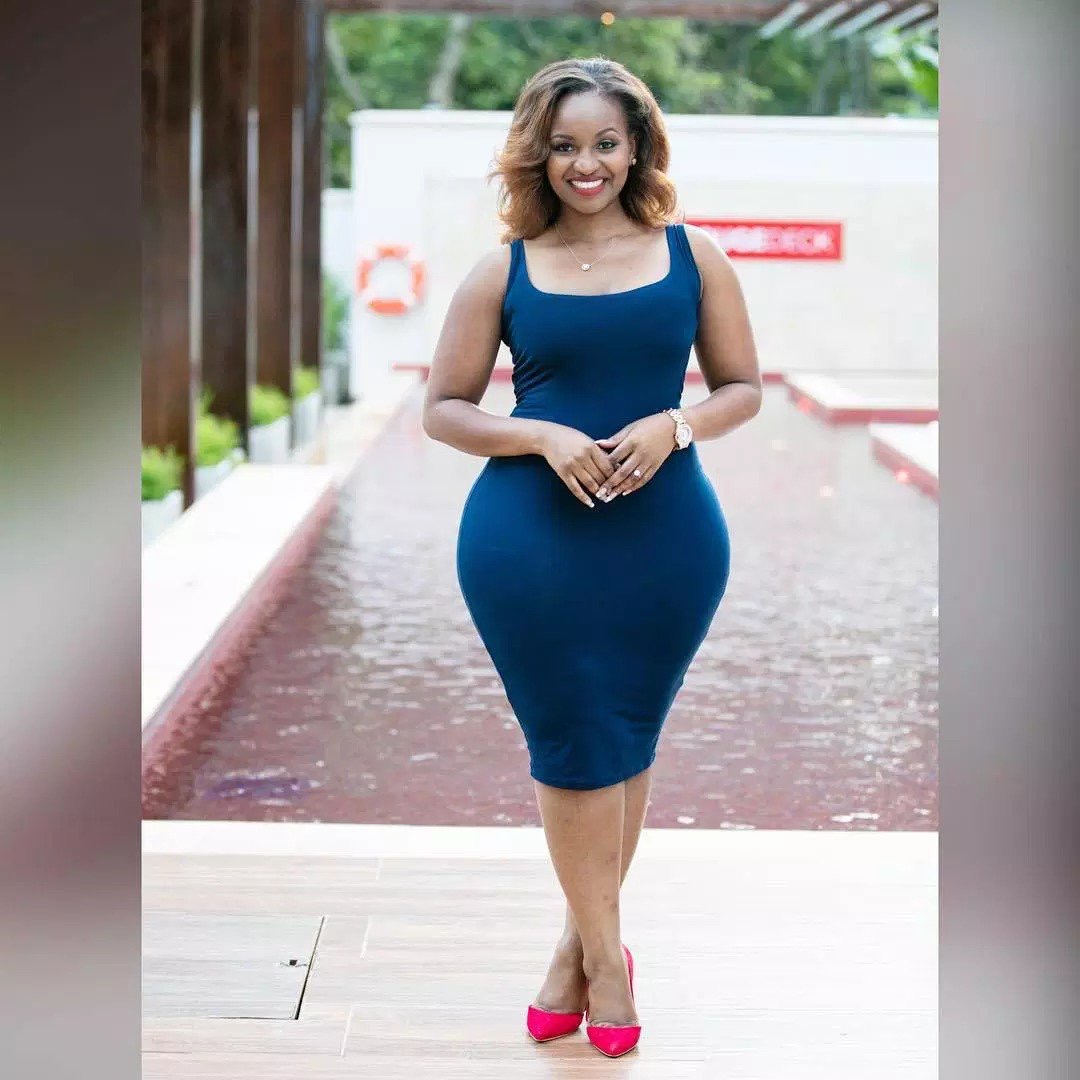 Uganda's Ministry of Tourism unveiled a beauty pageant dubbed 'Miss Curvy Uganda' in a bid to promote tourism in the country, the ministry decided to use Kenya's media personality Grace Msalame as the official face of their Miss Curvy Uganda contest without her knowledge. Whether it was a mistake or deliberate is unknown but now they'll have to prove it in court.
Grace a media personality in Kenya has distanced herself from the beauty pageant saying she was never part of the program neither did she give consent for her photo to be used in the promotion.
In a statement, Msalame says, "I take great exception for the fact that my image and likeliness are being used to propagate, disseminate and encourage objectification of women. I don't agree nor endorse such a message or anyone who's a creator of the idea that women's body are tourist attraction sites."
While announcing that her lawyers are already on legal course for redress, Msalame says, "I reject any association to me that has been unlawfully created by Miss Curvy Uganda 2019 and its agents."
The media personality claims that her brand has been immensely hit following the publications of her images. "Miss Curvy Uganda's deliberate and calculated use of my image and likeliness to promote violation of women's bodies had defamed my character and reputation damaged a brand that I've worked for so many years to establish, and subjected me to unwarranted and undeserved cyber bullying." She says in her statement.
---
Kenya Insights allows guest blogging, if you want to be published on Kenya's most authoritative and accurate blog, have an expose, news, story angles, human interest stories, drop us an email on

[email protected]

or via Telegram
---
Club Associated With CS Echesa's Deported Exotic Dancers Now Wants State To Pay Them Sh48M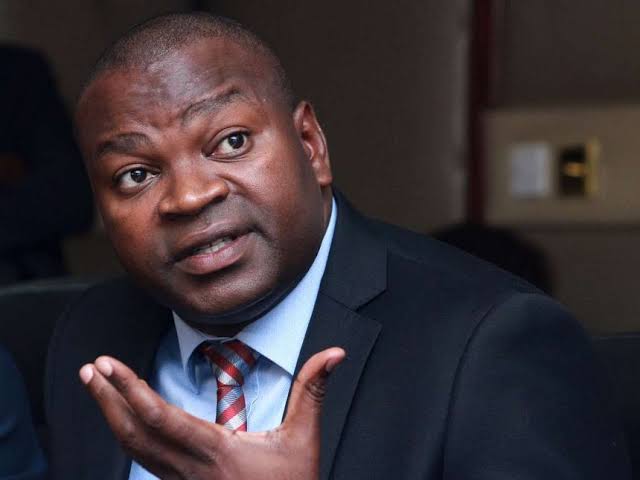 Balle Balle Club In Parklands that flew in the eight deported Pakistani women is now suing the state over the deportation of the dancers by police infringed on its rights and business. The club is seeking to be compensated with Sh48M which they claim was lost as a result of the deportation.
Arguing their case before Justice Luka Kimaru, the club represented by lawyer Evans Ondieki told the court that the dancers had been issued with special permits by the Sports CS Rashid Echesa to perform at the Balle Balle Club during the festive season but were arrested and detained illegally by police.
The court also heard, the girls were bundled out of the club and detained for 36 hours without bathing, which was a violation of their basic rights. They were held as investigations looked into the circumstances and validity of the permits issued by the CS who was alleged to have been involved in the human trafficking racket.
Earlier, the lawyers had sought for the court to compel CS Echesa and Matiang'i to personally compensate the deported girls despite having a standing order to produce them in court. The courts excused the CSs from the Sh9.1M fine and instead summoned detectives who gave out the girls to different state despite the case having been lodged in.
The club is now seeking orders restraining the DCI, DPP and Transnational Organised Crime Unit from entering, harassing, intimidating, arresting or doing anything prejudicial to its directors.
---
Kenya Insights allows guest blogging, if you want to be published on Kenya's most authoritative and accurate blog, have an expose, news, story angles, human interest stories, drop us an email on

[email protected]

or via Telegram
---