Uganda Author Kakwenza Flees Into Exile Following Torture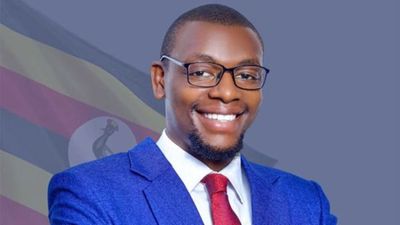 Ugandan author Kakwenza Rukirabashaija who was charged with insulting President Yoweri Museveni and his son has fled the country out of fear for his life, his lawyer said Wednesday.
"He has left Uganda," Eron Kiiza, the lawyer for Kakwenza Rukirabashaija, told AFP, adding that the 33-year-old was seeking medical treatment abroad for injuries inflicted during his time in jail.
"He fears poisoning as a result of his injuries and the injections of unknown substances he was subjected to," Kiiza said.
The novelist was detained shortly after Christmas and later charged with "offensive communication" in a case that has raised international concern, with the European Union among those calling for a "comprehensive investigation" into rights abuses in Uganda.
Rukirabashaija said he was tortured in custody and appeared on television at the weekend to reveal painful-looking welts criss-crossing his back and scars on other parts of his body.
The charges against him relate to unflattering comments on Twitter about Museveni, who has ruled Uganda since 1986, and his powerful son Muhoozi Kainerugaba.
In one post, he described Kainerugaba, a general who many Ugandans believe is positioning himself to take over from his 77-year-old father, as "obese" and a "curmudgeon".
He was released on bail last month, with his trial due to begin on March 23.
Uganda has witnessed a series of crackdowns aimed at stamping out dissent, with journalists attacked, lawyers jailed, election monitors prosecuted and opposition leaders violently muzzled.
Rukirabashaija won acclaim for his 2020 satirical novel "The Greedy Barbarian", which describes high-level corruption in a fictional country.
He was awarded the 2021 PEN Pinter Prize for an International Writer of Courage, which is presented annually to a writer who has been persecuted for speaking out about their beliefs.
Torture
 In a recent interview with NTV Uganda, Kakwenza said, "They hit the burglar-proof of the window, broke it, and entered my house. They started punching me in the stomach, kicked me, and hit me with a gun butt. I found two drones and three private vehicles outside. My captors were around 20 in number. The ones in uniform were about 12 and others were in civilian clothes. All were armed with pistols and guns. I was then whisked away."
"I could feel that we were on the Northern bypass. We reached somewhere and I heard the taxi tout calling Kalerwe, Bwaise. I was then led into a room. They beat me using batons. They hit my ankles. I asked them, "Why are you beating me? Why have you arrested me; you have not told me any reason." They did not have any arrest warrant…"
"…I was then taken to a room where a speaker was playing loud music. I was told to dance. Whenever I danced slowly, someone would hit me with a baton and they would tell me to dance vigorously. I then told the afande "Sir, I am tired; I need to rest." He said, "you're tired, okay; push up position." I made push-ups until I could not anymore.
He said, "You said you were tired, do pushups." I then said "okay let me dance." I then danced. We danced without rest. They told us "you can sleep for one hour." At around Iam in the night, they woke us up. We then danced till morning," Kakwenza said.
"In the morning, we were given food and allowed to shower. A shower takes two minutes. You remove the mask when you are in the toilet or shower because the toilet is kind of detached from the room. After the shower, they started beating me, telling me to pull down the book (the Banana Republic, about my torture at the Chieftaincy of Military Intelligence, (CMI) from Amazon."
"They beat me everywhere with batons and then took me back to the dance room. I danced with my feet all swollen but I had nothing to do. If you stopped dancing, they would beat you; so, you had to dance [smiles]. You collapse, they beat you until you regain consciousness.
The entire time I was there, I was dancing apart from the day I was taken to Iganga for a guided house search. We came back and they sent for me the following day. They told me to take off my clothes. They beat me up! They started asking for my funders. They asked about people I did not know. They asked me about people from the American embassy, the European Union, and people from the British Council. They asked about all of them and I honestly told them that I did not know anyone."
"…They beat me up until I could touch any part of my body and feel my blood. Blood was all over my blindfold. I then knew that I was dying. That day, they beat me and I lost my consciousness. I regained my consciousness at about 6am, the next day. I found a doctor working on my wounds. They were giving me six injections every six hours. They would get pliers and pluck flesh from my thighs and everywhere around the body.
I have dermatological ulcerations all over my body. I felt I was dying. That is the day I thought of denouncing my Ugandan citizenship. They made me stand in front of a camera and apologize to (First son Lt. Gen Muhoozi Kaineruagba and President Museveni. I had nothing to do. I was dying," he said.
"Someone came and whispered to me, Kakwenza we thought you were going to die. You are a very strong man. We honestly thought you would die…the reason they were doing all the medicine and stuff, you were to be produced in court.
The pressure outside is too much.'
"By Saturday, the wounds were drying. Court then granted me bail. As I was walking to the gate, which was 400metres away, I saw a double cabin. I asked my escort where he was taking me because I was not seeing my lawyer. I did not see my relatives anywhere. He was like you walk; you will find your lawyers. I agreed. I had seen the double cabin parked at the gate…"
"When I came near it, the number plates were covered. I was like this is a drone. I was limping; I had the release order and my medicine in my hands. When I saw it [drone], I went back to my escort. He had walked back. I followed him. He was like Kakwenza you are safe. You just walk. That is when six gentlemen emerged out of a maize plantation. They came running, reached where I was, and lifted me."
"They took me to Makindye military police barracks. I found they had prepared a beautiful self-contained old room. They brought a towel, soap, a box of water, coffee, a toothbrush, toothpaste; they asked me what food I eat. I told them I was a vegetarian. They said we shall be serving you anything you want to eat. "Here we are good people, we don't torture."
That is what they told me. A doctor came in and examined my body. Afterward, he stepped out. I overheard him speaking to someone on phone. He was like; this man is not alright we should not keep him here. I heard him repeat the same statement five times. I was taken back to my home in Iganga in a small car. We also had a lead car and another car behind us. They all had no number plates."
Kakwenza was also arrested on April 13 2020 after he wrote his book; the Greedy Barbarian. He described a despicable toilet experience at the hands of his captors at the CMI detention facility at Mbuya.
"…he [captor] took me to a small toilet and locked the door behind him. For a minute or two, I thought that perhaps he had brought me to ease myself and that he would return and take me to sleep with the inmates I had found sobbing in the corridor."
"As my eyes darted about, I saw a steel plate and a plastic cup that had been placed on the floor. There were also iron bars fixed into the two walls that appeared to be handles to help a handicapped person use the toilet. I proceeded to use the toilet…However, when the officer came back to serve me drinking water and found me relieving myself comfortably, he kicked me viciously, propelling me off the toilet seat."
"I landed on the floor like a bag of potatoes. The officer had chained both my hands and legs; so, gathering myself up again was something of a herculean task," he said.
"You idiot, this is not a toilet!" the man fumed, and the whole room was pervaded by a cigarette-polluted breath from his malodorous mouth."
"But this is a toilet, sir," I retorted. "Kumanyoko. Eat that shit now!" he commanded. I looked at him askance. The beanie that had blindfolded me had fallen amidst the altercation. All along he had been standing at the threshold. Now he walked into the small cell, grabbed me by the ears, and thrust my head into the toilet bowl. My mouth almost kissed the mound of unflushed constipated shit that had been floating on the water inside the bowl," he said.
"It was a terrible night for me. I was very cold in the small toilet, and the pain from the tight handcuffs and tight chains around my legs was excruciating. I wondered what the following day would bring if an illiterate hired rascal who hardly spoke English, whose fingers and teeth were blackened by tobacco smoke, could treat me the way bulls being trucked from Kiruhura to Kampala for slaughter are treated," Kakwenza said.
Compilation of AFP & NTV Uganda.
---
Kenya Insights allows guest blogging, if you want to be published on Kenya's most authoritative and accurate blog, have an expose, news TIPS, story angles, human interest stories, drop us an email on

[email protected]

or via Telegram
---