Tony Chinedu Speaks Out On Joyce Akinyi Raphael Wanjala And His Current Lifestyle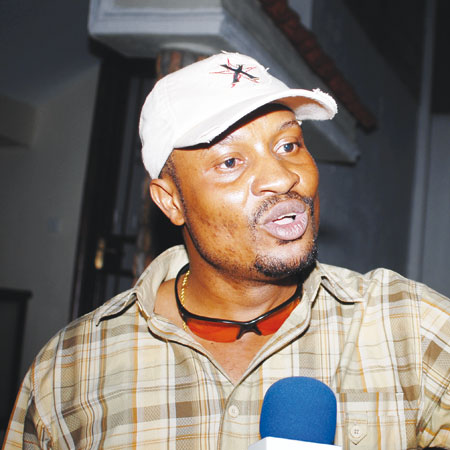 Earlier this year, Kenyan media headlines were flooded with news and reports of a marriage gone sour between a controversial Nigerian Anthony Chinedu and his ex-wife Joyce Akinyi that led to one of the most gruesome deportations ever to be witnessed in Kenya's number one airport JKIA.
And when Tob Cohen was viciously murdered in Nairobi's Kitusuru Home, the Nigerian Tycoon had this to say:  "Thank God I Didn't EndUp In A Septic Tank Cz I Had A Big One Then, In Chalbi Drive Lavington Green, That's The Class I Took Nya Ugenya…Top Class! ….Tob Cohen Didn't Live To Narrate His Ordeal…But I Absolutely Confirm To Everyone That A Deporter Can Kill You If She Failed To Deport You Cz What She Wants Is Your Investments NOT You. Kenya?? And South Africa?? Are ONE Type of People But Better SA, Theirs Are Done By Jobless Youths Unlike Kenya?? Where Theirs Are Done By The Wife You Married And Changed Her Life And That Of Families. It's A SHAME…R.I.P. Cohen" Chinedu Posted on Facebook.
Anthony Chinedu, who had been living in the country for the past 17 years, shot into the limelight as a wealthy Nigerian tycoon embroiled in a bitter battle for property running into hundreds of millions of shillings with his estranged Kenyan wife, Joyce Akinyi, in 2008. And That's when the rain started beating this flamboyant man who had been in and out of local headlines for almost seven years now.
The actual dates that Anthony flew in the country remain sketchy but from what is made public, Chinedu met and fell in love with Joyce Akinyi and together they had two children. Then, in 2004, the two decided to formalize their union at the Attorney General's chambers, followed by a brief ceremony to celebrate their marriage. Soon, they embarked on a massive investment spree, building homes and running the popular Deepwest pub off Lang'ata Road. Then accusations of adultery, drug trafficking, and abandonment started flying, and everything went south from there.
The embattled Nigerian tycoon Anthony Chinedu has however decided to speak out on what transpired on the Sunday 2nd June 2019, a date that Kenya Police stormed his house at around 9 pm with what he termed as "operation kill Osama" riffles and roughed him up like a foreign rat to JKIA and, State officers ordered his immediate deportation.
Speaking to MediaMax journalists based from K24 TV, Chinedu states that he has been living in Kenya for over 17 years and has neither nor will ever involve himself in a drug trafficking ring.
Chinedu in an exclusive interview at his house in Ikeja Estate in leafy Lagos suburbs, he blames his ex-wife Joyce Akinyi of using state individuals using her Kenyan roots to rough him outside the country so that the named individuals can enjoy his hard-earned 17 years sweat that is now valued at more than $20 million.
According to Chinedu, Joyce Akinyi, his ex-wife, joined hands with the former Nairobi Langata area PCIO Nicholas Kamwende and one controversial Nigerian Ken Obinna and Legislature Raphael Wanjala allegedly facilitated his deportation plan so that they can jointly sink his empire and divide amongst themselves.
In yet another suspicious revelation on the case, Anthony Chinedu told the K24 allied reporters that the Nigerian that he was deported with, Ken Obinna, is not and did not even spend a night in Nigeria. His whereabouts remain unknown, but Chinedu says that Ken Obinna has been deported three times from Nairobi to Nigeria. He never stays in Lagos and always flies back to Nairobi. "He is a Nigerian working with the Kenyan Police" Chinedu alleged.
And just for those who are wondering who is this Chinedu ex-wife Joyce Akinyi, lemme take you back a bit on who we are dealing with. Joyce Akinyi on 12th of July, almost a month after Chinedu had been deported, was arrested together with two other suspects over allegations of drug trafficking.
Akinyi was arrested at Deep West club, believed to be theirs with the embattled deported husband, on Lang'ata Road. Police claim to have recovered 4kg of white powder believed to be cocaine. She was locked up at the Muthaiga police station together with a woman identified as Fellis Anyango and a Congolese man. The operation at Deep West was conducted by officers from the DCI Special Crimes Prevention Unit together with the Anti-Narcotics Department.
Before this, Akinyi was arrested with drugs was in 2015 together with three other suspects who were also arrested but later on released due to lack of sufficient evidence to pin them down.
In 2013, Akinyi and a Budalang'i MP were arrested at Isinya on the Nairobi-Namanga highway over claims of drug trafficking. They were later released after they insisted they were carrying maize flour imported from Tanzania. The MP and Akinyi were also detained in India in 2008 after authorities found them with an undeclared Sh7.59 million. New Delhi's Revenue Intelligence department and the Narcotics Bureau were investigating if the money was to be spent on drugs. The two were released following intervention by the Kenyan authorities. Akinyi and her estranged Nigerian husband Anthony Chinedu have been linked to cases of drug trafficking.
Back to Anthony Chinedu with that out and aside, there have been allegations that the Nigerian Tycoon has been holding Kenyans that escorted him to Lagos, Nigeria as a ransom exchange with his 17 years investment he made and lived behind in Kenya.
Those stuck in Nigeria include Captain Tim Kavingo and his colleagues, flight engineer Alaka Ochieng' and flight attendants George Kamau and Ismail Adan. First officer Rokshanker Masoud, a Swede, is also affected. The government officials who escorted the deportees were Mr Barasa Okosa, Mr Kariuki Ngugi, Mr Mungathia Muriira, Mr Pardala Dipason, Mr Kivuva Muthama, Mr Andrew Kambi, and Mr Mutinda Kakindu.
In his defense, Chinedu says he has no hand in the detention of the Kenyans in Lagos. He, however, said that Lagos has been in touch with Nairobi and they have to give Lagos what she needs and the consignment that belongs to Nairobi will be released, by who? Nobody knows.
Anthony Chinedu says that Kenyan government and especially Nairobi has been harassing Nigerians and treating a few of the most hardworking as Narcos lords despite them investing heavily in the Kenyan market and economy.  He has also blamed extensively the former AG Githu Muigai, a man ho hard exact powers as the supreme court judge for infringing the Kenyan laws. He has also blamed foreign affairs ministry and specifically the Kenyan Ambassadors who, he allegedly say are directly linked to the demise of his $20 million Empire in Kenya
---
Kenya Insights allows guest blogging, if you want to be published on Kenya's most authoritative and accurate blog, have an expose, news TIPS, story angles, human interest stories, drop us an email on

[email protected]

or via Telegram
---