Report: Lawyer Khayega Barclays Bank, Housing Finance, DTB, I&M Used In Laundering Kenya Pipeline Loot With MD Joe Sang Networth Estimated At Over Billion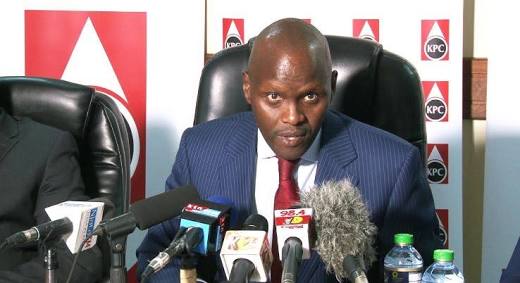 More details continue to surface in the light of megs corruption at Kenya Pipeline where taxpayer has been losing billions siphoned through unscrupulous deals made by officials and brokers. In the leaked intelligence report under, 'KPC PURCHASE OF 2-ACRE LAND L.RNO 209/8618 –KSHS 653M' the agents engaged in the looting of KPC have been named including the banks that were used in the fraudulent transactions.
The report questions why the valuer was changed from lands to NLC. Why KPC BOD made contacts with the NLC Valuer which shows clear conflict of interests. Why did the NLC valuer made contact with the lawyer(➢ The role of advocate Khayega based at Maendeleo House in the money laundering.) How the Eldoret based Advocate picked to transact as opposed to all the lawyers in Nairobi.(➢ Advocate Richard Cheruiyot is based in Eldoret under his firm Cheruiyot and Cheruiyot Advocates, how did he transact under Kimaru Kiplagat Advocates.)
Movement of money in directors and lawyer( Khayega) account in the period -Nov 2016 – Mar 2017. Deeper, the report flags➢ The role played by CS Charles Ketter in the process and how he was paid kshs 40m. ➢ The Role played by KPC MD Joe Sang and how he was paid kshs 20M. ➢ The role of KPC BOD Felicity, Faith, Neepe and ,Waome and what they got kshs 50M.
➢ The role of NLC to get a share of kshs 10M. In banks, the report lists; ➢ Barclays, DTB , Housing Finance & I&M as having been used in laundering the loot. Presumably, they overlooked anti money laundering policies.
In the deal, phones linked up in the piecing of events to prove relations ➢ Numbers on interest in the transaction .0732625777-0721625777-0791281749-0722310203-0716012150-07227414710722666317-0722530555-0722310277-0711440291 these will give a direct link to who got what in the deal.
The role of company secretary in the process, evaluation and provision of legal opinion the report questions, it goes further to shed lights on Accounts of ARMCO Directors should be critically analyzed for bulk cash movements.
It was found that the Evaluation team were paid kshs 5M to give a favorable report through Soimo and CS-Gloria. Curiosity is heightened as to How the initial Valuation by KPC James Nyamongo of 320M was discarded and NLC approached to give a higher valuation.
The Role of Director Faith in the negotiation with NLC valuers. Was Faith an intern at Kimaru Kiplagat Advocates who were given the conveyance contract? Was Richard Cheruiyot Supervisor of Faith at Kimaru Kiplagat Advocate, the report flags.
Report recommends the following as persons of interests and beneficiaries who ought to be investigated;
1) CS Charles Ketter
2) Kpc MD Joe Sang
3) KPC Directors
4) KPC Company Secretary
5) Evaluation Team
6) Banks
7) Armco Directors
8) Advocate Richard Cheruiyot
9) Advocate Khayega
10) KPC Chairman John Ngumi
11) NLC valuers.
12) KPC James Nyamongo
13) Sharon Kisire
FIBRE OPTIC PROJECT KSHS 800M
The report notes that the best company with a bid of ksh 600M was disqualified and intimidated. It recommends a review of the evaluation process that will reveal how the highest bidder was awarded. It is indicated that scout Sh300M could have been lost while questioning who JV Partners named largely here were.
The evaluation team was paid ksh 10M to fix the tender process. The Evaluation committee chair Lamik Rotich made contacts with Express Automation –Piresh/Bill and (Mr Abdul 0731786444-0722887212 –Son of Hon Duale ) who was the JV partner.
It is indicated that Cs Ketter and PS Andrew Kamau were paid kshs 100M, KPC MD Joe Sand got kshs 20M. GM Vincent Cheruiyot got 1M, GM Peter Jabon Mbugua who was later found with vague academic papers and dismissed got kshs 3M. The money lost was never recovered, KPC Chair John Ngumi secured kshs 20M. Report raises eyebrows as to why the lowest company was not awarded the contract.
Listed as persons of interest;
1) CS Charles Ketter
2) Hon Adan Duale son
3) Ps Andrew Kamau
4) KPC Chair John Ngumi
5) KPC MD Joe Sang
6) GM Vincent Cheruiyot
7) GM Peter Jabon Mbugua
8) Eng Lamik Rotich
VALVE AUTOMATION PROJECT KSHS 1.2B
Investigations questions why the tender was split and why SECO was recommended for the award and later cancelled. Rigel systems quoted $3.4M for what was awarded to coricom Ltd at $5.1M
Rigel systems ltd is an Italian company whose local agents Hawkeye ltd are based at Mayfair center. It's the local agent who paid out kshs 60M to kpc MD and BOD. Coricom Ltd in owned by MERU Deputy Governor Titus Ntuchiu who has direct link to KPC board through Gregory mwenda the Husband of KPC Director Felicity.
Ceraph did the actual Job in the JV, While KPC made all payments to the broker Coricom Ltd who retained the commission and remitted the cost of actual works to Ceraph ltd FRED Okello 0722-735097.
Bank transactions from KPC –Coricom-Ceraph-KPC director Felicity can be clearly traced for all the payments. The contract should have been awarded for $3.4M to Rigel Systems Ltd but due toBOD pressure Ceraph/Coricom JV was awarded for $5.1M.
RTGS transfers of ksh 100M can be traced directly to some of the KPC board Member and family members. Number of interest 0734891417, 0722131308 – 0715312312- 0722666317-0722957996.
KPC MD Joe Sang-Nephew Hillary Langat 0722957996 is the lead money collector for KPC MD whose phone contacts can be traced to all KPC supplier who have been paid or awarded contracts.
➢ He's net worth is over a billion under KIMBELL INVESTMENTS Limited and LENKIM SERVICES LTD he hold the property on behalf of KPC MD JOE SAND
Persons of interest recommended by the report;
1) Board chair John Ngumi
2) Kpc MD Joe Sang
3) Titus Ntuchiu
4) Hawkeye local Agent Jomo
5) Hillary Langat.
6) Grecory Mwenda
7) Felicity Biriri
8) Fred Okello
9) Stella of Coricom ltd
---
Kenya Insights allows guest blogging, if you want to be published on Kenya's most authoritative and accurate blog, have an expose, news TIPS, story angles, human interest stories, drop us an email on

[email protected]

or via Telegram
---