One Of Kenya's Top Most Racist Hotels, Giraffe Manor, Opens Doors For Local Tourists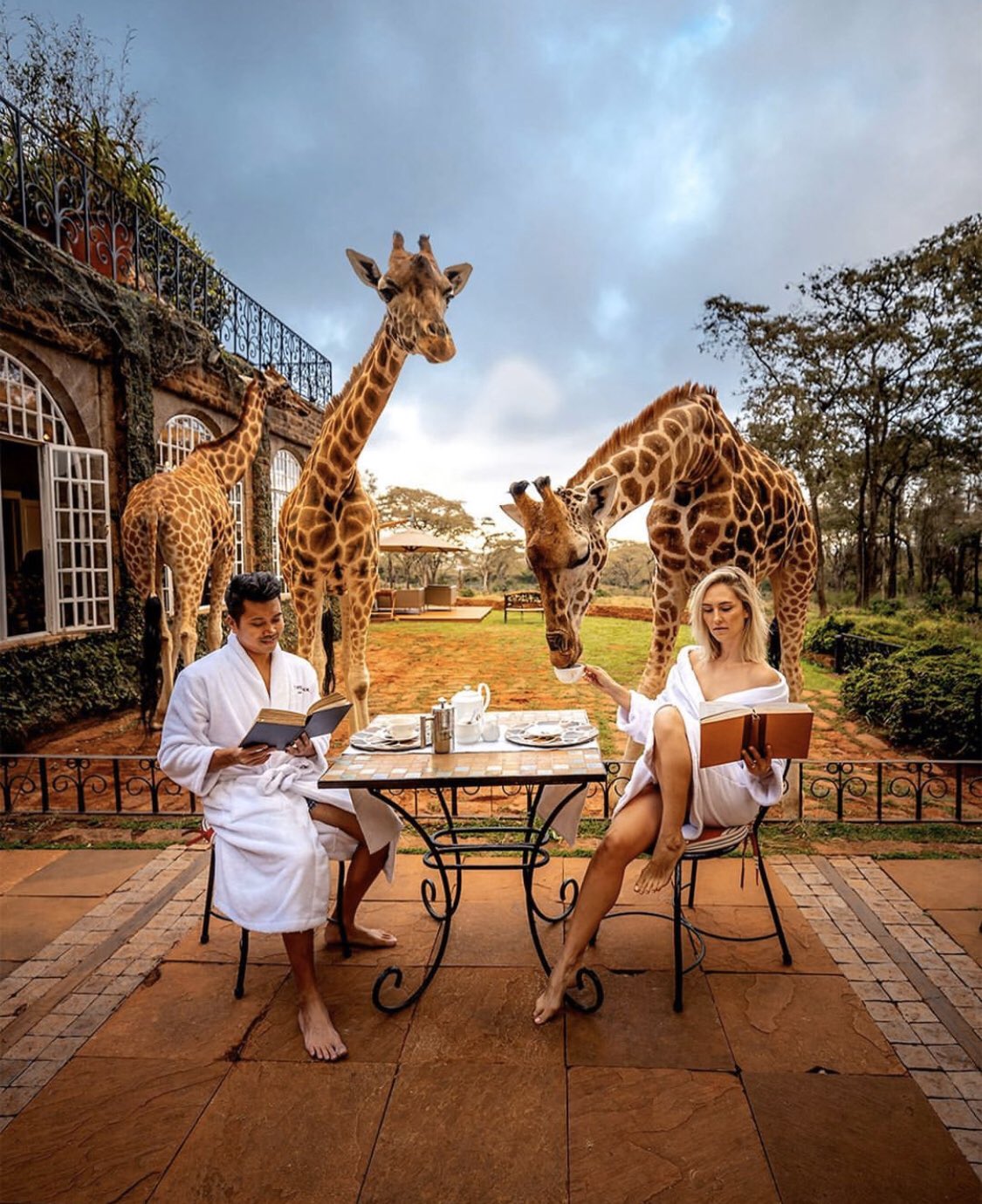 Giraffe Manor, one of the most exclusive hotels in the elusive Karen estate, has hosted global celebrities including Ellen Degeneres amongst many. Considered an exotic destination, the hotel has been a dream for many tourists who travel far to enjoy the ambiance and the exclusivity of indulging and feeding the friendly giraffes.
Coronavirus came and the whole dynamic changed. Manor initially, didn't have friendly packages for the locals infact, it appears like it was engineered for the white population. Personally, as a black person, I have horrible experiences that will only make the next piece not today.
Unsurprisingly, the hotel that previously shunned the locals, is now opening doors for the locals given the fact that no more tourists are flying into the country due to the coronavirus. But not everyone is having it.
As one aggrieved celebrity writes, "Dear Giraffe Manor Management. You are cancelled & we don't need to be welcomed into Giraffe Manor, only now that you need KENYANS because all your white rich guests can't travel into your establishment because of the Corona. My friend @smilesbeckwith [a travel consultant and owner of a travel company] tried to book a stay with you, last year between Sept and Oct, we called your establishment to inquire if we could stay a night – there was no space available because you were booked out, completely understandable. But when we requested to come have breakfast and just see the giraffes we were slapped with an exorbitant rate [over 600 USD] which included a driver, chauffeur, airport transfer and a vehicle BUT when we requested to pay only for the breakfast and to see giraffes and not have to pay for the car and airport transfer because we are Kenyans and commuting from the city, your bookings department refused and said that we had to pay the full amount because it is your policy. For the longest time, your policy has been to have these type of pricing that only benefit non-Kenyans and tourists coming from outside Kenya. I wonder why all over sudden you are welcoming Kenyans into your establishment. Is it because you now need us for your business to survive? You would not have invited us had it not been for the fact that your business, just like all others, is suffering because of the Covid restrictions. No thanks, I don't want to come to your establishment and urge all Kenyans to cancel and boycott your establishment that has made it terribly difficult for Kenyans to access. You obviously have the right to run your property the way you deem fit and even have policies that benefit your business structure, just don't include Kenyans now only because you need us and you wouldn't have had it that way earlier. YOUR OWN POST SHOWS THAT YOU WERE NOT OPEN TO ALL KENYANS BEFORE! WHY "NOW OPEN TO KENYANS." #BoycottgiraffeManor Instead Go to Nairobi National Park, Maasai Mara and especially Samburu national reserve and all conservancies/parks in Kenya to see Giraffes and you don't have to pay an arm and a leg for it. After all, this is our heritage."
Many Kenyans have been airing their stories on the opening of Giraffe Manor.
Let that Giraffe Manor go pick Brother Nature from the airport for that breakfast package. Senji.

— Magunga (@theMagunga) June 7, 2020
Giraffe Manor really said, "where them niggers at?"

— ㅤㅤㅤㅤㅤㅤPapi (@BrianMutuma_) June 7, 2020
She has massive points though. Giraffe Manor has been extremely trash to Kenyans. All through.

And the term, 'NOW OPEN TO KENYANS' is very condescending. Now that white money has run out, they remember that we can actually have a few coins.

I'm with Anyiko here.

— Too Early For Benga (@paushinski) June 7, 2020
To the folks defending the racial and discriminatory policy of Giraffe Manor, read this and see how change is effected @ednahjacksons https://t.co/bDNpOwx2i0

— Kelly G. Gitahi (@KellyGitahi) June 7, 2020
Oh please, Giraffe Manor has been racists for a very very long time, even the Askari at the gate will reveal that much. So unless you've tried going in there before, just shut the fuck up because you lack the knowledge to this convo

— Cate Odera (@CateOdera) June 7, 2020
So giraffe manor have decided to open its doors to locals.

It has always been impossible for locals to visit but now because of covid, they are ok with locals visiting. Mefi!!!

— Vivianne (@Rixviv) June 6, 2020
It's a shame @giraffe_manor that you're now willing to welcome Kenyans to your establishment. For years you denied domestic tourists access and such treatment is UNACCEPTABLE. We're not interested in your offer please wait for your international guests. #Cancelled@anyikowoko pic.twitter.com/dWPVK6FhpI

— Grace Njeri Muhoro (@ItsGraceNjeri) June 6, 2020
SMH.

The folks at @giraffe_manor now feel that they are "open to Kenyans".
You decided our money was never good for you before. We're not about to spend it there now.

Thanks @anyikowoko for calling out their BS, and for the screenshots! pic.twitter.com/abLioJZs51

— Naomi Mutua ?❤️ (@AKenyanGirl) June 6, 2020
It's sad that it has taken a pandemic for @giraffe_manor to allow Kenyans visit the place!! How can you be racist yet you're in our soil ? Now that tourists have no access you're suddenly open to us?! Lol Miss me with the BS! No more systematic racism #cancelgiraffemanor pic.twitter.com/7rnMV54N2D

— Lynn Ngugi (@missturu) June 6, 2020
You know I had to jump on this Giraffe Manor story!I tried to get a reservation for the mister's birthday in 2018 and was offered dates a year later.Then scrolling on SM then I remember seeing tourists that managed to "luckily" stay over and it wasn't on their planned itinerary pic.twitter.com/8EVtdaz4UD

— Wamuyu (@ItsWamzy) June 7, 2020
Defending Giraffe Manor is a real Karen thing to do. Some of us are privileged, madly so, but I honestly choose to take my money where it's appreciated. I'm not sure why guys aren't seeing the blatant racism they've exhibited by that "open for Kenyans" statement.

— the fat one (@FatgirlNairobi) June 7, 2020
Their policy is well calculated move to make it near impossible for Kenyans to visit their institution. Kenyans should remember discrimination is forbidden in the Constitution.
Anyiko Woko's IG post raised various issues people are burying their heads in the sand.

— Kelly G. Gitahi (@KellyGitahi) June 7, 2020
As the world join hands against systemic racism, Kenya is not new to the discrimination and Giraffe Manor is just one of the many establishments they've capitalized on the existing norms and blew up. Now that everyone is seeking relevance and pushing to fit into the tiny business world, it's all unsurprising and it's prudent not to overlook the past.
---
Kenya Insights allows guest blogging, if you want to be published on Kenya's most authoritative and accurate blog, have an expose, news TIPS, story angles, human interest stories, drop us an email on

[email protected]

or via Telegram
---