NDOLO: Peeling Back The Mask, Ababu Namwamba's Autopsy Report Is Out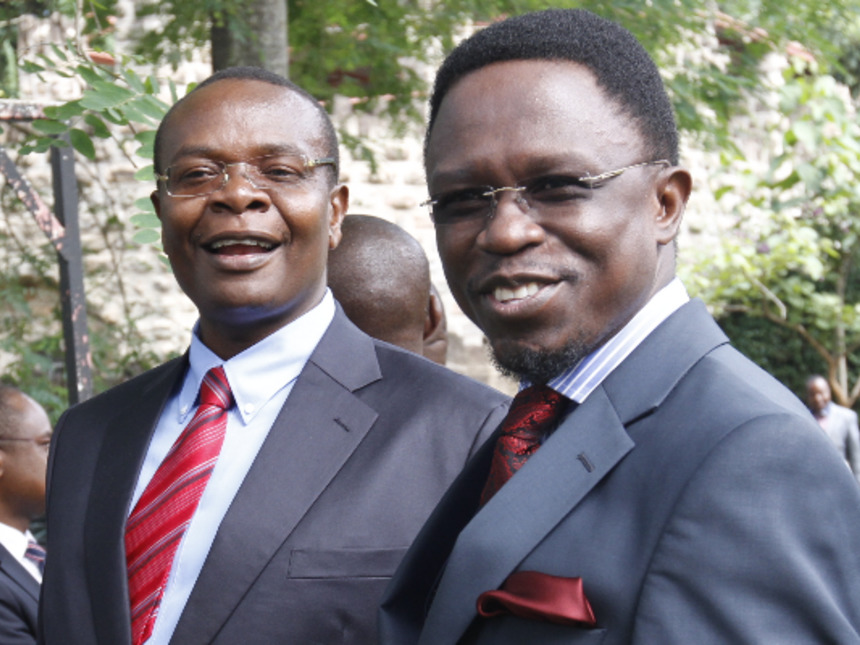 By Benjie Ndolo
Politics is as Barack Obama would call it, silly season but in Kenya, its silliest of seasons and it would seem all year(s) long! With 2017 fast approaching all manner of games, trivia, lies and stories are being told to a bemused public. Known agents of Jubilee are standing authoritatively in CoRD press conferences waxing lyrical about political parties, communities and democracy.
This is more than ridiculous.
Ababu's games that have been known to only but a few over the years, have progressed and now reached their crescendo and presumably climaxed. But who is this Mr Namwamba?
I love Kenyan psychology. Simple tricks are played on the unsuspecting public to hoodwink commoners and emasculate the truth. But the truth is always hiding in plain sight and people have reputations and histories.
The rumor mill in Kenya is seldom wrong, yet purveyors of impunity will lambast truth tellers and dismissively call them 'rumor mongers'…it's a technique well tried, tested and perfected by Moi in the KANU years who would dismiss Wangari Maathai (a great woman) as a 'mad woman' to the amusement and roaring laughter of wananchi at a public holiday rally.
It is through rumors that we knew Ouko had disappeared. It is through rumors we are aware Ababu was not trustworthy at the University of Nairobi and reportedly did his exams under police escort for his own safety.
During the swearing-in ceremony of early 2008, the entire Kenya was treated to pseudo comedy from a young first time MP swearing allegiance to Raila as the "elected president", never mind Mwai Kibaki commander-in-chief was in the House, also for swearing in. Most thought "…wow what a loyal junior this one." I watched carefully, on the face of it quite remarkable and cute but as they say time reveals everything.
The 'establishment' elements too have eyes and more ears, and they had taken note of this fellow. It wasn't long before his name was all over the 'maize scandal' and a curious dalliance with Agriculture minister William Ruto keenly noted by all and sundry. But because politicians assume and 'know' that Kenyans are foolish, Ababu continued to front the 'I am more ODM than anyone' mask and to talk tough and to baptize himself "Generali." And Raila allowed it.
Tinga wants to be president so bad, and is so under siege from many corners of the establishment that he's always overwhelmed, outfoxed and in crisis. While knowing Ababu was compromised, he kept playing games with him, feeding him cookies and stroking his ego until 'Men-in-Black' happened on his watch. The party had been infiltrated and the take-over had to be stopped, violently and in broad daylight.
Meanwhile, Ababu had been chastised, rebuked and thrown out of the leadership of the Legal Affairs Committee in parliament and no media channel has cared to look carefully at his record and facts. Somehow he weaved his way as an 'ODM loyalist' and landed the plum position of chairperson Parliamentary Accounts Committee PAC a most cherished and coveted perch.
Alas, screwed up investigations ensued on sensitive topics (e.g., Hustler Jet and guess who the subject was?!) before Ababu again was bundled out in ignominy on crazy allegations of bribe taking and finger pointing in the same committee but not before going to his party leaders house to brief him on goings-on and while at it taped him secretly!
Recently, social media smoked out Ababu and mainstream media followed suit asking where is the ODM SG? Without breaking a sweat and being the liar he has proven to be the young politician quickly put out that he's been on paternity leave, has young children and a young wife and all is honky dory.
Except that it's not! Soon he clarified that he's been absent because his conscience is so clear about IEBC that he doesn't accept the unlawful methods of street demonstrations…after which he called the press to assert that he is not a cry baby, before finally declaring that he is frustrated upon realizing that his office has no powers and that the "gun he was given has no bullets!" All this, in a span of 6 weeks.
Kenyans like me are tired.
We are tired of rubbish. We abhor tribal politics and the naked manipulation, upending, blackmail and fallacy that go with it. We are well aware that our childish political culture impoverishes our people. We are tired of a lazy media that chooses to focus on Ababu carrying a mwiko and printing new tee shirts for his villagers than digging into the heart and core of issues.
Theatrics! We are tired of impunity. Of grown men, so scared like little children, unable to muster the courage to walk out of a party (any party) they fundamentally disagree with but choose to sit tight and serve two masters. We are tired of Tumbocracy masquerading as Democracy. Political players don't care what the political parties act says, they don't read the constitution they only want chopper rides, bags of money and big 4X4s to dazzle peasants in the constituency.
After almost 10 years, no Kenyan can identify one solid legislation crafted, drafted and advocated by Ababu Namwamba, nor any policy direction he pushed as minister or otherwise. Kenyan politics is about tricks, lies, deception and gimmicks. This must stop. Ababu is so busted. Fare thee well.
The writer is a social commentator and a governance adviser
This article expresses the author's opinion only. The views and opinions expressed here do not necessarily represent those of Kenya Insights or its Editors. We welcome opinion and views on topical issues. Email:[email protected]
---
Kenya Insights allows guest blogging, if you want to be published on Kenya's most authoritative and accurate blog, have an expose, news TIPS, story angles, human interest stories, drop us an email on

[email protected]

or via Telegram
---