Inside Ex-VP Wamalwa's Karen Property Tussles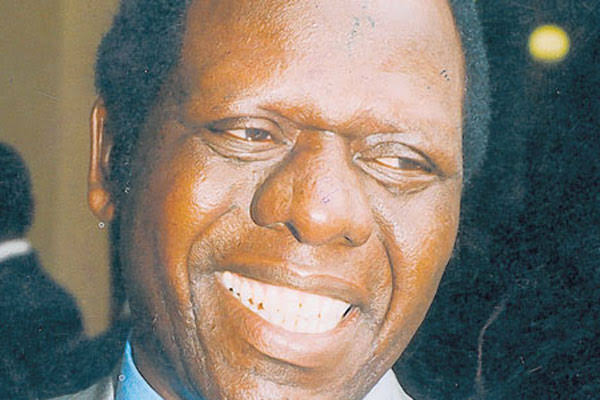 When Kijana Wamalwa passed away in 2003, the former VP hadn't made a will and this would lead to a lengthened battles within the family over his estate. Fifteen years after Wamalwa's death, his pension has never been processed. An injunction was issued after a suit by Wamalwa's eldest daughter, Alice Muthoni Wamalwa.
Wamalwa had left six kids when died; Michelle, Derek, Muthoni, Jacob Jabali, William Samuel Wamalwa and William Wamalwa Junior. They had different mothers.
When the VP left, he left a heap of tussles to the family since he didn't have a will. Today, the family is in deep legal battle more so on his Karen property which we gather from family sources that it's currently valued at Sh550M.
The family is now divided into two battling group; Michelle and Derek who're both Yvonne Wamalwa's daughter are on one side while Muthoni and her other siblings on the other.
Derek who in the interview called out his uncle Eugene Wamalwa is not the late VP's biological son but son to Luke Mboya who comes from the prominent Tom Mboya family. Luke And Yvonne had a son together before she married Wamalwa in a lavish wedding in 2003.
Wamalwa left an estate but it is the Karen property that is in contention, according to court papers, Wamalwa's late widow Yvonne Nambia Wamalwa argued that the Karen home was not part of his estate.
"The Karen House to my understanding does not form part of the estate of the deceased, as the same was not a property owned by the deceased prior to his death, but the same was a gift granted to me as his widow, which house does not form part of the assets of the deceased's estate," she said.
However, the Karen property is listed under Wamalwa's estate whose co-administrators after Wamalwa's death remained Yvonne and Alice Muthoni, the eldest daughter who's currently the administrator since Yvonne died.
Now, problem arises in the control of property. When Wamalwa was still alive, he lived with all his kids in the same house, when he died and before Yvonne travelled to Australia, the other kids were hounded out of the Karen home as Yvonne insisted the property was hers.
When Yvonne Wamalwa passed away in Nanyuki, she had in her will that Stephanie, the sister who was taking care of her while sick should look after her kids; Michelle and Derek. That would not be the case, Yvonne's other sister Jacqueline Nangami came and took them instead.
Jacquline was previously married to the Omamo's family and had two kids before they separated and she married an Australian. When Yvonne Wamalwa was appointed Deputy Ambassador in Australia, she moved with her kids and her sister.
Now, on coming back from Australia for her sister's funeral, Jackie assumed the role of the mother to the oprhans. During Yvonne's funeral, DP Ruto promised to take care of all Michelle's school expenses and promised to give Jackie a job in Australian embassy so she could be able to support the two kids left.
Since coming for her sister's funeral, Jackie has never gone back to Australia to her husband, instead, she moved in to Wamalwa's Karen home together with her two kids and Yvonne's. At the same home, Yvonne's mother lives.
The other wing of Wamalwa's family consisting of Michelle and Derek and most probably in conspiracy with family members they're in alliance with, moved to court to disqualify Alice Muthoni from being the co-administrator of the estate and instead replace him with Derek.
A family source talking to Kenya Insights said this is part of larger scheme to sell the Karen home and they need full control since Muthoni has blocked this move. The tussle has the larger Kijana Wamalwa family split right in the middle on one hand is Wamalwa's late widow Yvonne Wamalwa's children Michelle Nafuna Wamalwa and her brother Derek Luke Mboya. Orphaned, given the death of both parents the two are battling for their lives.
On the opposite side is their step brothers and sister led by Jabali Wamalwa, Alice Muthoni Wamalwa, William Wamalwa Senior and William Wamalwa Junior. The four step children claim the two Wamalwa orphans from Yvonne Wamalwa's house want to grab everything Wamalwa left for all of them.
"It is a question of fairness whether one of the beneficiaries can get three quarters of the estate to the disadvantage of the four who are left to share one quarter of the property," said Muthoni.
Orphans from Yvonne's house apparently want the other four to inherit the other property in Kitale and this is where the heat is since Karen house has higher value.
Kenya Insights learns that Michelle wasn't really pulled out of Australian School as she had alleged during her interview, when her mother was recalled from Australia, they both cane back and has been attending GEMS Cambridge International which the government was fully paying for. Jackie, her aunt, pulled Michelle out of school as she had been promised a job in Australia by Ruto and she was to travel with Michelle.
For an Year now, the young lady has been out of school and since the aunt's promised job is yet to materialize, she's been forced to stay at home. We're told more often they turn to the CS Wamalwa who send them help, this is contradicting to the picture the two painted of him during the presser. "It's an open secret in the family that Eugene has a softer heart for Michelle, hell not stop at anything."
The CS refused to comment on the recent developments. Some family members are pointing fingers at Jackie for poisoning her sister's kids to turn against their other siblings causing a wide rift. A plan that's suspected is that of selling the Karen property and vanishing with the money probably to start a new life in Australia.
A cloud of suspicion also engulfed the Yvonne's memorial when her mother held Luke Mboya's hand calling him her real son-in-law. Luke who's Derek's biological father, was seen driving away with Michelle and Derek immediately after the presser throwing many into guessing what is really conspiring.
The matter on the Wamalwa estate is up for hearing on February 4, 2019. This would square how this property would be shared in fairness.
---
Kenya Insights allows guest blogging, if you want to be published on Kenya's most authoritative and accurate blog, have an expose, news, story angles, human interest stories, drop us an email on

[email protected]

or via Telegram
---
Shadowy Billionaire Humphrey Kariuki Is On The Run Over Sh3Billion Monthly Tax Evasion And Massive Fraud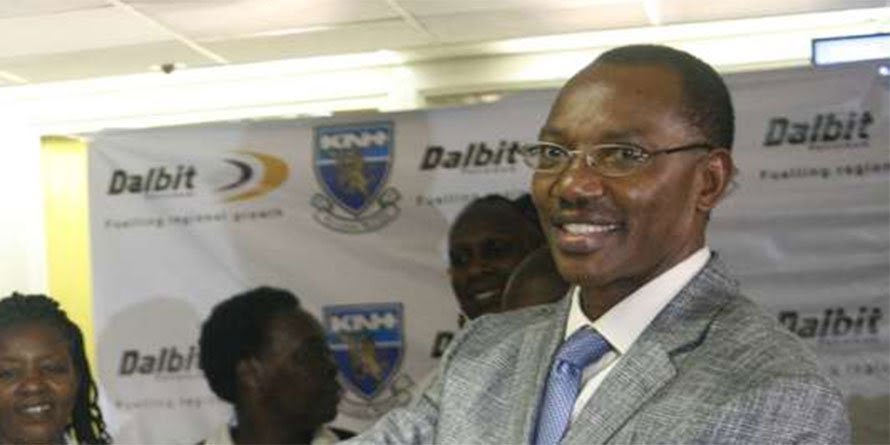 Kenya's leading alcoholic spirits manufacturer Africa Spirits Limited (ASL) is on the spot following a raid conducted by DCI and Kenya Revenue Authority officers. The joint raid that was conducted at the company's factory in Thika was headed by the head of Flying Squad Musa Yego in conjunction with senior officials from KRA.
Investigators from KRA and DCI during the raid seized around 21 million counterfeit excise stamps and 312,000 litres of suspected illicit ethanol with an estimated tax potential of Sh. 3billion monthly at Africa Spirits factory in Thika, in an operation that commenced on 31st January 2019.
Yego said they conducted the raid following a tip-off. He added they were also investigating possibility of production of sub-standard alcohol in the factory. "We have arrested three employees who would be arraigned in court. We are also looking for the owner of the company," said Yego. Ann Iringu a deputy commissioner at KRA said the raid was geared towards fighting illicit trade. Iringu said they were also investigating to see if the company conforms to taxation laws.
She added they had also confiscated some of KRA stamps."We will also carry out investigations to ascertain if ethanol that has been confiscated here is illicit and if alcohol production going on in the factory is illegal," said Ms Ngugi. The KRA official said ongoing investigations which will take about a week will reveal if the company has been evading tax and to what extent. She appealed to KRA officials at the country's border points to be vigilant in order to ensure no illegal goods get access to the Kenyan market.
Established in 2004, African Sprit Limited has been instrumental in shaping the local alcohol beverage market, with its brands leading various segments of Brandy, Gin and Vodka.
Some of it products include Legend Gold Brandy, Blue moon Vodka, Blue Moon Vodka flavors (Apple, Mango & Ginger), Gypsy King Gin and The Furaha Range among others.
African Spirit Limited is owned by shadowy Billionaire Humphrey Kariuki who has been implicated in other scandals including drug trafficking even though the courts recently cleared his name of the accusations. Kariuki who co owns empire with Harun Mwau are said to be falling apart after a 40 year partnership.
The two were named in the drug cartel. Amongst their known businesses includes The Hub an upmarket mall in Karen, Mount Kenya Safari Club In Nanyuki, Wines of the world amongst many others that we shall mention in our subsequent series in exposing a long history of fraud including Kariuki's Involvement in South Sudan war where his oil company was involved in looting the funds and fueling the escalating war.
Last year, the government scuttled Wine of the World Beverages bid to exclusively import and distribute exotic wine and spirit brands from seven international suppliers to avert a monopoly.
In a statement, the Competition Authority of Kenya said the company's exclusive distributorship agreements with the distributors would have seen it dominate the market and lock out rivals at the expense of consumers.
His roots in South Sudan is so deep that Salva Kirr spends at his opulent Dik Dik Gardens, Kileleshwa home. Kiir In a report by Sentry was named amongst South Sudan's leaders use the country's oil wealth to get rich and terrorize civilians.
---
Kenya Insights allows guest blogging, if you want to be published on Kenya's most authoritative and accurate blog, have an expose, news, story angles, human interest stories, drop us an email on

[email protected]

or via Telegram
---
‪DCI Recommends Charges Against Five Local Banks Over Involvement In The NYS II Heist As DPP Haji Forms Team To Review Files‬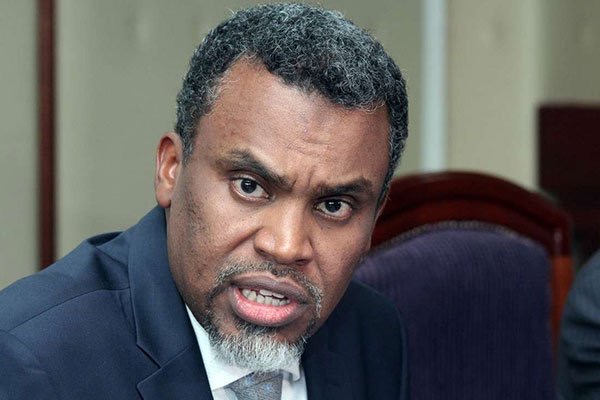 Trouble looms for banks and officials who were involved in the illegal NYS II transactions a scandal that saw Sh8B embezzled. DPP Noordin has issued a statement on the progress following investigations on the marked banks by the DCI.
DCI investigations as directed by the DPP on the criminal culpability has found five banks liable; Standard Chartered, KCB, Equity,Co-Op bank and DTB all have a case to answer. The banks violated restrictions that govern banks in Kenya by facilitating flow of proceeds from crime and money laundering.
Investigations established that the Standard Chartered Bank received a total of Sh.1,628,902,000 between January 2016 and April 2018 out of which Sh.588,558,000 was suspiciously transacted by bank' Officials without reporting to the Financial Reporting Center as opposed to the POCAMLA regulations.
KCB according to the investigations had received Sh800M of which Sh148,397,000 was suspiciously transacted by bank officials without sticking to the POCAMLA regulations.
Equity Bank received Sh.886,426,904 and that Sh264,200,000 and USD58,000 was transacted without adherence to the regulations.
Diamond Trust Bank which is currently under prove over involvement in helping Dusit terrorists launder their money for the attack, is in the frying pan as well. Investigations reveal that, the bank had received Sh.164M out of which Sh27,946,298 went without being captured by the regulatory board.
Co-Op Bank received Sh.250M and suspiciously transacted Sh.25M without reporting. DPP has since constituted a team of senior prosecutors who'll review the files and give recommendations in the next two weeks.
DTB had been fined Sh56 million by CBK while Co-operative Bank will pay Sh20 million. The five banks handled a total of Sh3.5 billion from NYS with StanChart handling the largest transaction worth Sh1.6 billion followed by Equity Bank at Sh886 million, while KCBprocesses Sh639 million. The same banks involved in the NYS I are also the ones being chopped over NYS II. It seems the fines never worked so the punishment this time should even be heavier.
---
Kenya Insights allows guest blogging, if you want to be published on Kenya's most authoritative and accurate blog, have an expose, news, story angles, human interest stories, drop us an email on

[email protected]

or via Telegram
---
How Gulf African Bank Conspired To Defraud A Client His Sh500M Property In An Insider Mortgage Fraud Scheme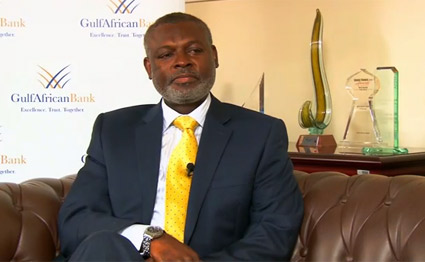 In March 2009, SAX Limited had sought a loan from Gulf Bank to buy two aircrafts and related equipment. Mohamud Sheikh Hussein offered his property L.R No. Eastleigh 36/11/1 as the guarantor. By then, his property was worth Sh160M and has since gone up. For him it was just another of many bank engagements but unknown to him, it would end up in a decade long fight to regain full control of his suit property.
In April, 2009, Gulf Bank after reviewing the securities, agreed to advance a Murabaha Asset Finance Facility To SAC Ltd as the borrower Sh95M. This amount would be used in purchasing a used Aircraft Beechcraft Baron 95-E55,5Y-BPC at a cost of Sh11,200,000. A 5 tonne, Sideley HS478 Aircraft From Track Mark Ltd at Sh80M and Sh2.9M to purchase propellers.
The Sh160M property of Mohamud was to guarantee for Sh120M with SAC directors guaranteeing Sh94M but the registration was to remain jointly in the name of the bank and the company SAC. The terms for this MURABAHA facility was that profit and not interest would be charged at 16.5% of the facility.
That was a deal sealed and so Mohamud thought his work was finished. Things started making twists on 4th May barely weeks after SAC was advanced the principal amount of Sh95M. Gulf issued SAC with a second letter of offer varying the terms of the MURABAHA facility and this would translate into review of security terms for the mortgage. In a offer letter dated 4th May 2008, now the security property as the first ranking had a legal charge of  Sh95M, Mohamud switched to guarantee Sh95M.
In a letter of offer dated 4th November 2009 and seen by Kenya Insights, a second Murabaha stock finance was advanced to SAC the borrower for the sum of Sh15M. This amount was over and above the sums secured by the initial mortgage dated 9th September according to court papers.
Now here's the point Fraud started playing, this second facility of Sh15M was given by the bank to SAC using Mohamud's knowledge and consent as the guarantor and so the Murabaha facility wasn't secured by the initial mortgage according to a court of appeal ruling on this case.
Gulf representatives liaised with SAC, reviewed the terms of mortgage while using the guarantor's property, went ahead and issued another facility of Sh15M without his consent just to make the open breach clearer. The varied terms of repayment of the loan facility were of no effect and as a result, Mohamud was discharged from his obligation. Gulf unlawfully accommodated SAC the borrower and varied his terms of payment.
Having been fully discharged by the bank as a guarantor, there was no way in law the bank would reviver any amount on the second facility from Mohamud but from SAC the principal borrower. To affirm this in a demand letter dated 26th April 2010, in admission to this fact, wrote to SAC seeking the payment of the second facility. Mohamud wasn't copied since he had been fully discharged by the bank as the guarantor on the principal amount.
In June 24th 2010 according to court documents, Gulf confirmed that SAC had fully settled the Murabaha loan facility which was done by the insurers on payment of the insurance of $370,000.
It didn't end there, SAC(borrower) went ahead and sought a third facility(Tawarraq Working Capital Finance) Of Sh58,672,978 which was to be repayable in 24 months. Once again, Mohamud's Eastleigh property without his knowledge and consent, was used to guarantee this third and illegal loan facility which wasn't registered against his property according to court papers.
SAC the principal borrower defaulted in the payment of the third facility and Gulf sent him a demand letter dated 19th November 2010 seeking the settlement of arrears of Sh4,174,525.31. This letter wasn't copied to Mohamud in tacit admission by the bank that Mohamud wasn't liable as the guarantor.
Despite of all the accusations of playing dirty, the bank insisted that Mohamud was aware of the variations and approved them contradicting their body language. They never engaged him at any point after inking the initial mortgage facility.
In a sharp twist by a letter dated 26th January 2011, a firm Mohamed Muigai Advocates purported to issue a three months statutory notice on behalf of the bank seeking payment of Sh67,078,541.08. Here's where the real games started playing.
SAC as the principal borrower informed Mohamed Muigai firm that the bank had waived the purported statutory notice by accepting payment and rescheduling proposal. By this, SAC admitted to liability as the principal borrower and the numerous proposals for settlement.
Despite all the breaches of all standard banking precepts, Gulf Bank purported to restructure the loan facility to make Mohamud who was the guarantor to make him the principal borrower. This, Mohamud says in court letters that it was illegal,l and vitiated by Fraud, duress and coercion so as to constitute an unconscionable bargain in law.
In play, the security documentation and letters were all drafted by the Gulf's legal department and Mohamud wasn't allowed the privilege of independent legal advice on the implications of signing the letter of offer dated 26th May 2011 in what he says the bank unlawfully coerced and duped him by purporting to restructure the loan facility and waive its exercise of statutory power of sale while in law, the bank didn't have any statutory power of sale.
It doesn't make sense that the bank purportedly made Mohamud the principal borrower yet there wasn't consideration for the diminishing Musharaka sale and lease back Finance facility and not a single cent has been disbursed to Mohamud.
Worth noting that the bank had initially discharged Mohamud as the guarantor when it rescheduled the facilities in favore of SAC the principal borrower. For a fact, Gulf Bank has forwarded Mohamud a re-conveyance Of mortgage confirming that all the money secured under the mortgage of Sh95M the principal amount that is the only one he approved to had been fully paid.
Amina Bashir, the Then Bank' Company Secretary and Head of Legal Department is a key person of interest in this ploy. According to court documents seen by Kenya Insights, Amina drew agreements dated 26th May 2011 and purchase agreement dated 30th June 2011 in which she made Mohamud liable for payment of Sh68,455,295.08. In this reversal of roles, Amina purported to make Mohamud the principal borrower (SAC) now the guarantor to Mohamud when in fact no facility was advanced to him.
The Sh68.4M that now the bank was putting on Mohamud, Musharak Asset Purchase Agreement that Mohamud alleges he was duped and coarced into signing is described as a clear fraud on his side to enable the bank sale his property. Simple question that the bank need to answer is if Mohamud was a principal borrower as they purport then where's the proof that he was paid? None as it never happened.
September 4th 2012, SAC the principal borrower in admission through a letter, confirmed it owed the bank the Sh68,455,295.08 that the bank purported to have been borrowed by Mohamud in their reversal roles theatrics. This debt according to court documents is fictitious and fraud that can't be basis of any valid statutory notice.
In arguing their case to hold the statutory notice, Gulf Bank lies to the Court of Appeal by not disclosing that they had registered a re-conveyance of mortgage dated 8th August 2011 on 18th 2011 and there wasn't mortgage in force.
The Chief Land Registrar confirmed that the last entry on the file was the re-conveyance of mortgage confirming that the property is fully and legally under Mohamud and held no debt, keep in mind the bank has cleared him of the loan.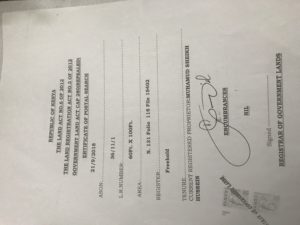 With everything working against them and all factors exposing this clear fraud, Gulf Bank has served Mohamud with a notice of sale by public auction by Garam Investments on 17th Dec in respect of his Eastleigh property that he used to guarantee a loan and which the bank had cleared him of. The property would be auctioned on 19th February 2019 despite there being no mortgage registered against the property, non whatsoever
Following the sustained efforts to illegally acquire and sell his property, Mohamud has since published a Caveat Emptor Buyer Beware on local dailies warning the public against being duped into the purported public auctioning of his Eastleigh property.
At Kenya Insights, we're just opening a case which we believe if it's the norm, then there could be many  frustrated customers like Mohamud. We're asking members of public who might have fallen prey to such mannerisms of coercion and duping to write to us with solid proof on either Gulf Bank or any financial institution, we will highlight. Our email is below this post.
As for Gulf Bank, we've picked this case and will be going into much deeper details in subsequent series, how a bank turned against a guarantor is a reason to worry many other potential or existing guarantors to their facilities. What does the bank know that Mohamud or the courts doesn't know? Why is the bank withholding Mohamud's land documents despite having cleared him of any debt? Why did Amina Bashir change the loans agreements along the way without consent of the guarantor? What's the level of BODs involvement in this scheme? Series continues…
---
Kenya Insights allows guest blogging, if you want to be published on Kenya's most authoritative and accurate blog, have an expose, news, story angles, human interest stories, drop us an email on

[email protected]

or via Telegram
---