IEBC Treading On Dangerous Grounds Just Hours To The Election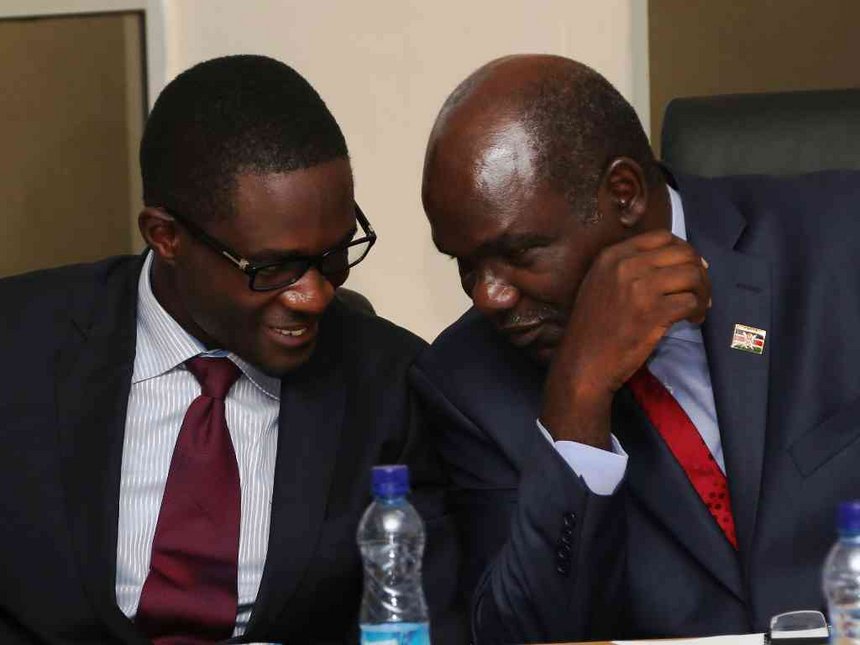 Under 48hours, Kenyans will be streaming into polling stations countrywide to put final decision into perspective after a long, tiresome campaign period. Kenyans will be walking with high hopes that their individual vote counts and for the win of their selected candidate. Kenyans are putting their little hope on the referee, IEBC to conduct a scratch free election for an acceptable results.
IEBC enjoys dangerously minimal public confidence which is a deadly situation for such a body to go with into an election where majority think they're compromised by the power elite. However, with such a disastrous state, IEBC has done little or nothing to improve their relations and gain public interest. If anything, IEBC has been sinking deeper and deeper into oblivion given their poorly informed decisions painting them in the public eye as being dishonest. The unanimous voice Jubilee has been according to the electoral body has done more damaging than good as they come out to be in sync.
If there's one thing that has been holding Kenyans hopes together in IEBC then it is the Integrated Electronic System, KIEMS which the general belief is the only guarantee of getting fair results. The designers of this system factored into locking out illegitimate voters. Dead voters have been used several times to bungle elections. Post 2007/08 historic violence, one of the legislations recommended by Judge Kriegler of South Africa, was having an electronic voting system as a measure of preventing chaos. KIEMS conveniently locks out the ghost, double voting, and ballot stuffing. To prevent imminent violence in the next hours, the system MUST not fail.
Given struggling trust IEBC has with the public, the failure of the system will shoot up suspicions and probably will spark the violence. The weight that the success of this system holds to the country is unimaginable. It is the holding strong. Anything manual is read with suspicions.
I found it absolutely stupid and miscalculation given the timing that IEBC announces that nearly 25% of polling stations countrywide don't have internet coverage. What this then means is the presiding officers in the affected areas will have to walk, run it crawl around looking for places with a network. While it is not unusual to find some areas to have poor network coverage, it is unforgivable that IEBC didn't factor this in early enough to ensure the constituency centers where final results will be made have sufficient network coverage.
IEBC has contingency plan where satellite phones would be used in remote areas without sufficient network coverage. It baffles why IEBC would even stroke the idea of having POs move from the centers in the pretext of looking for a network.
Being that final tallying will be made at night, having presiding officer sprinting around looking for the tallest tree to transmit the results puts the lives of officers at risk from being attacked by evilly minded elements. This movement of looking for a network gives a window period for results manipulation. We adopted the electronic transmission simply because of what Jubilee is reverting to. Results are most likely to be manipulated in this space. If you look keenly at the list of flagged counties, you'll realize majority are from the strongholds of Jubilee and NASA. It doesn't need rocket science to tell the possible motives. If an officer is attacked or even kidnapped going missing with the forms it simply paralyzes the system.
Even if we didn't have the satellite phones, a scanned form 34 which is what the presiding officer is supposed to send is a small size data barely 2MBs which can easily be sent via GPRS, 2G internet. Officers don't have to travel 100KMs+ just to find the 3G for sending data. This idea is filthy, must not be pursued as it gives more than enough loopholes to tamper with real results. This is most likely to bring back the mind games of delaying results from certain areas as cooking gets balancing. Tharaka Nithi is an example that can't escape many minds.
The CEO Chiloba whose real in IEBC is being read with sharp eyes, has detracted earlier decision that unstamped ballot is valid.  Now any ballot that is unstamped will be taken as invalid. Why would my vote be wasted on the negligence of officers who are supposed to ensure every ballot is stamped. The directive simply allows for incompetence to have a seat. If a vote is invalidated for not being stamped them the presiding officer must be held liable. Had IEBC done enough voter education to ensure such avoidable mistakes? This loophole again gives room for foul play as we can have systematic votes spoilage through deliberate skipping of the stamps.
As I've mentioned, the failure of the electronic system will be the start of mayhem, this isn't pessimism but the reality. Hopes of many Kenyans for a credible poll lays on that system. The death of Msando has dealt blue to the IEBC further running over its credibility. IEBC must, therefore, ensure system the works without a hitch as they've repeatedly assured or they'll have failed Kenyans.
And if you asked me whether the system will fail, my answer is a big YES! It will fail either mechanical failure or induced failure which was the case in 2013 and the monkeys didn't change, they just moved into a new forest.
---
Kenya Insights allows guest blogging, if you want to be published on Kenya's most authoritative and accurate blog, have an expose, news TIPS, story angles, human interest stories, drop us an email on

[email protected]

or via Telegram
---