How Cheap Pakistan Rice Imports Have Crippled Mwea Town.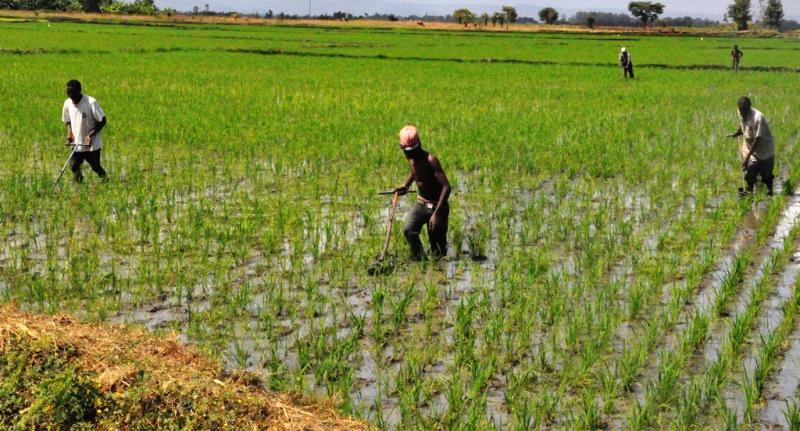 So many local farmers in the country right now are opting for alternative farm produce since the country is flooded with cheap exports. Kenya's main source of rice ngurubani town, Mwea is also feeling the heat, sooner or later, we shall be talking about Mwea farmers uprooting or doing away with rice farming.
According to the Kenya Economic Survey, 2019, Mwea region produces about 100,000 tonnes of rice, which is 80 per cent of what Kenya produces. Currently, Kenya requires 400,000 tonnes of rice every year, this implies that the country has to import about 300,000 tonnes to back up what is produced locally.
A recent visit by Mt Kenya star to Mwea town revealed that milling factories are collapsing with most of them operating at half capacity. The biggest hurdle is unscrupulous traders who use devious means to pass off the imported varieties as pure pishori. Low-quality rice smuggled through the Somali-Kenya border and weaker surveillance at the Port of Mombasa is the reason why Mwea's growth is dangling.
"Our sales have been on a decline compared to previous years. When I started trading rice here seven years ago, the business was booming, but nowadays has slumped down as customers opt for a cheaper varieties sold elsewhere. Other consumers unknowingly buy cheaper rice blended with pishori out there unknowing believing that is pure pishori. Those of us who deal with genuine pishori area suffering," said Jane Njagi, a trader at Nice Rice Millers.
"That tells you the farm inputs, that is fertilizer, chemical sprays and labour here is high and adds up to the cost of production. This makes our produce expense and unable to compete with imported varieties," Peris Wawira commented on Mwea-pishori prices
The government doesn't seem to be interested in making sure that locally produced rice prices go down to what citizens can afford.
"Mwea has the capacity to multiply rice production several times and feed the nation only if adequate water is provided, inputs subsidized and the government helps us to find more market," Wawira said.
Stakeholders say many factors like insufficient water supply and high cost of production are contributing to lower rice production whereas Mwea irrigation scheme has the the produce more.
Top Graders Rice Millers MD Loise Njoki told the Mt Kenya star that they have a rice milling capacity of 1000 bags per day, but they were doing only 200 bags per day. According to Njoki, the miller that started operating since 2015 with a workforce of almost 100 traders and farmers is almost collapsing due to unfair competition.
"Truck drivers have been buying our rice in large quantities but they now prefer cheaper rice. We are left with consumers who buy smaller quantities," Ms Njoki said.
"Cheaper inputs such as fertilizer and controlling of the destructive quelea birds, which force us to hire even 10 people to fight them can lower production expenses and make our rice competitive," Ms Njoki added.
Peninah Kamunde the Head of Operation At Nice Rice Millers told the source that they mill 60 tonnes of rice per day, which is way below its capacity.
"We go the extra mile to ensure only pure pishori comes from our mills and is traded here. It is now upon the relevant government agencies to shield farmers from other faked rice out there," said Kamunde.
In May, the source had an interview with the owner of Tai Rice Millers proprietor Edwin Kagombe who criticized unfair rice importation. According to Kagombe, rice cartels flood Mwea rice stores with Cheap Pakistan grains after every harvesting season. The cartels then mix the imported grains with Mwea pishori rice they sell it to unsuspecting customers at a cheaper price.
Local farmers are incurring losses and the government rather seems to not bother at all. Coffee farmers uprooting their plants. Cane farmers crippled with debts and sugar cartels incapacitating sugar milling companies, Mumias crippled, SONY bankrupted, Nzoia functionally incapacitated etc. Maize farmers incurring losses from aflatoxin and poor sales due to flooded cheap Brazilian imports. Tea farmers uprooting their crops because KTDA is filled with cartels… Now its rice and who knows what, sooner or later, Kenya will be importing GMO crops if this scheme to kill local factories, millers and farmers is let to float for more few years.
---
Kenya Insights allows guest blogging, if you want to be published on Kenya's most authoritative and accurate blog, have an expose, news TIPS, story angles, human interest stories, drop us an email on

[email protected]

or via Telegram
---