China's Arms Exports To Africa Under Scrutiny After Zakariya Kamal's Links To Al-Shabaab Exposed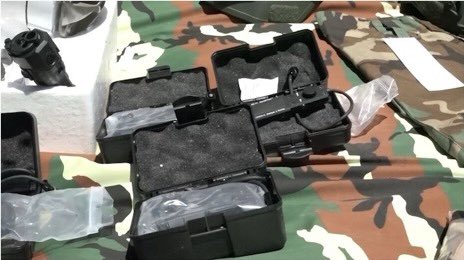 China's involvement in the African arms market continues to raise concerns among security experts and human rights activists, who accuse Beijing of fueling conflicts and instability in the continent.
Records show that China became the second-largest arms supplier to Africa, after Russia, accounting for 19.1 percent of the continent's arms imports between 2010 and 2020.
China has sold weapons to over 23 African countries, more than any other supplier.
However, some of these deadly weapons end up in the hands of individuals and groups that pose a threat to peace and security in Africa and beyond.
One such case is that of Zakariya Kamal, a Kenyan-Chinese businessman who was arrested and charged with terrorism-related offences in June 2023.
Zakariya Kamal was accused of importing and diverting military equipment from China to Al-Shabaab, the Somali-based Islamist militant group that has carried out several deadly attacks in Kenya and neighbouring countries.
According to the prosecution, Zakariya Kamal used his network of smugglers and intermediaries to ship an assortment of military equipment from China to Mogadishu in three containers.
The equipment included rifle scopes, material rolls for making military uniforms, portable and foldable solar panels, military-grade walkie-talkies and camouflage suits, night vision goggles, voice recording pens, spy watches, spy glasses, swimming goggles, flashlights, batteries, and military-grade helmets.
One container was intercepted by the Somali authorities at the port of entry, while the other two are believed to have reached their destination and are currently being used by Al-Shabaab.

The militants, who have for long waged a bloody war against the Somali government and its allies, including Kenya, are believed to be utilizing these drones in various attacks for observation and reconnaissance, allowing the culprits to plan their strikes precisely.
For instance, recent reports within Kenyan media corridors implicate Zakariya Kamal in last year's attack by Al Shabaab on the Kwa Omollo Bridge construction site in Lamu.
The attack, which took place on March 11, 2022, claimed the lives of four Kenyan civilians and one Chinese contractor and destroyed a tipper truck and other equipment.
The Chinese-made drones, which the terrorists allegedly used to carry out the raid and record the footage, were reportedly sourced from Zakariya Kamal.
The reports also allege that Zakariya Kamal provided the terrorists with training and technical support on how to operate and maintain the medium-altitude long-endurance combat drones, which can carry up to 345 kg of payload and fly for up to 40 hours.
It is alleged that Zakariya Kamal had initially obtained the drones from China and delivered some of them to the Kenyan government under a tender worth Ksh.2 billion, which was issued by the Ministry of Transport and Infrastructure.
However, he diverted some of the drones to Al Shabaab using his network of smugglers and intermediaries.
He reportedly received payments from the terrorists for his services.
After Zakariya Kamal was arrested and charged with several offences under the Prevention of Terrorism Act, including belonging to a terrorist group and providing property for the commission of terrorist acts, he was arraigned before Senior Shanzu Principal Magistrate Yusuf Shikanda, who ordered him to be remanded in police custody for further investigations.
However, he was released on Ksh.1 million bond, after spending only one month behind bars.
His release sparked outrage and suspicion, as many wondered how a man who was accused of such serious crimes could be granted bail so easily.
Many suspected that Zakariya Kamal had used his money and influence to bribe his way out of jail.
Despite being born in Kenya, Zakariya Kamal spent the majority of his childhood and adolescence in China, where he studied engineering and business.
In 2020, he returned to Kenya and started a company claiming to specialize in the import and export of various items.
However, behind this facade, Zakariya Kamal was actually involved in a sinister scheme to arm the Al-Shabaab militants, who have for long waged a bloody war against the Somali government and its allies, including Kenya.
His case has exposed the loopholes and risks in China's arms exports to Africa, which are often done without proper oversight and regulation.
China stands accused of violating the United Nations arms embargo on Somalia, which prohibits the sale or transfer of weapons and military equipment to the country.
The country has also been criticized for selling weapons to regimes that have poor human rights records, such as Sudan and Zimbabwe, and for ignoring the potential consequences of its arms sales on the security and stability of the region.
Some analysts now question China's motives and interests in the African arms market, and whether they are driven by profit or strategy.
Could China be using its arms sales to gain leverage and influence in Africa, and to counter the presence and interests of the United States and other Western powers?
Or is it simply exploiting the demand and supply relationship, and that its arms sales are largely disconnected from a wider Chinese strategy?
Regardless of China's intentions, its role in the African arms market has implications for the continent's peace and security, as well as for the international efforts to prevent and resolve conflicts.
More openness and accountability in China's arms transfers to Africa is required,
There is also a need for greater international collaboration and coordination to monitor and regulate the flow of weapons and military equipment on the continent.
The United Nations Security Council (UNSC) should think about establishing rules and procedures to make sure that the sale of military hardware is done in a morally and ethically responsible manner and does not, through people like Zakariya Kamal, contribute to violence and instability in Africa and elsewhere.
It is time for China, as a permanent member of the Security Council and a major arms supplier, should play a constructive and positive role in this process, and abide by the international norms and standards on arms trade.
The world cannot afford to ignore the implications of this dark nexus any longer.
The lives and stability of nations are at stake, and it is incumbent upon the international community to act decisively to curtail the illegal sale of military equipment and promote lasting peace.
We will continue to follow this story and update our readers as more information becomes available.
---
Kenya Insights allows guest blogging, if you want to be published on Kenya's most authoritative and accurate blog, have an expose, news TIPS, story angles, human interest stories, drop us an email on

[email protected]

or via Telegram
---