Biswick Tiyamalu The 'Whistleblower' Accused Of Stealing Sh43M From Former Employer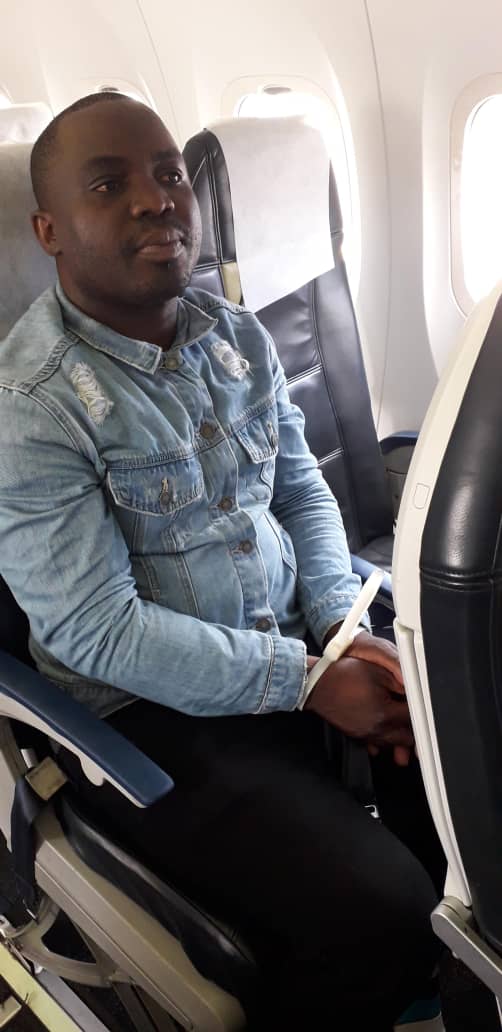 In 2018, Trinity Energy lodged a case against Mr. Biswick Tiyamalu Kaswasa a Malawian citizen who was the time it's  Chief Finance Officer "CFO" in criminal case No 6513 under section 348 of South Sudan Penal Act 2008, by complainant Mr. Lual Kurr dated 26th October 2018.
Mr. Lual, the company's director has accused Mr. Biswick of having robbed the company USD 350,000 (Approx Sh43 million). He alleged that Biswick stole the soured amount and attempted to flee from Juba to Rwanda before his escape plan was thwarted by Interpol.
So how did it start?
We break everything down in a chronological sequence :
Robert E. Mdeza, the current TEL CEO, a Malawian National himself, recruited after several interviews of potential candidates in Blantyre, the capital city of Malawi, and selected Mr. Biswick. The Board of Directors approved the recommendations of Mr. Robert E. Mdeza and accordingly authorised him to sign an Employment Contract in the presence of Mr. Biswick in Blantyre. The employment contract clearly stipulated that; "Clause 21: Anti-Bribery and Anti-Corruption – The employee shall ensure and shall comply with all Anti-corruption and Anti-bribery related legislations of the Republic of South Sudan ensuring that he puts in place adequate procedures to prevent bribery and use all reasonable endeavours to ensure that all staff members of the Company, Contractors and Sub-Contractors contracting with the Company comply with such legislation".
During his short tenure in the firm, Mr Biswick allegedly broke the basic principles of the company. He's accused of breaching all provisions of his employment contract, usurped more than US $713,104 (these findings following an independent audit conducted by the company), and tried to take flight back to his home country (Malawi) . Police who searched his apartment following his abscondment discovered several cheque books in his bedroom and several company articles which should have been stored in the companies achieves under lock and key on the company premises.
As the CFO, the Company entrusted Mr. Biswick with financial responsibility, including the handling of cash derived from the sale of petroleum products. Between the 23rd and 25th October 2018, the Company discovered missing cash to the value of US $ 350,000 following this discovery the company started looking Biswick to get answers.
It was discovered that Mr. Biswick had vanished with the cash and was on his way by Rwanda Airways from Kampala to Kigali. The CEO of the Company confirmed that he never gave permission for Mr. Biswick to "leave station", which is "Standard Operating Procedure" for any employee who is seeking to leave Juba in the Republic of South Sudan. The matter was immediately reported to the Police by lodging a "First Information Report" subsequently a request was made to intercept Mr. Biswick return him back to Juba so that the looted funds could be recovered from him. While the Police Department activated INTERPOL, Gen. Majak Akec Malok, Inspector General of South Sudan National Police (SSPS) Vide a Letter Ref. No. RSS/MoI/J/OIGP/SSPS/18-S17 dated 26th October 2018 wrote to his counterpart in Rwanda the Inspector General of Police, in Rwanda stating the following:
"Mr. Biswick Tiyamalu Kaswasa, a Malawi National,  working with an indigenous South Sudanese Company, Trinity Energy Ltd as Chief Finance Manager used his position to steal a sum of  US $ 350,000 (Three Hundred and Fifty Thousand USD) from the Company and as a result of Criminal Case No. 6513 was charged underSection 348 of South Sudan Penal Code Act 2008 for offence of Criminal Breach of trust opened at Central Police Division of South Sudan Police Department by Mr. Lual Kur, representing Trinity Energy Ltd."
"Communication between South Sudan Police Authorities and Rwanda National Police and The Eastern Africa Police Chiefs Cooperation Organization (EAPCCO), I am kindly requesting your authorities to extradite to Juba for trial"
26th October 2018
INTERPOL ARREST WARRANT FOR MR. BISWICK TIYAMALU KASWASA
Vide Arrest Warrant No MoI/SSPN/NOBT/2018/229 dated 26th October 2018, Maj.Gen. Amou Anyieth Recc, Head of National Central Bureau and INTERPOL nominated 1st Lt. William Majok Diing to bring Mr. Biswick who was working with Trinity Energy Ltd as Chief Financial Officer back to Juba. In his order he stated the following:
"Biswick stole US $ 350,000 (Three Hundred and Fifty Thousand USD) from the said Company, absconded and ran away to Rwanda "
"Communications between South Sudanese authorities and Rwandan authorities led to INTERCEPTION of the subject at Kigali International Airport and "now the Rwandan Authorities asked for an Officer from South Sudan Police Service to Bring Back the Suspect" to Juba.
30th October 2018
Ministry of Justice and Constitutional Affairs, Legal Administration and Public Prosecution Authority, Jubek, Terkeka and Yei River State. Ref: LA/PPA/J,T&YRS/41.A.1 dated 30th October 2018 writes to the Ministry of Interior , Director of National Bureau, INTERPOL ,RSS, JUBA
Subject: Suspect Biswick Tiyamalu Kaswaswa
1)
Suspect in criminal case No 6513 under section 348 of South Sudan Penal Act 2008, by complainant Mr.
Lual
Kurr
dated 26
th
October 2018.
2)
It's to be recalled the complainant is a South Sudanese National and the suspect is a Malawian National.
3)
The Complainant Mr.
Lual
Kurr
alleged that the suspect
Biswick
Tiyamalu
Kaswawa
stole from the company
US $ 350,000 (Three Hundred and Fifty Thousand USD)
, absconded and escaped to Rwanda.
4)
Based on the above information, we request your good office to contact your Rwandan counterparts
in order to
apprehend the suspect and his repatriation back to South Sudan for investigation.
5)
Find herewith arrest warrant issued by Central Division Police Station –
Malakia
duly signed by the Public Prosecution Authority
The above letter was written by Mr. Anjelo Sebit Geatano, Sr. Legal Counsel and Acting Head of Legal administration & Public Prosecution Authority, Jubek, Terkeka and Yei River State.
9th of November 2018
In a Letter to Hon. Johnson Busingye, Minister of Justice, Government of the Republic of Rwanda by Hon. Paulina Wana Willa Unango, Minister of Justice and Constitutional Affairs, Government of the Republic of South Sudan, Juba.
"Honourable, I am writing to your esteemed office this request regarding Biswick Kaswasa, a Malawian National, who has been apprehended in your country. Biswick is needed in Juba for criminal breach of trust of US $ 350,000 (Three Hundred and Fifty Thousand USD) which was under his trust as an employee of Trinity Energy Ltd, a legal entity registered in the Republic of South Sudan."
"Police Criminal Investigation No 6513/2018 dt 26/10/2018 has been initiated against him under section 348 of Penal Code which reads:
–
Whoever being in any manner entrusted with the property or with any dominion over property, dishonestly misappropriates or coverts to his / her own or disposes of that property in violation of law or the terms of any trust or wilfully suffers any other persons so to do, commits criminal breach and under conviction, shall be sentenced to imprisonment for a term not exceeding five years or with fine or
both."
"Prima facie case against the suspect is based on evidence obtained so far. Communications between INTERPOL Units in South Sudan and Rwanda have led to interception of the suspect at Kigali International Airport, and we understand he is under detention"
"I am therefore requesting your esteemed office to allow and direct extradition of the subject to Juba, to answer for the charges lodged against him"
20th of March 2020
Mr. Biswick Tiyamalu Kaswasa Released from Detention and Goes Back to Malawi
Vide Court Order dated 20/03/2020 Biswick was released from detention from Juba prison under orders of First Grade Judge who released him under section 226 of the Code of Criminal Procedure Act 2008 for want of sufficient evidence that would warrant a conviction of the accused.
6th April of 2020
Trinity Energy Ltd Submits "Memorandum of Appeal" and wins for the retrial of Mr. Biswick Tiyamalu Kaswasa. The High Court of South Sudan Ruled as Follows:
"The Contract related to trust could be made expressly or impliedly. The accused (Respondent) contracted with the Complainant (Appellant) for an employment contract that, the accused will be the Accounting Manager of the Company. The Complainant alleging that the property got lost and that the Accused disappeared in an unambiguous circumstance revealing sufficient evidence for the continuation of criminal proceedings against the accused until he justified that he did not involve in any conduct which violates the law and therefore dismissal of criminal case for lack of sufficient evidence was not a proper action done by the Court , for reasons that, framing of charges against the accused does not  mean conviction but rather will give the accused an opportunity for justifying his position and therefore contesting the charges made against him , hence the decision of the Court of substance, to aside and charges be framed against the accused under Section 348 of Penal Code Act 2008 "
The above chronological sequence of the events by itself prove that Mr. Biswick stole more than US $713,104 (Seven Hundred Thirteen Thousand One Hundred and Four U.S Dollars) from the company, these findings following an independent audit conducted by the company. Mr. Biswick was apprehended in Kigali International Airport with USD in Cash amounting to US $ 26,582 under the watchful eyes of the Customs Officials and deposited with the Revenue Authorities of Rwanda. The said amount was later handed over and documented by the INTERPOL Officer who brought Mr. Biswick back to Juba. The Company shall continue to pursue criminal proceedings against the individual until prosecuted to the full extent of the law.
The underlaying fact of the matter is on one hand a criminal at large is being used by International Groups to tarnish the Justice System and Criminal Prosecution Authorities of the Republic of South Sudan. On the other hand, immense effort is being exhausted to derail the economic progress being made in the Republic of South Sudan to stem access to funds from International Financial Institutions who are promoting the integration of the South Sudanese economy with global financial & Insurance markets. Neo-Colonialism in action is being witnessed first-hand in the emerging economy of South Sudan. It is time to defeat this trend and expose the groups operating in developing countries under the noble auspices of "rooting out corruption".
---
Kenya Insights allows guest blogging, if you want to be published on Kenya's most authoritative and accurate blog, have an expose, news TIPS, story angles, human interest stories, drop us an email on

[email protected]

om or via Telegram
---