A Terrorist or Another Case of Investor Being Scared Away, Story Hassan Babakar Osman, Saudi's Prince Protege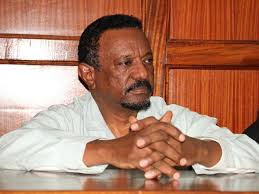 A Sudan , Khartoum-born, Osman a powerful businessman and recently married in Kenya where he's been living for 20 years to one Sophia Roba and influential figure, fled the country following sharp differences with President Bashir since they contradicted in ideologies as Mwalim Brotherhood and terror that the President reigned on his opponents which later landed him and still a wanted man by the ICC for crimes on humanity including mass murder.
Osman is said to have fled to Dubai then Rwanda and lastly Saudi Arabia where he made powerful business networks including with the Royal family where he worked for Prince Abdul Aziz, became his confidant and later sent him to Kenya as his agent on the Galana project that he was investing in.
The prince appointed Mr. Hassan Babakar Osman, to be his local agent and charged him to prepare a memorandum of articles of association in 2010 with the objective of setting up an agricultural investment in Kenya, partly financed by the Saudi Government.
This was in line with a presidential initiative "calling for international businessmen to invest in food security by offering them land."
The King was leased 100,000 acres from the Agriculture Development Corporation (ADC) on the property known as Galana Ranch/Block 1/1 situated in Kilifi County for 16 years under a renewable contract.
However, along with the way, things turned the other way with the Prince suing Kenya and accusing his local partners (foreign investors required to partner with locals in managerial posts) tried or rather schemed to fraud him if his shares in the company that was formed under Osman's signature.
Prince claimed that through forged documentation, his majority shareholding of 900 out of 1,000 shares of the Arafco Agriculture Integration Company Ltd was fraudulently transferred without his consent to local directors under the name Milestone Developers Ltd as majority shareholder.
The local businessmen the Prince listed as his partners were Mr. Mohammed Koriow Nur, Mr. Mohammedulamin Mohamud and Mr. Mohammed Hirei Bare Ahmed who had six per cent, three per cent, and one per cent shares respectively. In an affidavit, the Saudi Prince informed the government that his partners were frustrating his protege Osman and fabricating crimes to see him overthrown.
Hassan Babakar Osman was recently arrested by ATPU at his Muthaiga home and accused of facilitating the recruitment of youth to join terrorist groups. The Anti-Terrorism Police Unit informed the Milimani senior resident magistrate Helen Onkwani that they need more time for investigations to ascertain he's a local ISIL agent
The court was informed that the suspect was also forged a letter of attorney purporting to have been vested powers by the Prince of Saudi Arabia to transact business in Kenya on his behalf.
The prosecution further said that Osman is wanted by the Saudi Arabian government for the purpose of instituting charges of using the said forged letter of attorney to swindle money from the public.
The court papers stated that intelligence reports so far received by investigators indicated that the suspect is an associate of unknown ISIS and ISIL recruiters in and outside the country.
However, the intrigues in the case baffles, on Tuesday, Kenya Insights learn that a senior Jubilee politician from Garissa County called the magistrate blocking the release of the investor Hassan Osman. The same politician called the suspect's lawyer Cliff to abstain from representing the investor. In the mean time, the investor has continued to be confined at Muthaiga police station. The investor has been arrested on several occasion and released with out charge. The investor is now under incarceration and medical and health complication where he has been denied access to the even government hospital for treatment.
Hassan was once arrested at JKIA over accusations of owning a fake passport which was then verified by the Somalia government, and he was released. Today amongst charges he's being held with includes possession of a fake Somalia Passport.
Hassan's project that he initiated on behalf of Saudi Prince would create employment over 4000 Kenyans generate foreign currency on the portion of sugar that will be exported to Saudi Arabia as per the terms of investments he was in the process if bringing in the Prince of Saudi Arabia to invest 150 million dollars to upgrade Kenya Meat Commission and the P.S. the MD and the board of KMC were going to finalise with the prince on a special visit to Saudi Arabia which had been finalised this would have up graded the Athi River KMC and MSA KMC to the status of European standards and cope with the high demand of meat supply to Saudi Arabia and the Arab world to approximate cover up to 70 % demand helping the pastoralist and generate more foreign currency it is wrong to do this to an investor who trusted Kenyans gave them 10% shares in return forged for 100 % shares total shame.
While the benefits that the investment was to come with remain constant, the bulk of case remains with the ATPU to prove that the investor has links with ISIL and if found guilty then should be prosecuted with the same. Kenya being Kenya, dirty play can neither be over ruled in this field since rivals are often at alert to fabricate and with malice accuse one of none existent crimes and using their positions and connections within power circles to frustrate rivals.
If that were that case in Hassan's, it would be an unfortunate trend, and a scare alarm to investors was looking into pumping their money into Kenya. The case needs to be followed with keen interest especially up from the President's office who should shield investors from monkey dealers in town at the same time being vigil with terror motives. It's a catch two. If determined that Hassan has no terror links then the interest parties too need to be brought to justice for frustrating investors.
---
Kenya Insights allows guest blogging, if you want to be published on Kenya's most authoritative and accurate blog, have an expose, news TIPS, story angles, human interest stories, drop us an email on

[email protected]

or via Telegram
---