Why Ex-Staffer Wants To Sue Zuckerberg And US Firm Sama Banned From Kenya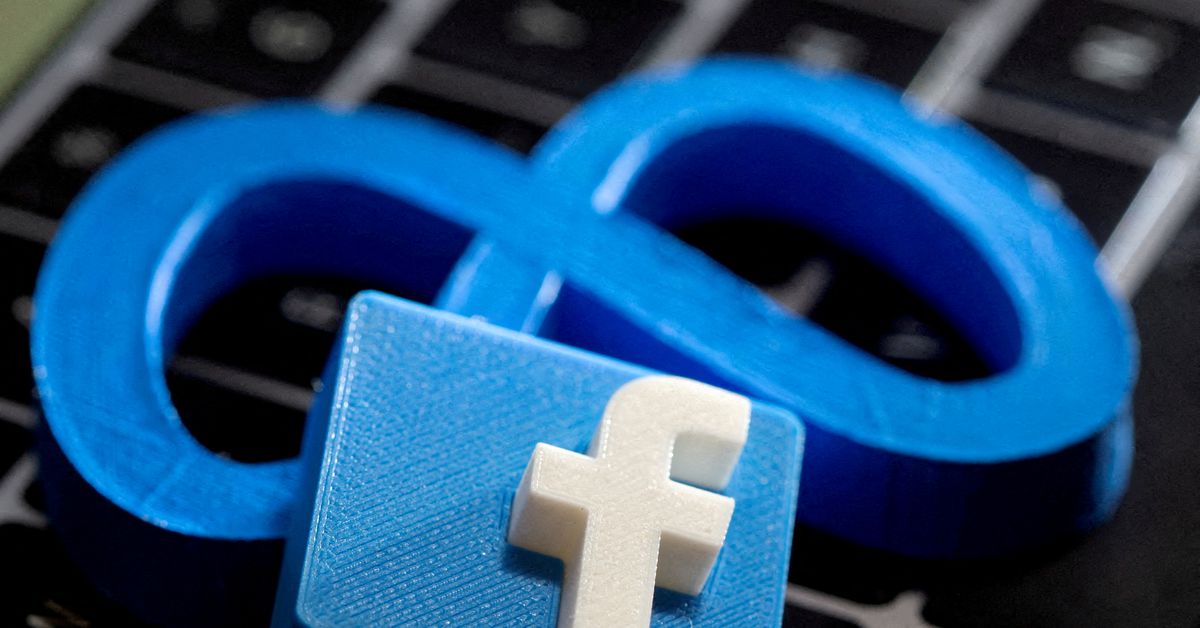 A former Facebook content moderator in Kenya has put Mark Zuckerberg on notice of 21 days to iron out issues at the Nairobi office or face a lawsuit.
Daniel Motaung, the whistleblower from a report in TIME, sent a legal letter to Facebook and their outsourcing company in Kenya, Sama, telling them to make 12 big changes to improve conditions for moderators – or we'll sue.
"There is no doubt that Meta not only knew of Sama's unlawful treatment of its employees but also ratified it in order to keep the cost of content moderation in Kenya low," the demand letter says.
"This is regrettable and shows how little respect Meta has not only for human rights in general but also for the rights of Kenyans and Africans at large… It is not only discriminatory but also amounts to neo-colonialism in the worst possible form."
The letter continues: "Sama's dishonest branding as an ethical company committed to lifting the status of disadvantaged youth falls flat. Their business practices are not only immoral but also
unlawful."
The letter says that Motaung's lawyers are requesting the Kenyan government to revoke Sama's license to operate as an outsourcing business in Kenya.
The list of demands, in full.
The letter adds: "SHOULD Meta and Sama fail to adhere to ALL our client's demands within twenty-one (21) days of receiving this letter, we will institute a civil suit against both Meta and Sama."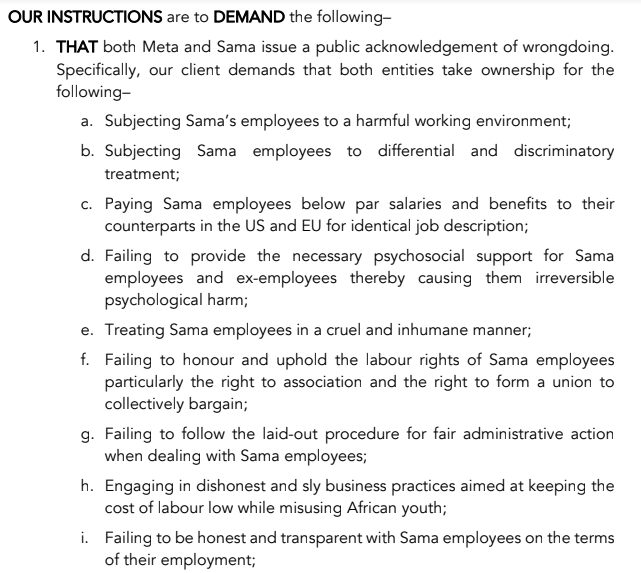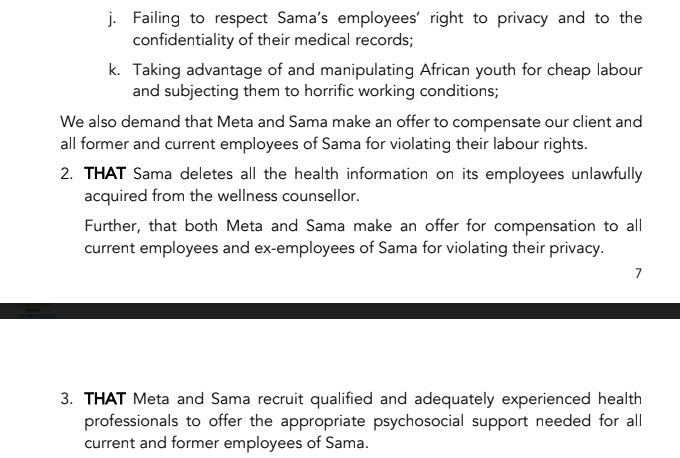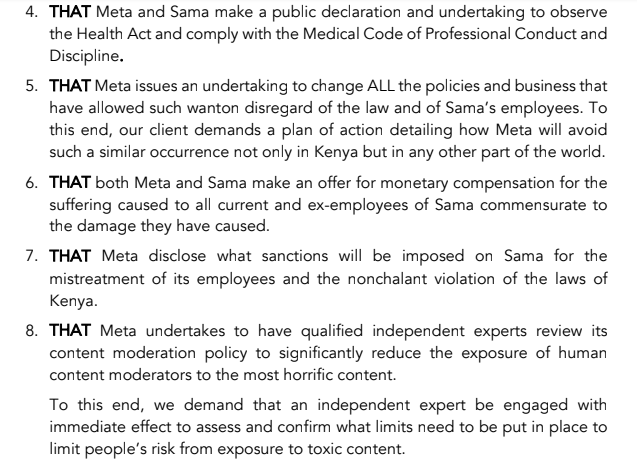 The letter accuses Meta and Sama of breaking section 45 of Kenya's data protection act, by surveilling employees' screen time during working hours.
And it accuses Meta and Sama of breaking section 5 of Kenya's employment act, through discriminatory treatment, including pay discrimination and sub-par psychological support compared to content moderation offices in other countries.
Content moderation is essential to Facebook. It would go down overnight without it. But it is backbreaking, dangerous and poorly paid. Some moderators in Kenya were paid less than $2 an hour.
Their job is to sift through the social media posts of Facebook's nearly 3 billion monthly users and remove posts that violate its rules – such as graphic violence, hate, and misinformation.
Moderators, and the conditions in which they work, are the foundation of a healthy social media ecosystem.
And it accuses Sama of breaking Kenya's labor relations act in its handling of the unionization effort described in my story. The letter says Motaung was unlawfully terminated.
Sama fired Daniel after he began organising with his co-workers to form a trade union to fight for better conditions at his office in Nairobi. Not only is that despicable, it's also against Kenyan law.
So much for a so-called 'ethical AI company'
TIME revealed moderators from Kenya miss out on a monthly relocation bonus paid to staff from outside the country, worth $1.46 per hour, after tax. Bosses also warned Kenyan moderators they were more easily replaceable than staff from outside the country, which many took as a threat of being fired.
Sama had previously come under fire for its low wages. In 2018, company founder Leila Janah justified the levels of pay: "One thing that's critical in our line of work is to not pay wages that would distort local labour markets. If we were to pay people substantially more than that, we would throw everything off."
In his legal battle against Facebook supported by not-for-profit Foxglove. His confidence is fuelled by a legal settlement in 2020, in which 11,250 moderators from outsourcing company Cognizant received $52 million from Facebook in damages, including widespread symptoms of PTSD. This worked out to a minimum of $1000 of compensation, roughly enough to cover twenty hours of therapy. As a result, Facebook promised moderation tools such as muting audio by default and changing videos to black and white to minimise distress.
These latest revelations The about abuses at the content moderation centre in Nairobi, Kenya, expose a rot at the heart of Facebook.
On taking Facebook to court Daniel says, ""The violence I witnessed working for Facebook changed my life – I'm determined not to let Facebook damage others in the same way. I'm bringing this case for all the colleagues I left behind and for everyone who relies on Facebook to read the news and seek the truth. Facebook is one of the richest companies in the world and engages in colonial exploitation in Africa just to keep its profit margins high. And Sama, which claims to be 'ethical', is really a wolf in sheep's clothing, exploiting impoverished Kenyans and other Africans under the guise of social uplift. We must force these companies to clean up their act."
---
Kenya Insights allows guest blogging, if you want to be published on Kenya's most authoritative and accurate blog, have an expose, news TIPS, story angles, human interest stories, drop us an email on

[email protected]

or via Telegram
---