Uhuru Crony Charles Gacheru Of IMG Kenya "Ate" Kshs. 70 Million In IAAF Scam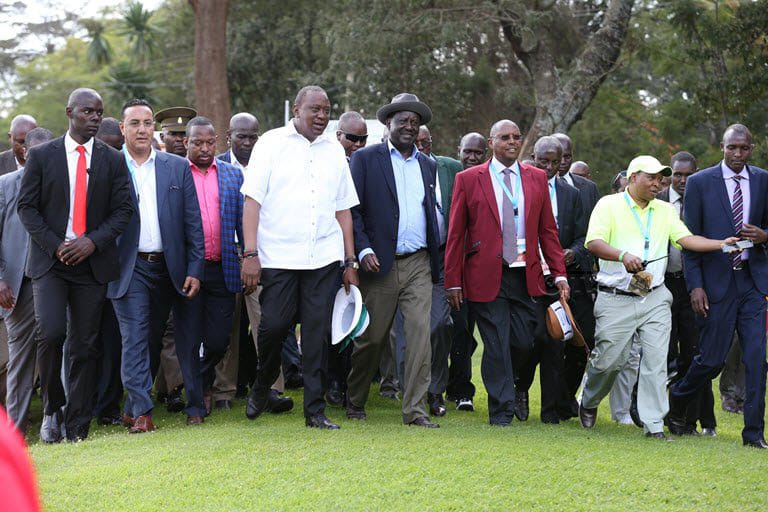 A top Sports Marketing Agency IMG Kenya has been named in the unraveling IAAF Scandal, where the Auditor General Edward Ouko has raised issue over the loss of Kshs. 1.7 Billion at the hands of firms and individuals.
Among the companies involved in the scam is IMG Kenya, ran by Charles Gacheru, his wife and his brother Peter Gacheru. Gacheru handles top Sports events for leading blue-chip companies like EABL, Barclays Bank, Kenya Commercial Bank, NIC Bank and the likes. He has been notorious for inflating the costs of these events, and splitting commissions with CEO's of these top companies.
IMG Kenya was paid a whopping Kshs. 70 Million for doing absolutely nothing, as the functions which the agency is supposed to provide are catered for by paid employees working at Sports Kenya, a Government parastatal.
Gacheru also boasts of close ties with the President Uhuru Kenyatta and was for a long while managing events at Statehouse, and at the Devolution Ministry when Anne Waiguru was the Cabinet Secretary. His photos include Najib Balala and James Macharia as his closest friends.
Also named in the damning dossier is another stathouse contractor WanderJoy Events, who have made a killing since Uhuru became President. The company handles all Presidential events, catering, and the likes. WanderJoy has since acquired a massive property along Kiambu Road, and the Kobil Petrol Station along Ojijo Road Parklands, from these proceeds of crime. WanderJoy were paid Kshs. 14 Million.
Other notable names in the illuminating dossier include Mang'u High School Alumni Justus Kirigua, the CEO of Pewin Cabs Limited. He is the son of Peter Kirigua, a former Chairman of the Kenya Forestry Service (KFS) and a close ally of Meru Governor Kiraitu Murungi. Pewin Motors was paid a whopping Kshs. 66 Million for Taxi services not rendered, and a further Kshs. 30 Million for laundry services, yet his company deals with taxis.
Why would the Government pay Kshs. 30 Million for extra laundry services yet everyone was staying in the athletes village, which already had laundry services?
Protel Studios headed by so-called "young" people like Actor/Director Sarah Migwi was also paid Kshs. 70 Million, yet the TV Production was footed by the IAAF, who had hired and paid for everything in Kenya, including the installation of a new tartan track at Kasarani Stadium. She is also listed as a director of Kwese Free Sports.
The most baffling revelation was that Sarova Hotels Limited was paid Kshs. 132 Million, yet Kenyatta University was acting as the official Games Village. The event which ran for 4-days could surely not have consumed that amount of money, within that short period. Group rates are actually cheaper.
For just having their ambulances on site, Kenya Red Cross skimmed Kshs. 3.5 Million from the event, as another briefcase company Resjos was paid Kshs. 118 Million.
The overlap of roles and functions was evidence as noted in the report. For instance, there are multiple travel agencies, leaving one to wonder why it was the case. An open tendering system would have identified one supplier with capacity to meet the needs of the event. Mighty Tours and Travel, Marvel Africa Agencies, BestWays Tours and Travel, were all paid for fictitious services.
The other companies paid to do virtually the same work include production companies. There was Protel Studios, Lisboa Productions, Film Studios, all paid for the same work.
When it comes to transport, even more eyebrows are raised with the different companies paid, for virtually the same service. While Pewin Cabs was paid for "Taxi services" Toyota Kenya, Crown Motors Group, were all paid to deliver the same services.
A very suspicious payment to law-firms also caught the eye of the Auditor General. Arimi Kimathi and Company, Winnie Wambui and Company, Triple O K Law Advocates, were paid a total of Kshs. 28 Million for doing literally nothing. There was no special need for legal services to run the event.
SafariPark Hotel also raised a fictitious invoice of Kshs. 44 Million, to imply that half the hotel had been occupied for an equivalent of 2 weeks, going by that high figure.
Most of these companies were fronted by Organizing Committee Chairman Mwangi Muthee, who had perfected the art of corporate fraud, during his tenure as the Chairman of the Kenya Rugby Union. Former Sports CS Hassan Wario, his PS and the then CEO of Sports Kenya Gabriel Komora are deep in the scam. Not to be forgotten is Sports Kenya Chairman Fred Muteti who received a Kshs. 5 Million cash "gift" carried by a Mr. Kılonzo.
The individuals named in this scam are prominent members of top clubs like Muthaiga Golf Club, Karen Golf and Country Club, Royal Nairobi Golf Club and the likes. It is here they sit and brag about their delusional business acumen, yet all they do is plan how to rob our youth's future by stealing money meant for our activities. They should face the full force of the law!
Kshs. 3 Billion could probably be enough to build solid academies to develop sports in the country. It can also build playing grounds in every County, avenues in which talent can be developed and nurtured.
Notorious Telco Safaricom was paid Kshs. 3.4 Million for telephones not delivered. MultiMedia University was also paid Kshs. 59.9 Million yet the facility was not the official Village.
Here is the list of firms which were awarded contracts under questionable terms and with nothing being delivered by them;
Sarova Stanley Hotels limited – Sh132 million
Resjos Enterprise – Sh118.3 million
Oceanbays Investment and general supplies – Sh107.7 million
Prowatt Enterprises – Sh97.2 million
Newtral Enterprises Limited – Sh88.6 million
Terra Craft (K) Limited – Sh77.8 million
IMG Kenya Limited – Sh70.5 million
Muga Electrical contractors – Sh68.7 million
Protel Studios Limited – Sh67.5 million
Pewin Cabs Limited – Sh66 million
Funan Construction Limited – Sh64.8 million
Multimedia University of Kenya – 59.9 million
Prottetta Holdings Limited- Sh58.6 million
Safari Park Hotel – Sh44.3 million
Walden East Africa Limited – Sh42.2 million
Lakezal Enterprises limited Sh40.2 million
Inspector General- Sh26 million
Windsor Golf Hotel and Country Club- Sh25.3 million
Lisboa Productions- Sh21 million
Pumpken Engineering limited- Sh20.6 million
Crown Motors Group- Sh19.6 million
Bonfide C&F Company – Sh16.8 million
Kasarani Sportsview Hotel limited – Sh16.8 million
Aspara Enterprises – Sh16.2 million
AIG Kenya Insurance – Sh14.6 million
Wanderjoy Party World – Sh14.3 million
Toyota Kenya – Sh13.9 million
Jimmon Services – Sh13.6 million
Broadlink General Merchants- Sh12.5 million
Romany Construction- Sh12.3
Tripleoklaw Advocates- Sh11.8 million
Kipawa Icon International – Sh11.6 million
Mighty Tours Travel Limited – Sh11.6 million
Ramji Haribhai Devani Limited – Sh11.2 million
Parapet Cleaning Services – Sh10 million
Greenbelt Movement – Sh9.9 million
Kenya Power and Lighting Company – Sh9.03 million
Tana Printers and General Supplies Agencies – Sh8.3 million
Kenya School of Monetary Studies – Sh8.3 million
Winnie Wambui and Company Advocates – Sh7.8 million
Arimi Kimathi and Company- Sh7.6 million
Northern Resources Development Agencies- Sh7.5 million
Igman Enterprises General Supplies – Sh7.4 million
Spiceworks Communications Systems – Sh6.5 million
Reliant Office Technologies – Sh6.1 million
James Kilonzo – Sh5.9 million
Harleys Limited – Sh5.5 million
Cloudera limited – Sh5.4 million
Film Studios – Sh4.9 million
Flight Central Travel – Sh4.2 million
Khenephance Investment limited – Sh3.7 million
Vertical Dimention Engineering- Sh3.5 million
Kenya Red cross Society – Sh3.5 million
Safaricom Limited – Sh3.4 million
Silicon Systems – Sh2.7 million
Bold Connect – Sh2.7 million
Sapphire Scents Limited- Sh2.6 million
Crystal Brands Communications- Sh2.6 million
Office Operations- Sh2.5 million
Ultimate Ridge International- Sh2.4 million
Marvel Africa Agencies- Sh2.3 million
Bestways Tours and Travel- Sh2.3 million
Mowlid Accessibility Consulting- Sh2.2 million
Wilken Telecommunications- Sh2.09 million
Intrepid Data Systems limited- Sh2 million
Quicksmart Supplies- Sh1.7 million
Tanake Enterprises- 1.5 million
Kawira Women Group- Sh1.2 million
MFI Managed Document Solutions- Sh915,311
Waydan Holdings- Sh908,930
Furniture Dynamics- Sh814,950
Francjos Enterprises- Sh738,500
Mwaju Electronics- Sh667,000
Marketserve Enterprises- Sh425,000
Delight Systems- Sh390,000
Kenya Safari Lodges and Hotel- Sh300,930
Nairobi Sports House- Sh294,000
ST John Ambulance- Sh233,000
Photic Global Investments and Logistics- Sh221,000
Go On Enterprises- Sh183,200
All eyes now turn to Director of Public Prosecutions Noordin Haji to see if he will move swiftly and apprehend these crooks, before they start soliciting for help from the Head of State, as if he "chopped" the money with them.
The Parliamentary Accounts Committee should not exploit this report to extort those named adversely. We are very alert to their machinations.
---
Kenya Insights allows guest blogging, if you want to be published on Kenya's most authoritative and accurate blog, have an expose, news TIPS, story angles, human interest stories, drop us an email on

[email protected]

or via Telegram
---