Sonko Leaks: Ex-Governor Details How His Lawyer Cecil Miller Pocketed Millions To Betray Him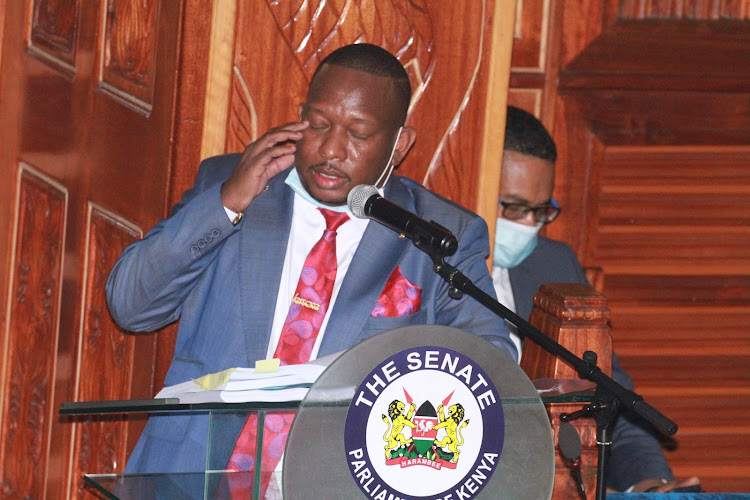 In what perhaps is rampant but talked in low tones, former Nairobi Governor Mike Sonko has opened a Pandora box where advocates in Kenya turn against their clients after being pocketed heavily with the opposite party.
In his lengthy series of exposing corruption in the judiciary, Sonko detailed how his former lawyers Cecil Miller and George Kithii were allegedly paid hundreds of millions to turn against him in his impeachment case which he claims was orchestrated by State House operatives led by one George Kariuki together with now Governor Anne Kananu, Majority Leader Abdi Guyo and the NMS boss General Bado is also implicated as well.
In what he says was an over 10 months of secret investigations, Sonko unearthed how corrupt judges are openly offering justice for sale, a web of sex scandals where open legs serves justice.
Before he would be gagged from releasing further details, Sonko had released secret recordings showing that Justice Chitembwe, Justice Sankale were offered bribes through his lawyer Cecil Miller to offer ruling that upheld his impeachment.
In what is bound to highlight betrayal, unprofessionalism and client confidentiality should the claims be ascertained against advocate Miller, emotional Governor expressed disappointment at Miller whom he describes as a longtime friend, someone who represented him for over two decades in different cases and are also family friends.
"Today's of the Rot in the Judiciary touches on how my former lawyer Cecil Miller, George Kariuki ( Deputy Comptroller State House), Saidi Amana Jirani ( Justice Chitembwe's proxy and relative), Hassan Abdi Guyo (the Matopeni Ward Mca and Majority Leader Nairobi County Assembly) who was the seconder of my impeachment motion conspired with Judges through Justice Chitembwe to offer bribes to influence the outcome of the judgment in my impeachment case. According to Said Amana Jirani a sum of Kshs 10m (10,000,000/=) had already been committed and two of the Judges in had already received 5m (5,000,000/=) each as a down-payment from a certain lawyer. So if I was to be assisted I was to part with a total of Kshs 45m (45,000,000/=) to be shared as follows 20m (20,0000,000/=) to each of the male judges and 5m ( 5,000,000/=) to the lady judge in my impeachment case. The four also tried to misuse the President's name without his knowledge." Sonko said in Part 4 of his expose.
Talking to his informant and a close confidant of Anne Kananu who has now been identified as Merry Nkatha, Sonko claims to have done his in-depth investigations based on the tips about the huge amounts allegedly paid to Miller.
"Kshs. 315,500,000/= PRICE OF BACKSTABBING AND OILING OF CORRUPTION NETWORKS IN THE JUDICIARY." Sonko wrote.
"Based on the information I received from my informer I did further inquiries and investigation and realized the following payments were effected to of my former lawyer Cecil Miller during the period of my impeachment. Little wonder he abandoned me midstream of my proceedings in a certain court." He continued highlighting how the money was distributed as below:
23rd February 2021 – Kshs.30,000,000/=
24th February 2021 – Kshs.34,000,000/=
25th February 2021 – Kshs.27,982,758/=
25th February 2021 – Kshs.31,900,344/=
25th June 2021 – Kshs.77,439,450/=
30th June 2021 – Kshs.72,232,314/=
31st August 2021 -Kshs.42,000,000/=
Total= Kshs. 315,556,866/=
In the audio clip heard by Kenya Insights, Nkatha is heard saying Miller was paid the sums of money and investigations by KRA and other relevant bodies on his bank accounts would ascertain the claims.
Sonko in yet another recorded call to his former lawyer Miller, couldn't hide his disappointment from the alleged betrayal and broke down during the conversation, "Miller you're a bad person! You've destroyed my whole life why? You know you've never won any case in court yet you continue receiving money from the county, I will expose you I don't care, I'm not the type you can cow! You betrayed me after all these years because of money!" Sonko is heard saying amidst tears in the damning video.
Alleged Sex Web
Further in his claims, Sonko alleged that Justice Chitembwe, Justice Sankale Kantai (was previously alleged to have been involved in a romantic relationship with a murder suspect Sarah Wairimu) and Lawyer Cecil Miller both slept with Anne Kananu.
Rot in the Judiciary part 5

Besides Justice Chitembwe and my former Lawyer Cecil Miller receiving millions in bribes to influence the outcome of my impeachment case they went as far as receiving Sexual favors to advance their agenda. pic.twitter.com/jbJXCbrzlk

— Mike Sonko (@MikeSonko) November 22, 2021
"As a law abiding citizen, who abides by the rule of law, I stand guided and fully comply to the same order safe that I will challenge the same order at the inter-parties hearing." He added.
Sonko's informant Nkatha, also changed her mind after the former governor leaked their conversations, she claimed that the confessions recorded were done under duress, alleging that Sonko did it to put her as a witness before JSC.
Claims which Sonko refuted stating that they had a cordial relationship which advanced to sleeping together and at no point was she pushed.
Nkatha in a call to Sonko is heard saying unnamed persons have been threatening and putting her life in danger.
I want @DCI_Kenya to go to the root of this corrupt transactions in the Judiciary. I'm not the only one suffering most Kenyans have faced very serious challenges in accessing Justice.

— Mike Sonko (@MikeSonko) November 22, 2021
Sonko in another sneaky post following the gag, is pointing fingers at the judges implicated, his formers lawyers and a bishop who was implicated i the sex and corruption web for harassing her and renting her a house where she's allegedly being coached to recant her confessions to the governor as that's what has formed the basis of the massive expose.
"DCI, DPP, WITNESS PROTECTION AGENCY and JSC ensure Merry Nkatha is put under witness protection agency. Coz of the court order against me I can't talk much I have alot of respect kwa Judiciary, however, I have very sensitive information that after she was coached to give false information and told to go to Karen Police Station in a conspiracy to defeat Justice a senior county official, two of my former lawyers, a pastor and three High Court judges hurriedly organised for her either a private or rental house in Muthaiga. Nataka kuwaambia she's not a witness in any of the cases before JSC, the evidence I have to prove to the world that there's massive corruption in the Judiciary is sufficient." Sonko write on Wednesday morning.
"I know after the video call clip that I released yesterday around 5am nyote mumekuwa hostile kwake and you are planning mambo mbaya kwake thinking she's a witness. Please stop blaming her deal with me I'm the one ameleta hizi shida zote but I had to do it for Kenyans to know how lawyers, some judges ( not all) and cartels can conspire to deny Kenyans justice." He added.
While appearing on KTN on an interview to answer to Justice Chitembwe who claimed earlier that the clips were edited and manipulated to suit Sonko's narrative. The former county boss says his choice to record started long ago and mostly when he sniffs elements of corruption.
Mike Sonko: The recording thing started when I was trying to rescue some Kenyans who were being evicted in South B. I had to call the President and put him on speaker…..#SonkoLeaks @SophiaWanuna pic.twitter.com/tqrjgzv7EO

— The Standard Digital (@StandardKenya) November 23, 2021
Mike Sonko: Fighting corruption was in my blood. Recording people helped. I closed doors to cartels at Nairobi County and sealed all the loopholes.#SonkoLeaks @SophiaWanuna pic.twitter.com/bKYA5pampl

— The Standard Digital (@StandardKenya) November 23, 2021
While speaking to his former lawyer Miller, Sonko is heard saying that he knew a day would come when he'd turn his back against him and supposedly held a lot of dirt and evidence on the lawyer that he promised to expose to the public.
Sh53M
In another conversation leaked by Sonko painting Miller as a corrupt lawyer, the former governor alleges that a widow was forced to pay Sh53M in a fake taxation case. He says Miller didn't represent the widow despite the money being deposited.
The phone is allegedly between Miller and Justice Chitembwe's brother cum proxy and broker, Miller had allegedly wanted Amana to sweet talk his brother and Justice Muchelule to release the funds. In the clip, Miller allegedly agreed to part with Sh7M as a bribe to the judge to facilitate quick release. Muchelule fast tracked the case but allegedly asked for Sh2M cash in advance through Chitembwe.
In a different video, Justice Chitembwe is seen implicating Justice Muchelule in corruption. He claims Muchelule had delivered the orders for the release of funds as requested by Miller and waiting for his share. Chitembwe is heard saying that Miller called him on several occasions and promised to pay the bribe after a favorable ruling is given. Philip Murgor is also mentioned as being the lawyer representing Miller in the case.
JSC has already initiated probe on the corruption claims against Chitembwe which would eventually lead to his removal.
LSK or the advocate's complaint body is yet to issue a statement on the ethical misconduct accusations against lawyers Cecil Miller and George Kithii who crossed and betrayed their client.
Miller is son to the former Chief Justice Cecil Miller Snr and Christine Nyaguthi the proprietor of Saape has been handling big clients commanding a lot of respect until the fraudulent claims got labeled against by Sonko his former client and supposed friend.
Previously represented managers of Chase Bank that went under with depositors money, also represented family bank that was struggling with its books and nearly collapsed. He's also represented billionaire Humphrey Kariuki who's battling tax evasion scandals with KRA.
Corruption in the Judiciary is like a business now, and it is the judges who run it – @ahmednasirlaw#WADR @ntvkenya @jamessmat pic.twitter.com/D6pfjE9wuH

— James Smart (@jamessmat) November 23, 2021
It remains to see how Miller and Kithii will battle out the damning accusations against him and more so that trust issue and client confidentiality will be tested as highlighted and if the courts will allow Sonko to continue with his serialization.
FRC eyes dirty money hidden by lawyers.
The anti-money laundering watchdog has asked MPs to pass proposed changes to the law compelling advocates to disclose suspicious financial dealings of clients to help keep Kenya off the list of high-risk countries.
The Financial Reporting Centre (FRC) fears continued non-designation of advocates among reporting agents for dirty cash deals might injure Kenya's global rating in the ongoing assessment, which will conclude in February 2022.
The Proceeds of Crime and Anti-Money Laundering (Amendment) Bill 2021 is seeking to include advocates, notaries and other independent legal professionals like agents, joining financial institutions, casinos, accountants and real estate agents in the fight against money laundering.
If you hear someone saying 'give me the evidence on corruption' that means 'don't waste your time'… this issue of evidence is a euphemism that 'we don't want to touch this, if you can't bring the money that exchanged hands then don't waste your time.': @ahmednasirlaw #WADR pic.twitter.com/2Q15HKd33r

— NTV Kenya (@ntvkenya) November 23, 2021
The National Assembly's Departmental Committee on Finance and National Planning is presently receiving input from stakeholders and the public on the Bill, which went through its first reading on October 6.
This comes at a time the Eastern and Southern Anti-Money Laundering Group is assessing the effectiveness of Kenya's laws and policies to protect its financial system against money laundering and other crimes. The exercise is set to end in February.
If the changes to the law sail through, practitioners in law firms will be required to maintain a database of transactions from Sh1 million and report suspicious deals to the watchdog.
The FRC is targeting transactions relating to buying and selling of property, creation, operation and management of firms as well as management of bank, savings and shares accounts on behalf of clients.
The watchdog is making a second stab to include lawyers as its agents after a similar bid through the Finance Bill 2019 was shot down by lawmakers.
Speaker Justin Muturi ruled at the time that the changes be made via a substantive amendment to the anti-money laundering law.
The MPs and lawyers had protested the "offensive clause" in Finance Bill 2019 to amend the anti-money laundering law, arguing it violated other legislation such as section 134 of the Evidence Act.
UPDATE:
In a sharp turn of events, lawyers Miller and Kithii obtained court orders gagging Sonko from releasing further evidences he claims to be holding against them.
This article has been updated to highlight new events.
---
Kenya Insights allows guest blogging, if you want to be published on Kenya's most authoritative and accurate blog, have an expose, news TIPS, story angles, human interest stories, drop us an email on

[email protected]

or via Telegram
---