Secrets behind Deputy President William Ruto's Dubai meeting with Nigeria's Former Vice President In Exile Atiku Abubakar​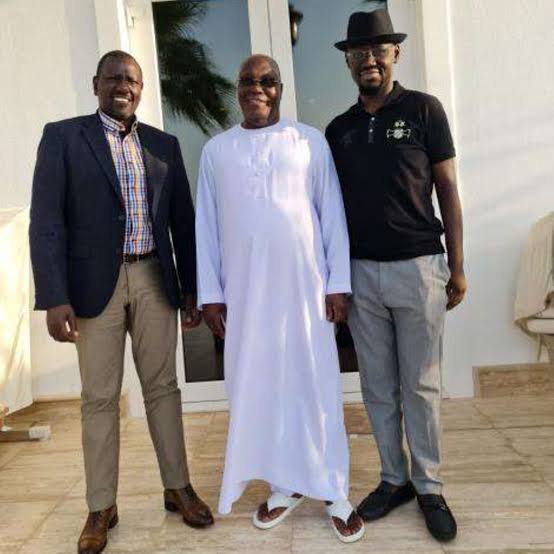 Interpol has reportedly scrutinised Ruto's numerous private trips over eight years period and confirmed the involvement of key figures both of Kenyan and Nigerian citizenship in the multi year, multi-country network which first hit investigators radar when a Barclays Bank Queensway Branch safe was revealed to have held USD 20 million in fake bills and fake gold bullion.
The 2019 incident attracted public outrage but what was not revealed to the public was the identities of the foreigners involved in the case and how months later in November 2020, the same group would converge in Dubai to plan the next scheme.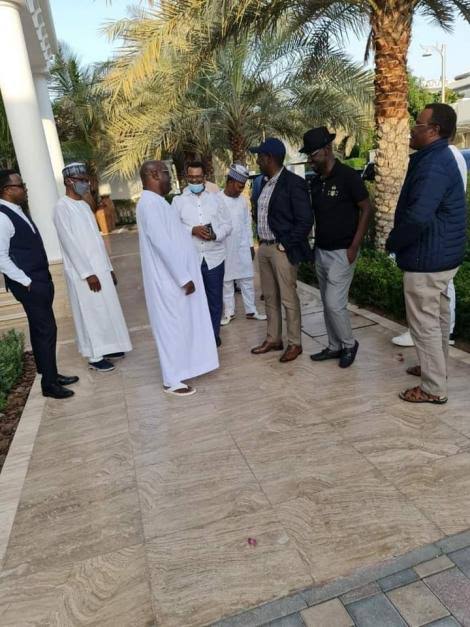 The group's host in Dubai was former Nigerian vice president Atiku Abubakar, exiled in connection with mega-corruption in Nigeria and unable to leave Dubai in fear of arrest by Interpol and the FBI for money laundering, sponsoring cyber-crime and drug trafficking. Abubakar's guests included Timi Frank (political activist for VP Yemi Osinbanjo), Olubunmi Demuren, Eghosa Nehikhare and Olubumni Akinyemiju, directors of Multigate Holding Kenya Ltd as well as Alexander Ezanagu and all of Nigerian origin. Also in attendance was Dp Ruto and his associate Oscar Sudi.
The agenda for the November 2020 meeting was to seek ways to return previously looted funds back into Kenya and Nigeria in order to fund the presidential campaigns of Ruto who is seeking the presidential single seat in the August 9 2022 elections and those of Osinbanjo, who is seeking the top seat in his country come 2023.
In total, both men have stashed over USD 1 billion in bank accounts abroad including in Europe, the Middle East and the Americas. Ruto was forced to fast track his recovery of his hidden loot as money hidden in Kenya had been stashed in the old currency bills which had been phased out by presidential order and whose sudden influx into the market would have exposed corrupt dealings Sh5.6 over a 15-year period pointing back to his stink as Agriculture minister.
Top on Ruto's funds to return were funds held in an Italian bank and sourced from the Arror and Kimwarer mega dams project. The Sh15 billion was hidden on behalf of Ruto by disgraced CMC diRavenna officials. It is June Ruto Ezanagu, who brokered the deal.
Abubakar proposed banker and finance professor Alexander Ezanagu, who is based in Dubai, to formulate a plan to ensure the funds got back to the respective clients, with a commission being paid to Abubakar, Ezanagu and other handlers across the chain in the UK, Ghana, Kenya, a Nigeria and Dubai.
Between October and November th 2020 Interpol's alarms blinked red on wired transfers of up to Sh25.6 billion directed towards bank accounts domiciled in Kenya. The main companies involved are under directorship of Nigerian nationals who are also facing accusations of in his money laundering and tax evasion in Mauritius.
Bank statements show transactions to Equity Bank Kenya and UBA carried out between October 19 2020 and November, done in 69 tranches, with the highest single transfer being Sh3.1 billion.
Among the companies in the tens of companies' web are RemX Capital Limited, RemX Holding Ltd, Avalon Offshore Logistics Limited, OIT Africa Limited, Multigate Limited, Multigate Holding Limited, Venture Garden Group, and Venture Law Limited. The said companies are registered in different countries under different names but with list common directors.
On April 5 2022, Kenya's Asset nd Recovery Authority obtained a court order to freeze accounts holding Sh5.6 billion of the transferred amounts, which is just a quarter of the huge sums involved Sh2.2 billion (Approx. USD 18,310,000) wired into OIT Africa Limited UBA account 55010130010886, Sh 2.6 billion (Approx. USD 22, 577,000) OIT Africa Limited on Equity bank F account 0540280226216, Sh 764.6M k (Approx. USD 6,648,800) RemX Capital Limited on UBA account and 55010130009222 Sh37.5 million (Approx. USD 374,630) Avalon Offshore Logistics Equity Bank Account 0540280413556.
The funds were wired to and via the following companies:
Multigate Limited which was registered on March 18 2021 as a financial technology company headed by MP Omanga's relative as the country director and is owned by Multigate Holding Kenya Limited fac whose shareholders are Olubunmi Demuren, Eghosa Nehikhare, De Olubunmi Akinyemiju, all of Nigerian origin.
Multigate Limited was involved in facilitating transfers from Venture Gardens Group, a Nigerian Company associated with Nigerian vice president Yemi Osinbajo. Venture Gardens Group owns Venture Law Limited, Venture Corporate Services. The company is facing cases of tax evasion and suspected money laundering worth billions of shillings in Mauritius.
RemX Capital Limited also their received huge sums of monies, the company was incorporated in Nigeria under registration Number 1541891 on November 19 2018 with directors direct with listed as Olubunmi Demuren, Eghosa Nehikhare, Olubunmi Akinyemiju and Tony igbinoba.
RemX Capital is a holding  company owning RemX limited companies in Dubai, US, UK, Ghana, Uganda and Kenya; In Kenya in RemX Limited was registered on link D) 10th December 2019 with offices for A established in Tetu Apartments, State house Avenue, the company D) is owned by a holding company RemX Holding whose directors are Kenyans -John Kisilu Kamusina, X Lawyer Evalyne Wawira Gachoki in and the three Nigeria-Olubunmi Demuren, Eghosa Nehikhare and Rac Olubunmi Akinyemiju.
RemX Capital also owns RemX Investment in Kenya with offices at Britam Towers, Nairobi with directors listed as  Olubunmi Demuren, Eghosa Nehikhare Olubunmi Akinyemiju.
Avalon offshore Logistic also received wire transfers from Nigerian owned Venture Garden Group facilitated by Multigate Limited. The company was registered 10th December 2019 same day as RemX Limited KE. The company directors are listed as Jeffrey Nnaoma Michaels and Uduma Okoeo Kalu both Nigerians and operate several other companies in Nigeria co-owned with RemX and Venture Garden Group directors.
As Alexander Ezanagu was scheming and moving money for his Kenyan and Nigerian clients, Ruto and Osinbajo were hatching schemes to further enrich themselves through hoodwinking members of the public. Being afraid to link themselves publicly with their new schemes, both placed their wives in the forefront of religious and charitable businesses aimed at attracting donations and contributions which would be re directed to their personal accounts.
It has been established that on October 25 2019 Rachel Ruto was hosted by Nigerian vice president Yemi Osinbajo and his wife Oludolapo Osinbajo at a church event in Lagos and later at their home in Abuja, Nigeria. The church is linked to laundering USD 10 million for Osinbajo through the schemes of Alexander Ezanagu, the lecturer in Dubai who was introduced to him and Ruto for the purpose of money laundering.
Later on November 29 2019, in what has been established as a follow up operation meeting, Rachel Ruto hosted the spouse of Nigerian vice president Oludolapo Osinbajo (accompanied by Oludolapo Akinosam a director of Venture Gardens Group) at Kasarani Moi International Sports Centre Nairobi for the 10th anniversary and fund raiser of a table banking NGO, Joyful Women (Joywo) run by Rachel Ruto but whose real owner is perceived to be Wiliam Ruto. It is during this same period that RemX Capital, RemX Limited, RemX Investments, RemX Holdings, Avalon Offshore Logistics, OIT Africa Limited were registered in Kenya- all associates of Nigerian Venture Garden Group. JoyWo LTD has been placed under investigation by Interpol under suspicion of local money laundering operations connected to Ruto.
JoyWo LTD is believed to be the financial institution behind a USD 10 million (Sh billion) which was questionably awarded to Harun Aydin upon the Turkish national's visit to Kenya and Uganda in 2019.
Harun Aydin accompanied Ruto on several trips to Dubai, Nigeria and Sudan under a scheme to smuggle blood diamonds and gold from Eastern DRC for sale to international markets. The proceeds from these, illegal goods trade are channeled to the accounts of Ruto and Osinbajo through JoyWo LTD and a Nigerian church registered in the name of Osinbajo's wife through RemX Holdings LTD, Avalon Offshore Logistics, OIT Africa LTD and Koilel Farms LTD which is registered under Ruto's son Nick Ruto. To avoid raising suspicions on the source of the funds Aydin was travelling with Ruto and his associates concocted a cover story claiming he had been given the amount as a loan from Equity Bank Kenya.
In truth, the money was the first tranche of laundered funds delivered to Ruto by Atiku Abubakar and part ad payment for gold billion smuggled out of DRC through Uganda. The agent who allegedly smuggled the gold out was none other than Ambassador Kiema Kilonzo who used his diplomatic immunity to have his baggage pass unsearched through international borders.
Once delivered safely out of Uganda and into Sudan, the precious metal was transported to black market traders and the proceeds shared among the senior members of the scheme.
While Interpol and some local enforcement agencies have prevailed in intercepting some of the looted funds being redirected by Ruto and Osinbajo for their personal and  private political needs, the question must be asked, how much of the looted money has been discovered, how much has been laundered and how long can the game be continued? How safe is Kenya with William Ruto? How safe is Nigeria with Atiku? How is UBA Bank CEO still in office? Why is Equity Bank officials- the epitome of money laundry in Kenya still in office?
---
Kenya Insights allows guest blogging, if you want to be published on Kenya's most authoritative and accurate blog, have an expose, news TIPS, story angles, human interest stories, drop us an email on

[email protected]

or via Telegram
---