Scandal: New Kenya Pipeline MD Macharia Irungu On The Spot Over Irregular Appointments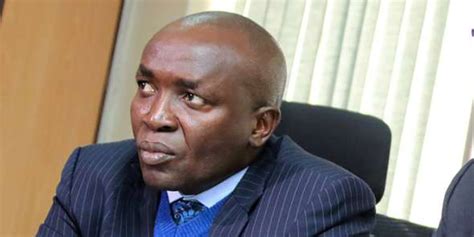 The more things change, the more they remain the same. Only months after Kenya Pipeline Company( KPC) was dragged in the murky waters of bad press following scandals that saw firmed MD Joe Sang sacked, the company is back on the spotlight for the same reasons only this time under Macharia Irungu, the current MD.
In the middle of the circus is Irungu's spirited efforts to bring back a former employee initially fired over incompetence, nepotism and tribalism. The board is also recruiting senior management staff and there are fears that the MD and board could be bias to have people aligned to their tribe appointed to the senior positions.
This is not new, in the last regime, Joe Sang piled people from his Kalenjin community in senior positions and it wouldn't be surprising if that's the plan Irungu from Mt. Kenya could be having.
Inside sources reveal how Irungu has embarked on tactical and rare decisions to ensure that Sharon Kisire makes a comeback at the company as the head of human resource and administration.
Recruitment of general managers at KPC has been ongoing following the arrest of Sang that took place in December 2018. On July 7, 2020, six general manager positions were advertised in one of the daily newspapers and the shortlisting process commenced almost immediately. However, eyebrows were raised when, under the instructions of the MD, the advertisement for the position of HR was selectively re-advertised on September 29, 2020.
This site learns Weekly Citizen that this was a calculated move by the MD to open a window for the return of Kisire who never applied for the job during the earlier advertisement. Reports indicate that Kisire showed reluctance in submitting her request when the advertisement was first published due to what is described by insiders as bad blood between her and the then KPC board chairman John Ngumi. Kisire and Irungu are said to be close family friends and best couples to each other's weddings. When Ngumi moved to the Industrial and Commercial Development Corporation under the KTLN framework, the MD appears to have seen a window of opportunity and convinced Kisire to return to KPC.
Those up in arms against the intention have expressed fears that the company is headed back to the dark days of her era at KP where Kisire allegedly practiced open nepotism and tribalism. It is said that disgruntled staff are planning a revolt against the board and senior management should Kisire be rehired. Insiders who requested anonymity expressed fears that the advertising was just formality as the job has already been allocated to Kisire even before the shortlisting is complete.
Those concerned have appealed to the board to think twice about rehiring Kisire if the company is serious about resolving the human resource issues which have dogged KPC for years. Kisire's stormy reign in the HR department was full of double standards and was unable to implement any changes for the three years she served. Accusing fingers are pointed at her with claims that she was responsible for the many unfair suspensions and blatant refusal to implement approved organizational structure.
Irungu is alleged to have imposed his cronies in strategic positions, which are being held in acting capacities.
Experience shows that the most looted firms are those whose leaders hold positions in acting capacity. Because of the temporary nature of the job, the acting managers often want to impress their superior and would do any kind of shoddy job, loot so as to be retained. Just look at the record of Engineer Silas Kinoti of Kenya Urban Roads Authority (KURA); the looter acted for four years.
Back to KPC, according to sources, those calling shots are Pius Mwendwa, general manager finance and Peter Mwangi – general manager supply. They remained in charge as the MD suffered a bout of COVID-19.
Both Mwendwa and Mwangi are said to have replaced then powerful faces who used to cut mega-deals during the tenure of Joe Sang as MD. Sang brought on board Vincent Cheruiyot as general manager supply chain, Okava Derek – manager operations, Paul Njuguna – manager business, Joel Mburu – manager supply and Logistics and Zilper Abong'o – customer relations and marketing to loot KPC.
KPC is currently being run the same way looter MD Joes Sang did.  Mwangi and Mwendwa can be likened to Cheruiyot who was Sang's blue eyed boy.
The duo cur deals for Irungu with the help of some influential govt officials.
This restructuring of things have brought disquiet and bad blood between top management with Irungua and Jonah Aiyabei not seeing eye to eye.
Jonah Aiyabei is the director of Naivasha based Morendat Centre.
Questions are being asked as to why a number of managers are holding positions in an acting capacity. Fear is, Irungu and his blue-eyed boys want to recruit new faces in strategic positions by not confirming those handling the slots.
Those in acting capacity are Caxton Njuga – manager internal audit, Thomas Ngira – general manager human resource and administration, Joshua Mutea – general manager pipeline operations and maintenance, Distrerius Nyandika – general manager Strategy and Tom Mailu – general manager Kenya Petroleum Refineries Limited.
Sources intimate that Irungu is deeply involved in tender awards including the provision of guarding and security services, which is lucrative. It is said the top management is deeply divided due to Irungu's style of management of divide and rule preferring to sideline others. For now, the cartel is targeting a multimillion project of installing a leak detection system to be installed on 16-inch Mombasa to Nairobi Pipeline-line I.
Staffers at the parastatal are asking whether this will be the new normal for the new MD and accusing the company board of aligning their people to loot from the already tainted and financially struggling agency.
---
Kenya Insights allows guest blogging, if you want to be published on Kenya's most authoritative and accurate blog, have an expose, news TIPS, story angles, human interest stories, drop us an email on tips.kenyainsights@gmail.com or via Telegram
---