Report: How President Salva Kiir and Riek Machar Have Been Benefiting From Sudan's Bloodbath, KCB Engulfed In Money Laundering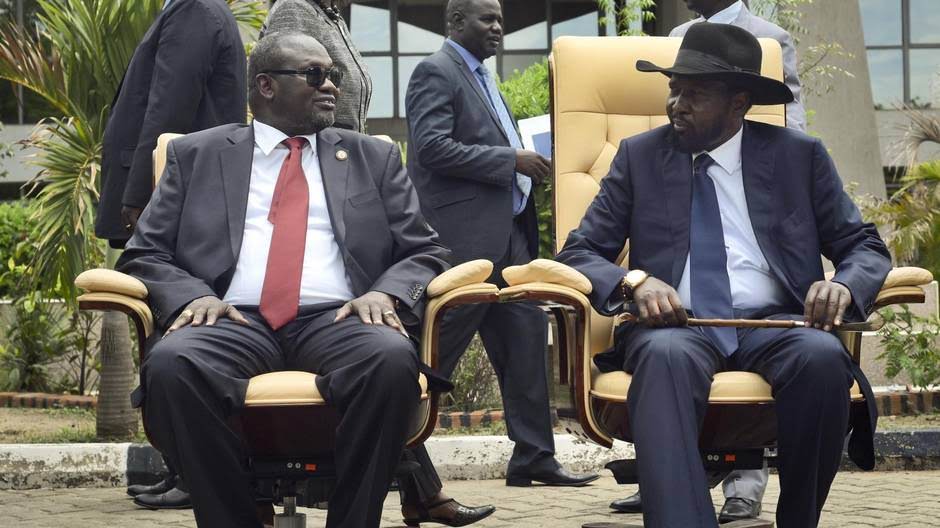 South Sudan, the world's newest state, continues to be embroiled in a horrific civil war. Tens of thousands of people have lost their lives, many of them civilians. Mass rape has been used as a weapon of war. Children are routinely recruited as soldiers and sent as cannon fodder into combat. As of July 2016, some 2.3 million people have been displaced by the conflict. A staggering 5.1 million people—almost half the country's population—require food assistance. Entire towns have been destroyed
After nearly two years of following the money underwriting South Sudan's war economy, The Sentry's investigation into the links between public corruption and armed conflict.
The Sentry's investigation has generated substantial information indicating that top officials ultimately responsible for mass atrocities in South Sudan have at the same time managed to accumulate fortunes, despite modest government salaries.  Some have been involved in questionable business deals while others have apparently received large payments from corporations doing business in South Sudan.
Meanwhile, some top officials and their family members own stakes in a broad array of companies doing business in the country—and in some cases, these commercial engagements may be in violation of South Sudanese law.   Members of their families often live in multi-million dollar mansions outside the country, stay in five-star hotels, reap the benefits of what appears to be a system of nepotism and shady corporate deals, and drive around in luxury cars—all while much of their country's population suffers from the consequences of a brutal civil war, and in many places, experiences near-famine conditions.
The report shows how the leaders have siphoned money from their country and bought expensive assets in Nairobi and other Capitals within East Africa, a new report says. Among the many details outlined in the report are pictures of luxury villas, said to be owned by politicians and generals in Kenya, Uganda, Ethiopia and Australia.
It says both President Kiir and Mr Machar have luxurious homes in the same lavington neighbourhood of Nairobi. Commissioned by actor George Clooney, the report accuses President Salva Kiir, opposition leader Riek Machar, and top generals of pro teering. most of the leaders have brought properties in upmarket Nairobi ares of Lavington, Kileleshwa and Muthaiga.
They used a local bank to transfer the cash. Documents reviewed by fl e Sentry show $3.03 million moving through Gen. Reuben Riak's personal bank account—a U.S.-dollar denominated account at Kenya Commercial Bank (KCB)—between January 2012 and early 2016. The transactions recorded include more than $700,000 in cash deposits and large payments from several international construction companies operating in South Sudan.
Additionally, over this four year period, $1.16 million in cash was withdrawn from the account. Manyani East Road – Kiir family residence – about a quarter mile after the entrance to a gated community within Lavington—one of Nairobi's most upscale neighborhoods—is a well-guarded compound, lined with a 10-to-12-foot cinderblock fence topped with two additional feet of taut, high-voltage wiring. Just inside is a courtyard, anked on either side by two relatively small structures that appear to be a large garage and a guest STAR SURVEY house or guard post. Just beyond the courtyard is the main home, an elegant, pale yellow, two-story villa with several balconies that appears to be well over 5,000 square feet the Machar family appears to maintain a residence in Runda as well.
Members of Machar's family, whose social media postings and eyewitness accounts indicate were living in the villa in Runda, posted photos on social media claiming that they had moved into a home in Lavington, the same part of the city where the Kiir family lives. fl e Machar family's new home, which has a large backyard with a large stone patio and a teardrop-shaped, in-ground is nearby. Bank records reviewed by fl e Sentry indicate that Gen. Jok Riak received large nancial transfers totaling at least $367,000 to his personal bank account at Kenya Commercial Bank (KCB) from February to December 2014 alone—sums that dwarf his official annual salary of about $35,000.92 According to the same records, payments totaling $49,000 came from an individual who shares a name with an individual who then served as advisor in the Office of the President, while an additional $308,524.10 came from Dalbit International, a Kenyan multinational corporation operating in South Sudan that is one of the country's largest petroleum and fuel companies.
While these payments apparently occurred prior to his designation under sanctions, they nevertheless raise the legitimate question of why a general in South Sudan's military— one without any direct connection to the country's petroleum. When presented with the information obtained by The Sentry, KCB did not reply to requests for comment.
The report follows the trail of money with links to the families of both Kiir and Machar.  It says President Kiir's wife and at least seven of his children were linked to a whole range of businesses, and has evidence that Mr Kiir's 12-yearold son had a 25% share in a holding company. It says a company linked to his brother-in-law, Gen Gregory Vasili Dimitry, supplied fuel to the military while he was a senior o cer. It details business connections between Gen Vasili and the Kiirs, and says that the two families hold interests in almost two dozen companies. "I was mostly struck by the breadth of sectors in which these top o cials are involved," said JR Mailey, the author of the report. "We're talking everything from airlines, to banks, oil companies, mining companies, casinos.
---
Kenya Insights allows guest blogging, if you want to be published on Kenya's most authoritative and accurate blog, have an expose, news TIPS, story angles, human interest stories, drop us an email on

[email protected]

or via Telegram
---