Kenyan Billionaire Money Launderer to Answers to 9 Money Laundering Charges worth Billions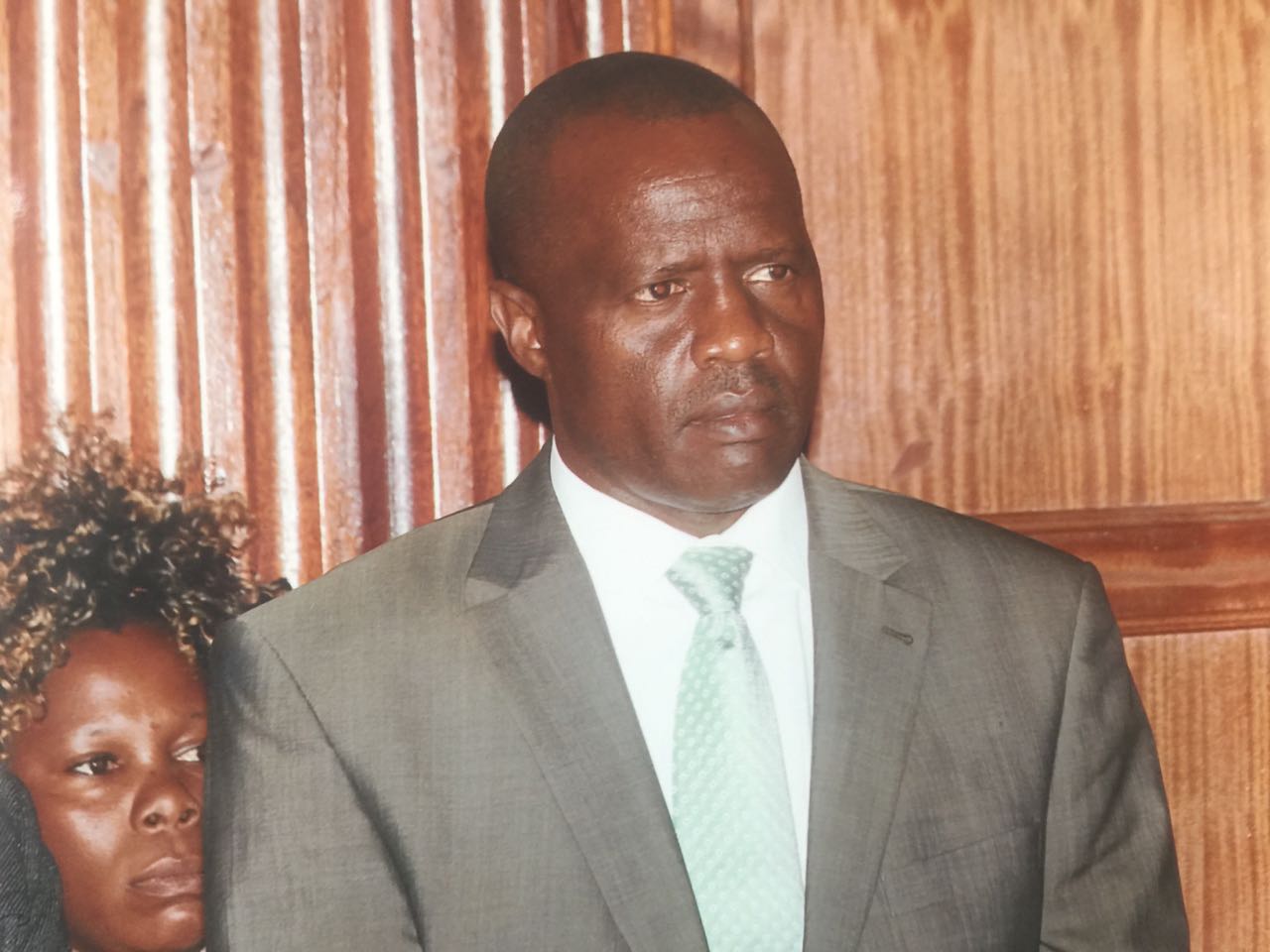 Social Media Pressure Yields At Last As Ex Family Bank CEO Peter Munyiri Arraigned In Court Over NYS Scam
The internet has grown to become a serious tool in fighting graft in Kenya. 2016 has been such a year that will go down the books as hell of a year for the corrupt establishment. When Family Bank was exposed for having been the chief NYS money laundering bank, they hatched a cleansing plot by having the then CEO be fired in a cosmetic spirit to retain their reputation.
Family Bank recently almost crumbled following speculations that it was facing stability crisis. Even though the pressure was subdued, The Bank is moving ahead with the heavy burden and money laundering stamp on their heads. Central Bank, DCI, ODPP are some of the investigative on Family Bank's tail over rampant money laundering schemes within the entity that's jeopardizing their market trust and confidence.
A hard faced and egocentric ex-Family Bank CEO together with his accomplice has been dragged to court answering to nine accounts of money laundering during his tenure at Family Bank. Initially, when the writer of this article together with other reputable bloggers as Cyprian Nyakundi initiated a campaign to highlight and expose Minor and how he facilitated the biggest money laundering in recent Kenya history on the NYS scam that's now being put at a 6B figure, he went on a chest-thumping mission bragging to his peers that social media noise is futile and that he's protected by high forces to be moved.
Well first forward months later, the ex-CEO was licking the fear off his dry lips at the docks when reality dawned on him. We're it not for the consistent social media campaign that stretched over months; Munyiri would've easily gotten away with the billions that have since boosted his empire to running a microfinance following his demise from Family Bank.
The dismissed Family Bank CEO Peter Munyiri is a haunted man. The chickens are coming home to roost for him despite his deliberate efforts to allegedly sanitize his record before his departure from the bank. Now that he is no longer in a position to pull strings and cover his tracks, it is now becoming apparent with each passing day that he allegedly was indeed the grandmaster who facilitated the historic heist of NYS billions.
And to demonstrate just how cocky the beneficiaries of impunity can be, the discredited former bank CEO has gone ahead to dabble in banking business by opening a new outfit named Citizen Micro Finance. Whoever licensed this outfit in total disregard of the 'fit and proper' criteria established by the Central Bank of Kenya for banking executives must be either the most daring regulator or most incompetent, to say the least. If this outfit secured operating licenses from CBK, then it makes their recent proclamations about good governance a pretty sick joke.
When news of the scandal broke out and that the bank he was heading has been implicated as the conduit for the funds siphoned out of NYS, Munyiri quickly listed his nine junior staff as culprits, who were promptly lined up for criminal investigations and subsequently charged in court, it is claimed. Needless to say, the hapless junior branch staffs were swiftly fired from the bank. In the meantime, Munyiri stayed put.
CBK initially fined three lenders Sh1 million for NYS scandal. This begged the question why the bank which in regular business complies with banking regulations had this time decided to go rogue and throw caution to the wind. The reason why bank staff showed the apparent disregard for banking regulations was because the bank's chief executive Munyiri was allegedly personally directing the handling of the doubtful accounts, right from their opening to the way they were operated.
It may be recalled that in the report by Auditor-General following the decision by parliament to order a special audit of NYS, the three companies that acted as suppliers to NYS, Form Homes Builders, Reinforced Concrete Technologies and Roof and All Trading opened accounts with the bank without required documentation. Worse still, Sh218 million was paid to Form Homes Builders five months before it was even registered as a company! The other two companies started receiving millions in payments a mere two months after registration, totally outrageous events that go against all banking norms.
The report of the Auditor-General further notes that taxpayers lost Sh1.9 billion in the NYS scandal with Josephine Kabura receiving a total of Sh1.3 billion through some 11 entities that were in reality mere shell companies that did business with the NYS.
How come Family Bank staff ignored the rules so blatantly when dealing with NYS funds yet they enforce them every other business day for other accounts? Precisely, it is claimed, because the bank's CEO was running the accounts.
In any event, even if the bank staff had intended to do so, the amounts in question totaling Sh791 million are far more than the limit that junior staffs are allowed to transact without approval from senior colleagues, in this case, the CEO himself. Predictably, the staff could never dare report the suspicious transactions to the financial reporting center as is required for such substantial and suspicious transactions.
As it happens in these kinds of events, Munyiri could not possibly take these risks for nothing. He benefited immensely from the NYS loot; it is claimed. The mastermind of the NYS scandal Ben Gethi was a familiar face at Munyiri's office which he visited regularly. Around this same time, the bank's CEO is also said to have received Sh6 million in cash through his secretary from Murkomen.
As Munyiri and his accomplices have their days in court, we can only hope that and especially the innocent Family Bank workers who lost their jobs and reputations who include KTDA Branch Manager Robert Nyaga, operations supervisor Martin Kagiri, relationship manager Meldon Onyango, branch customer service supervisor Josephine Waira, Platinum manager Nancy Njambi, the head of the risk and compliance department and others, will finally get justice.
Kenyans the taxpayers who've been the biggest losers in this fraud scheme are also looking into jubilation should the players as Munyiri be found guilty, and justice was given. The opening of criminal charges against Munyiri once again reawakens the fears and consumer confidence on Family Bank. The institution's reputation is naturally hit when one of their own is facing severe economic crime charges and a possible banking system crisis; they again might have to grasp for air. The outcome of this case might influence unimaginable disciplinary actions from CBK to Family Bank.
Find the copies of the 9 accounts below:
Knowing Kenya and it's structured, We suspect Munyiri would be on yet another escape strategy that would mean million shilling bribery especially to the ODPP who're on his ass and judges following his cases of money laundering which would quickly throw him behind bars for years. Kenya Insights backed up with moles everywhere, in this instance, will sniff around to come out any suspicions in ensuring no one is compromised and answers sought to the letter.
As part of our working conduct, we are launching unspecified period campaigns on Minor and accomplice case putting investigations and the court in check to ensure not only maximum illuminating of the case but watching to see justice is served. If social media pressure worked in getting Munyiri in the docks them, it could take him behind bars where money launders like him belong. We call upon Kenyans to join our undisputed anti-graft champions online as we start on a journey to see a successful prosecution of this case.
---
Kenya Insights allows guest blogging, if you want to be published on Kenya's most authoritative and accurate blog, have an expose, news TIPS, story angles, human interest stories, drop us an email on

[email protected]

or via Telegram
---