'Frank De Tank' A Kenyan TikTok Celebrity And International Drug Trafficker On Trial In Belgium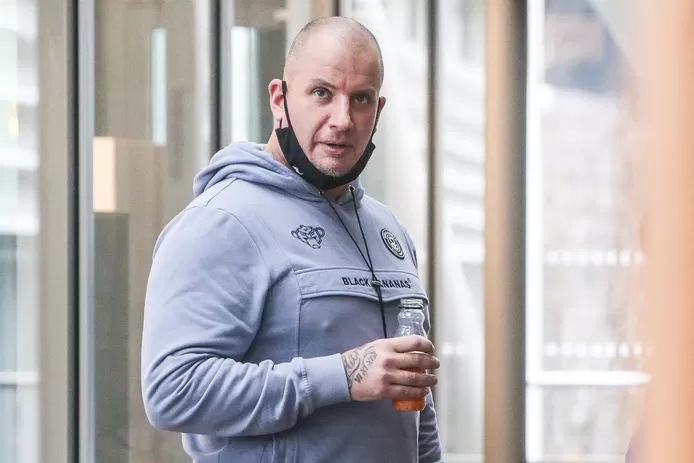 Frank De Tank as he's nicknamed has been living in Kenya and a popular TikToker with over 1.1M followers. Thanks to his viral videos that he took with his wife. What caught the attention of many and perhaps made the page popular is not only his lavish lifestyle, but the age, physical appearances differences with his wife.
A tiny girl 5'2 , 40Kg and 21 years of age, the lady is a small fraction of Frank who's a giant weighing over 120KG and 42 years, half the age of the wife.
Many found it awkward with the couple given the striking physical differences, some accused him of being a pedophile, well the wife is currently 22 years and the couple have been together for over 5 years, in Kenya, the legal age for sex and marriage is 18. If the two have been hitched for over 5 years, it means they hooked up when she was still underage.
In Mombasa, the Coastal city where the couple live, cases of underage sex and marriages is rampant with many weirdly fetished tourists jamming to fulfill their fantasies which includes hookup with underage girls.
Drug Trial
Miles away from Kenya, Frank is facing a trial alongside twenty-nine suspects in one of the largest drug trials in Belgium's history. The main suspects are Frank 'de Tank' V. and Nordin EH. The lawsuit started today in Antwerp.
Suspects
The Belgian justice is indicting the suspects in connection with the illegal import of two tons of cocaine from South America in 2015 and 2016. The four main suspects are Frank 'de Tank' V. (42) and Jorn R. (34), Nordin EH (34), also known by the nickname Dikke Nordin van den Dam, and Ermir N. (40), nicknamed 'Chinco'. This writes the Belgian newspaper.
Nordin EH and Ermir N. are seen as the clients of Frank V. and Jorn N. They are international players in the drug trade. Ermir N. was the man who ran a drug line between South America and Antwerp. According to the Belgian judiciary, Nordin obtained assignments from mainly Dutch organized crime groups.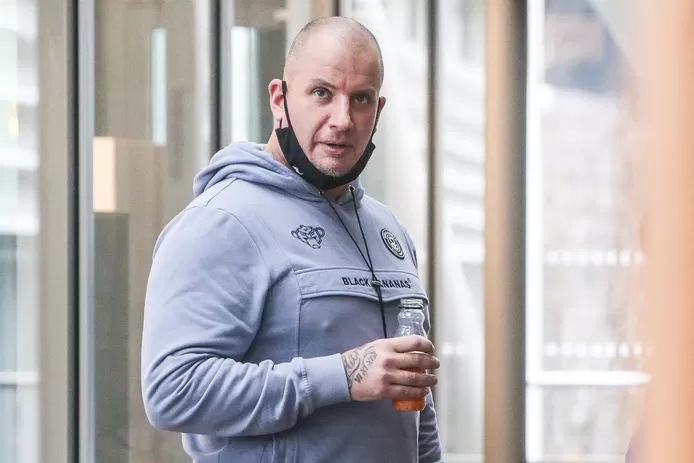 Frank V. and Jorn R. are former dock workers, who managed to smuggle coke into the country through their contacts. They recruited 'dockers' in the port of Antwerp.
Shot at
In 2017, a spiral of violence started in this city, when 'Dikke Nordin' and Frank 'De Tank' V. got into an argument over a lost shipment of drugs, worth 400,000 euros. Hand grenades exploded at the addresses of both parties and houses were shelled.
Free Feet
After their arrest, the two suspected criminals were both released. The Belgian justice recently unsuccessfully attempted to have him extradited from Dubai.
Frank V. would have previously made partial confessions, which he later retracted. V. would live in Kenya. He has more than a million followers on his Tiktok account, where he displays his lavish lifestyle.
Lavish Lifestyle
Films in which he lavishly sprinkles with banknotes and makes great decorations with his possessions. With this, the former dock worker, bodybuilder and bouncer these days, from his new residence in Kenya, conquers an audience of more than 1 million followers as a 'TikTok influencer'.
His TikTok lifestyle is already proving to be a danger to his defense in the major drug trial. He risks 9 years in prison as a so-called take-out chief in the series of drug transports totaling 2 tons cocaine in the period 2015-2016. According to his lawyer, Frank V. has drawn a line under his luxurious past. However, these days on TikTok he shows off his luxurious lifestyle that he seems to lead in Kenya. "I don't think you should believe everything you see on social media," said his lawyer.
"Turbulent past closed"
"I honestly have no idea what my client is doing on TikTok," lawyer John Maes said on Radio 1, confronted with those striking videos. "I can only say that the big money gain that manifested itself in the period of the facts is indeed over. I also don't think we should just believe everything that is seen on social media as being the truth."
According to John Maes, Frank V. wants to draw a line under his turbulent past. "His past of luxury and the like is behind him." In any case, the public prosecutor was not pleased with the way of life that Frank V. carries out in films, but still demanded 'only' 9 instead of 12 years in prison because he made far-reaching confessions and largely explained the system of the drug gang.
In the past according to news reports reviewed by Kenya Insights, Frank V. alias Frank Murugi(his adopted Kenyan name), before going to Kenya, he was a sensational media item thanks to his lavish lifestyle from luxurious holidays, very expensive cars and precious clocks. And he showed it all on social media. 
De Tank, together with his brother-in-law Patrick Y., is seen as one of the leaders of a gang that is doing drugs in the port of Antwerp. Justice suspects the organization of importing at least 2000 kilos of coke.
Glitter, glamor and 'damn it'
Bodybuilder Frank V., who owes his nickname to his impressive stature, lived a life full of glitz and glamour. For example, shortly after he had been in custody on suspicion of money laundering, he and his then wife Lisa Y.(the two have 2 kids together) left for the chic Four Seasons Resort in the Maldives. He regularly posts messages about his luxurious stay on his pages.
Antwerp Expendables
De Tank was also a leading member of Antwerp Expendables, a group of friends who love fast cars such as Porsches and Ferraris. The name comes from the action film of the same name by Sylvester Stallone from 2010. From the Gazet van Antwerpen : ' Numerous videos of the Antwerp Expendables show how Frank and his friends race on the circuit of Zolder, or in a group through the streets of tearing the mundane Saint-Tropez. The film in which De Tank is tempted into a drag race on an abandoned airstrip in Germany is almost legendary. In a fast Nissan GTR (base price: 99,900 euros) he competes against a Lamborghini Huracán, which he beats on the line to the delight of the other Expendables. "You got em, you got em," they roar.'
The Antwerp Expendables' Facebook page and Instagram account were closed after De Tank's arrest.
---
Kenya Insights allows guest blogging, if you want to be published on Kenya's most authoritative and accurate blog, have an expose, news TIPS, story angles, human interest stories, drop us an email on

[email protected]

or via Telegram
---