Briton Exposes Agnes Kagure As A Fraudster In Sh500M Karen Land Grab Saga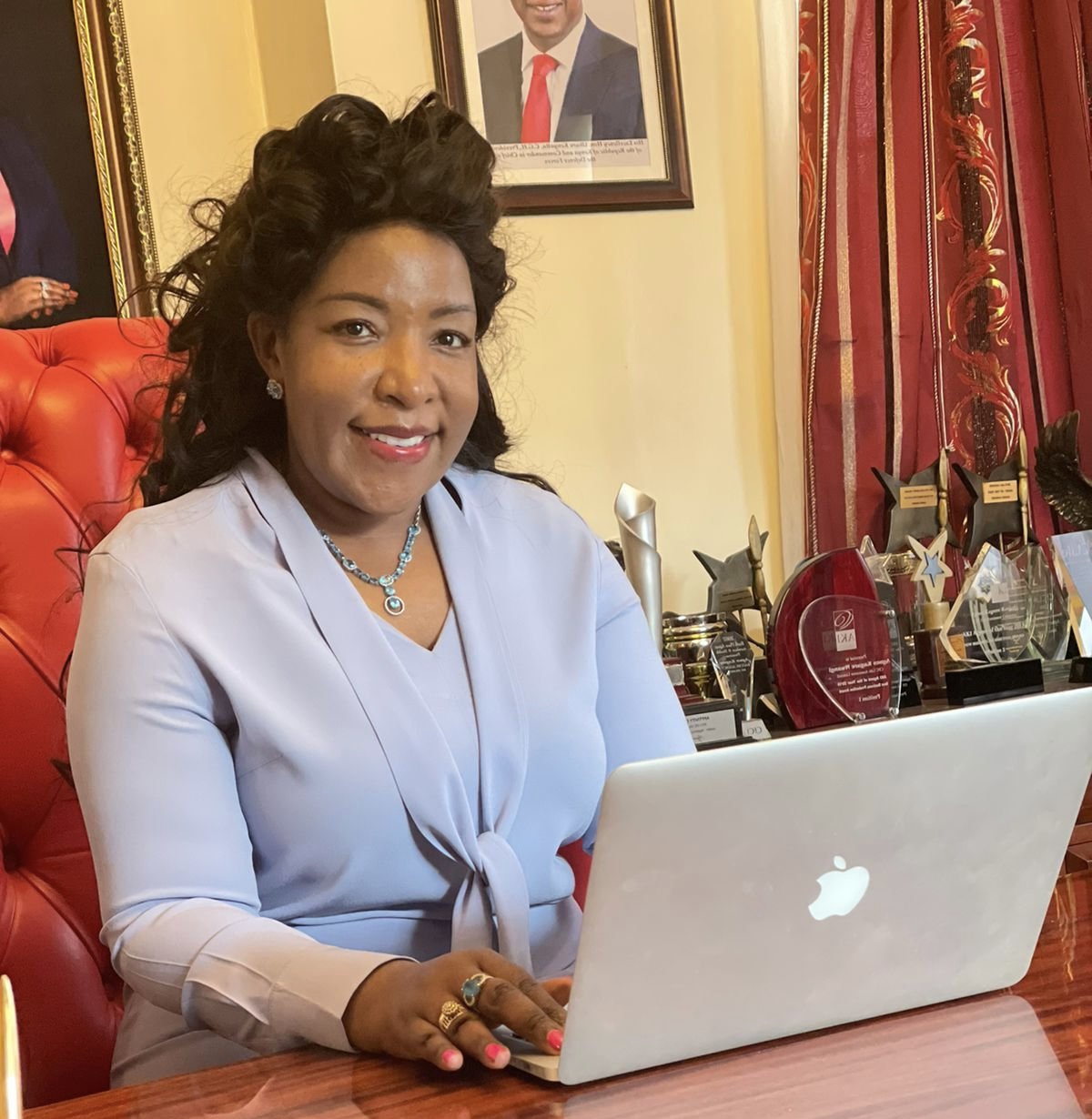 A brother to a Kenyan of British descent who died in 2012 leaving multi million property in Karen and Upper Hill that is claimed by among others Nairobi politician Agnes Kagure has testified in the property dispute.
Appearing through a video link from the United Kingdom, Michael Fairfax Robinson told High court judge Maureen Odero that his brother- Roger Robson, who died in 2012, never sold his piece of land that was worth Kshs 500 million to Kagure, who has been claiming it.
Michael also disputed claims that his late brother Robinson had transferred his shares at Plovers Haunt limited to businessman Thomas Mutaha, as he alleges.
He was testifying in a case where Kagure and Mutaha have sued lawyer Guy Spencer Elms accusing him of forging signatures on the Will of the late Roger. Roger left the Will to Spencer as the executioner of his properties.
While Kagure claims that she bought the disputed piece of land from Roger for Ksh.h100 million in 2011, Michael told the court that his brother was still living on the property at the time until his death in 2012.
"I had been urging Roger to move and sell the said property for several years because of his poor health but he had always resisted my advice and had continued to do so up to and including our last communication," Michael told the court.
He further told the court that on several occasions his brother had informed him of attempts by fraudsters to steal his property in Karen by making false claims.
On his part, Mutaha, who claims to be a director of Plovers Haunt limited — the company that rightfully owns the land — claims the late Robson transferred his shares in the company to him for free.
In the Will, the deceased is said to have indicated the estates should be sold and proceeds shared between his nephew and charitable institutions in Kenya that focus on environmental conservation.
Kagure and Mutaha, however, accuse Spencer of forging signatures on the Will.
Background on the land grabbing.
Having lived alone, no wife, no children or relatives in Kenya, Roger Bryan Robson felt that his vast land in Karen and the monies in the bank could go to waste, or be grabbed by gluttonous individuals once he died.
In 1997, 15 years to his death, Mr Robson contracted the services of Guy Elms, a British lawyer, to draw up his will that would see his wealth go to purposeful use.
According to the will, the property would be left to charitable organisations in Kenya involved with environment, wildlife, health and education. Also, part of the money would be handed over to Mr Robson's nephew in the UK.
However, almost immediately after his death, invaders including gospel singer Alex Apoko, famously known as Ringtone, occupied the property claiming ownership. Apoko claimed his uncle owned the property. He later left the property, but not after carting away some of the movable properties owned by Mr Robson.
Before waters could settle, Agnes Kagure, who is now contesting for the Nairobi governorship seat invaded the property and installed his men, preventing execution of the will.
Following the invasion, Mr Elms was unable to execute the will, and the Daily Mail reports that at one time he was held at gunpoint and with life threats over the tussle.
"I was told in no uncertain terms to give up the land and the fight and that if I didn't their contacts, which are high up in the CID (Criminal Investigations Department) and DPP (Director of Public Prosecutions), would make sure I was arrested and jailed for 17 years," said Elms.
In court documents, Agnes Kagure claimed that she bought the property for Ksh100 million in cash, since she did not have evidence of bank transfer. She claimed she bought the land in 2011 but did not register the purchase until 2014, after Mr Robson's death.
At the time of his death Mr Robson only had around Ksh500,000 in his account.
The conveyance documents provided by Ms Kagure and examined by experts showed that the signatures had been forged. Experts argued that in one of the signatures, the writer had a higher pen speed than Mr Robson.
Ms Kagure has since build a perimeter wall around the property, and any effort by Mr Elms to execute his client's will has been met with threats, with the police threatening to charge him with forgery.
Mr Robson was born in Kenya during the colonial era, and it is claimed that during his life, he was attacked on two occasions and even shot in the head in 1992, as people claimed to be squatters tried to take the land.
"He was an eccentric character. He would tell me people were trying to steal his land, I was a bit skeptical and it seemed a little far-fetched. I had no idea what I was in for. He was a typical white Kenyan, he had property but not a lot of cash. I suspect the reason they targeted Roger's land was that he was white, a recluse and did not have any obvious relatives in the area," Mr Elms told the UK publication.
In 2015, Mr Elms obtained a court order evicting Ms Kagure from the property, but the police were reluctant to execute it, leaving Kagure to occupy the land illegally.
True to the threats, in September September 2017, the DPP charged Mr Elms with forgery and abuse of the the Power of Attorney (POA) given to him by Mr Robson in 2010.
This was contrary to deputy director of investigations and forensic services at the National Land Commission (NLC) Antipas Nyanjwa's findings which concluded that Mr Elms was "a victim of the criminal gangs and land cartels and had been targeted by a criminal investigation for non-existent crimes and malicious prosecution in trumped up charges".
Owing to "several discrepancies" on the conveyance documents provided by Ms Kagure, NLC termed the documents as "outright forgery".
The photo used in the document was of Mr Robson in his 30s, while Kagure claimes to have bought the property while Mr Robson was in his late 60s.
At one time, Mr Robson's brother who lives in the UK, wrote to the  British Foreign Office seeking "effective protection to Mr Elms…. who has been held at gunpoint in his home, shot at whilst in his car, and he and members of his business have received death threats on several occasions."
Mr Michael Robson of Ledbury claimed that the police, the Land Registry, the Companies Registry and the DPP had collaborated to defeat justice.
"It seems all these bodies are assisting the fraudsters, not the legitimate claimant, my late brother's executor, Mr Elms," he said.
Following the resignation of Polycarp Igathe as the Nairobi Deputy Governor in 2018, Kagure was one of the potential candidates for the seat, but her nomination was shelved after the case went public.
But just who's Kagure?
Agnes Kagure is a polished Queen of the Underworld, whose closet is full of cases of fraud and illicit multimillion dealings. Apart from having been accused of having a fake degree from the University of Thailand, many things on the "Finance Executive" do not add up. Prior to 2018, nothing or very little information was available in the public realm about Ms. Kagure.
After the resignation of Polycarp Igathe in February 2018, and a subsequent appointment by ousted Mike Sonko as Deputy Governor, Kagure's team rushed to give the little known insurance broker a social media presence.
A Facebook page was set up on 11th February 2018, two weeks after Igathe's resignation. A month later, a Wikipedia account, last edited on 20th March 2018 was set up by the team. Ten days earlier, a website under Anne Kagure's name was formed and our investigations reveal it was created by an individual named Sam Kamau ([email protected]).
After the resignation of Polycarp Igathe in February 2018, and a subsequent appointment by ousted Mike Sonko as Deputy Governor, Kagure's team rushed to give the little known insurance broker a social media presence.
A Facebook page was set up on 11th February 2018, two weeks after Igathe's resignation. A month later, a Wikipedia account, last edited on 20th March 2018 was set up by the team. Ten days earlier, a website under Anne Kagure's name was formed and our investigations reveal it was created by an individual named Sam Kamau ([email protected]).
When her name was put forward to the IEBC as a replacement for Polycarp Igathe, Anne Kagure's admirers saw her as the perfect choice. Her credentials as a gender activist and reputation in the insurance sector impressed the corporate Nairobi.
She however backed down after several scandals emerged, including an alleged fake degree from the Chiang Mai Rajabhat University, Thailand.
The University disowned Ms Kagure in a letter dated March 2018, claiming that her name did not appear on their graduation list of 2014 as she alleged.
"Kagure Kariuki is not a graduate of Bachelor of Arts degree from this university. According to our records, the aforementioned individual does not appear in our graduation list of 2014 as purported in your enquiry letter. Therefore if there is any academic certificate possesed by the individual it should be treated as fake and forgery," the management said.
The issue of the fake degree and other scandals were highlighted by several media houses, forcing her to move to court to gag the media. One of the affected news outlets was The Star newspaper, which was barred from further exposing Kagure through a court order dated April 13, 2018.
Several articles that highlighted her alleged 'rot' have since been pulled down.
In an application dated January 31, 2017, the Environmental Court gave temporary orders stopping Agnes Kagure from forcefully grabbing a parcel of land in Umoja. The property, Nairobi Block 83/1903 was legally owned by a businessman Joel Munene.
She has also been faced with tax evasion allegations. At the KRA, there are no records of the wealthy businesswoman filing any returns between 2004 and 2015.
Ms Kagure started filing her tax returns with the Kenya Revenue Authority in 1996, but stopped in 2004 for 11 years.
She started filing taxes in 2017 despite her .massive investments across the city. Of concern from our mole at Times Tower is that all the four companies associated with Agnes Kagure are all ghost companies with no physical locations or offices.
From 2004 until 2015 there is no record of her ever filing any returns with KRA. In 2016 she started filing returns. The returns are self assessment and she seems to have rental houses and from her monthly rental collection. She is legally bound by law to submit 10 percent, which seemingly she didn't. Between January 2015 and December 2017 Ms Kagure paid a total of Ksh127,198.
According to a firearm application letter dated September 22, 2016, Kagure owns four business enterprises namely Antonio's Grill, Dynamic Mini Mart, Consolata Pharmacy and Universal Nautical.
A search on the Company's Registrar shows that Antonio's Grill is a business name, while Dynamic Mini Mart and Consolata Pharmacy have no records with the Registrar.
Universal Nautical, registered under CPR/2012/86325 according to KRA records, has never filed returns since it was registered.
Universal Nautical Ltd was registered on October 11, 2012 with shareholders listed as Edward Gitugo, Agnes Kagure Kariuki and Isaac Kariuki Ndegwa.
Ms Kagure, who prides herself as a successful Insurance broker, started her work at Liberty Life, where it is alleged that she was dismissed over fraud against clients.
---
Kenya Insights allows guest blogging, if you want to be published on Kenya's most authoritative and accurate blog, have an expose, news TIPS, story angles, human interest stories, drop us an email on

[email protected]

or via Telegram
---